We have a special guest blog piece to share with you today from expert Scottish football tipster and scout – Greg Gordon, discussing the findings of a recent article by The Racing Post's football guru – Kevin Pullein.
Greg has a proven record of making money from betting on Scottish Football dating back several seasons and is a renowned expert on the subject.  
Its Raining Lies Damn Lies And Statistics
One of my members has just sent me a copy of a Racing Post article by the Post's 'esteemed' number-crunching columnist Kevin Pullein on the relationship between rain and goals in games.
Click the image below to view the original article in full.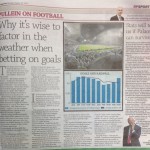 Sadly, like a lot of Mr Pullein's grand generalisations it is likely to send many punters down the wrong track even though on closer inspection this rain analysis, if you'll pardon the pun, really doesn't hold much water.
Rather, I think this is a situation whereby Kevin Pullein, with lots of column inches to fill each week, has fallen in love with his findings and become determined to find a conclusion, whether a conclusion can be found or not. And that is always dangerous territory for betting judgements.
Through my work as a scout, I am only too well aware that in a football sense, wind is always a far greater impediment to goals than rain is.
Gales always lead to extreme results as one team (or neither team) makes use (or not) of the windy conditions.
Secondly, as we are on the subject of rain, it is worth pausing for a second to consider the whole spectrum of weather that is covered by the catch-all term 'rainy conditions'. It encapsulates everything from a subtle mist to a vertical downpour of biblical proportions and such a broad sweep is a fact that makes no sense of what is, in Kevin Pullein's hands, a meaningless generalisation.
A cooling drizzle at Old Trafford that gives you a slick passing surface is a world away from a bottomless bog at Albion Rovers' Cliftonhill after three days of unabated flooding. Yet, Kevin Pullein doesn't define his terms precisely enough for us to know what he is describing in a real match situation.
Similarly, he pinpoints October as a key month for goals and attributes this fact to the high rainfall in this month. But where is the evidence that rain is causing the goals to go in?
October is also the month when players especially strikers and midfielders hit their peak fitness and touch for the first time. Surely that is likely to have more bearing on the goals scored in a game?
February, a dry month, is seen therefore as a month that is an enemy of high goal counts. But hold on a minute…. February is literally the depths of winter. The most depressing month of the year, according to established research.
Players go to work in the dark and come home in the dark. There is no excitement in the calendar in February and it is a dead time when all managers complain they struggle to motivate players for the first time in a season – especially if they manage teams who are out of the running in their leagues and cups.

Then there are other issue at play here – such as the shelter afforded by the stands in the grounds and the prevailing winds, general and specific pitch conditions and also the quality of the drainage.
Two hours of downpour at Dumbarton will do more damage to the playing surface than two weeks of rain at Ibrox or Parkhead.
Personally, I can't believe how superficial and how irrelevant this article actually is in terms of its usefulness and its false conclusions. An editor should have stepped in to save the writer's blushes.
A feature on when players get in their most expensive domestic bills or biggest credit card statements would probably be more statistically significant in terms of its effect on goals counts…..and would certainly be interesting. Personally I can think of two examples of match-fixing in November for example, a month before Christmas.
The fact is stats are one thing but you also need sound football reasons to justify any conclusions. If you can't find these sound football reasons for your conclusions then the data is most likely bogus, statistically irrelevant – or both.
Greg Gordon
——————————————————————————–
If you enjoy his analysis – Greg is offering anyone who subscribes to the Smart Betting Club before the end of August a 30 day free trial to his tipping service. His service is one of 55 we report back upon on a regular basis, to help you find the best tipsters to make you money.