We have a special guest blog piece to share with you today from expert Scottish football tipster and scout – Greg Gordon, discussing the findings of a recent article by The Racing Post's football guru – Kevin Pullein.
Greg has a proven record of making money from betting on Scottish Football dating back several seasons and is a renowned expert on the subject.  
Its Raining Lies Damn Lies And Statistics
One of my members has just sent me a copy of a Racing Post article by the Post's 'esteemed' number-crunching columnist Kevin Pullein on the relationship between rain and goals in games.
Click the image below to view the original article in full.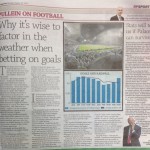 Sadly, like a lot of Mr Pullein's grand generalisations it is likely to send many punters down the wrong track even though on closer inspection this rain analysis, if you'll pardon the pun, really doesn't hold much water.
Rather, I think this is a situation whereby Kevin Pullein, with lots of column inches to fill each week, has fallen in love with his findings and become determined to find a conclusion, whether a conclusion can be found or not. And that is always dangerous territory for betting judgements.
Through my work as a scout, I am only too well aware that in a football sense, wind is always a far greater impediment to goals than rain is. Continue reading →