Value bets for the group stages:
Essentially if the ratings imply a better chance that the bookie odds are implying, you take the bet. If the ratings give a team a 40% chance of winning and the bookies are implying just a 30% chance, then you have a value bet. It may not be the most likely winner, but if you buy enough things at under market value, eventually the profits will emerge through the short term noise.
Here's what the ratings threw up in the last round of Champions League games. 
First up, here are the English team's chances tonight according to the
 Dectech ratings:

Bayern Munich vs Man City: Man City 21.90% Chance. Value with City.
Man U v Basel: Man U 89.60% chance. Small value with Man U.
Arsenal vs Olympiakos: Arsenal 72% chance. No value in Arsenal.
Valencia v Chelsea: Chelsea 38.75% chance. No value with Chelsea.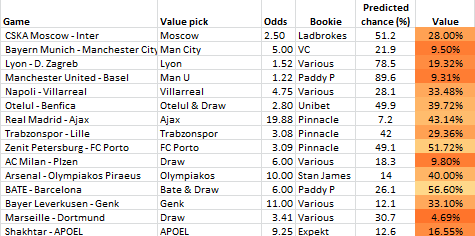 NB bets like AC Milan & Draw mean the ratings find value in both the draw and the away side so both are backed using a bookmaker's Double Chance.
You can follow the value bets blindly or use them to inform your own betting. For example, if Napoli are big value against Man City, but if the match were played 1000 times, they'd still only win 118 times according to the ratings. Therefore you might want to pick and choose or use Asian Handicaps to level the playing field.
With this in mind, here are some of the bets that caught our eye:
Moscow @ Home: 2.50 Ladbrokes.
Villarreal away DNB: 3.4 Stan James
Ajax away -2 Asian Handicap: 2.03 188bet
Trabsonspor home: 3.09 Pinnacle.
Olympiakos away: +1 handicap: 2.21 188bet.