.
After yesterday's bout of bookie bashing where we revealed who you voted for as the worst bookmaker from 2014 (Hello Stan James), today its time to uncover the bookmakers you actually rated as the best.
These are the bookmakers that either offer a high quality of service, welcome winners or simply put forward the best value odds.
The results were compiled from both the public and SBC member votes received via our December 2014 survey – designed to build the ultimate list of the best bookmakers.
So without further ado, here are the results for the best bookmaker category as voted for by YOU!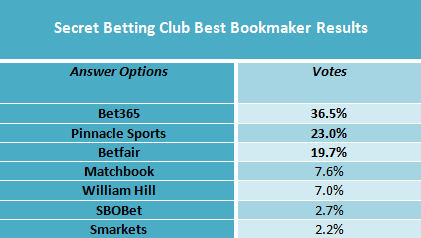 Bet365 – Have A Bang On That!
Clear top of the pile this year and taking the Gold award was Staffordshire-based bookies Bet365 who polled 36.5% of the popular vote.
Next up was last year's winner – Pinnacle Sports who took Silver with a commendable 23.0% whilst Betfair scooped 19.7% of the vote and the Bronze award.
Interestingly – Pinnacle were last year's winner with 42.7% of the vote, they lost a fair chunk of support in 2014, a decision no doubt influenced by their withdrawal from the UK market back in October this year.
Further down the poll, both relative newcomer Matchbook and old-stager William Hill also polled a creditable share of votes with 7.6% and 7.0% respectively.
Congrats must go to Bet365 though for scooping the top prize!

Better Bookmakers = Better Punting
Just as it is important to know who not to bet with – so it is even more vital to know exactly which bookmakers you SHOULD bet with and why.
The best bookmakers and exchanges very often put forward the best value odds and ultimately better odds means better profits for you when your bets come in.
Those such as Pinnacle Sports & Matchbook also actively welcome winners – so if you are fearful of not getting on or being limited for being profitable, they offer a genuine solution.
Please note – those of you based in the UK who are no longer able to bet with Pinnacle, should certainly check out Matchbook. Read our exclusive interview here as to why.
We also feel it is very important to highlight both the best and worst in the industry, given the lack of clarity suffered by punters when it comes to finding the right bookmakers.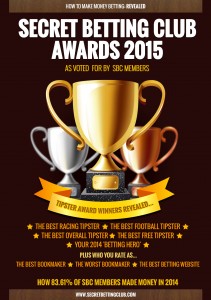 Access The Full Awards Report
If interested in reading more on this topic, you can access our full 2015 Awards Report as a Smart Betting Club member.
Inside this special report you can find…
The very best tipsters as voted for by SBC members including the Best Racing, Sports & Overall Tipster awards (Gold, Silver & Bronze awards for each)
The very best Free Tipster as voted for by SBC members (Gold, Silver & Bronze awards)
SBC members 2014 'Betting Hero' (The person that inspired them the most last year)
The best betting website as voted by both SBC members and the general public
Plus the full stats on the fact that 83.61% of SBC members made a profit last year from their betting
All available to you the instant you sign-up as a Smart Betting Club member.
Sign-up For Your Instant SBC Membership