.
I imagine you've seen a few headlines like this over the years

"Lucky Punter Wins £1,000,000 from a Fiver!"
These sort of once in a lifetime jackpots are actually great advertising for the bookies and are usually initiated by their well-oiled PR machines. It makes the everyday punter believe and keep lumping their beer money on their weekend accumulator.
But the truth is that overall, just around 2% of all punters make money consistently.
The bookies love weekend 'acca' man because they make up the majority of the punting public, but there is a small community of punters where this statistic is turned on its head.
Instead of 2% of punters making a profit, here at the Smart Betting Club, 83.61% of our members responding to a recent survey told us that they made money betting in 2014!
That's nearly as many as 4 out of 5 voting members which compares very nicely to the 2% or 1 out of 50 in the non-SBC world!

Not only did the majority of respondents state that they make money, the proportion of happy punters has also increased by more than 5% from when we asked the very same question last year.
We're not just talking a few pennies either.
Not only did our survey respondents tell us they made a profit, they also revealed how much they made.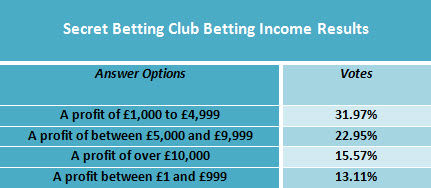 The vast majority of those making a profit made more than £1,000, with more than 15% of respondents making more than £10,000!
Not bad for the effective daily cost of just 26p to be a member of the Smart Betting Club.
Why Not 100%?
As much as we would love every single one of our members to make a profit, let's be realistic. Not everyone is going to make it work. We give you all the tools you need to make a profit, but it still comes down to your discipline, perseverance and yes, a little bit of luck.
All these results were based on a straight-forward poll where we asked SBC members to honestly answer just how their betting fared last year. Each member could only vote once and no incentives were offered for answers to ensure they were 100% fair and accurate.
The full results of this poll have been published in our 2015 Betting & Tipsters Award Report, where as a service we took the pulse of just how last year fared for our members.
Allow Us To Help You Betting
If you are keen to follow in the footsteps of some of our members and join the majority who win, then it's a great time to join us at the Smart Betting Club.
This is because we are about to release the 91st edition of our magazine, featuring a highly profitable football 'combo' strategy, plus reviews of two highly promising tipsters that we have uncovered.
All of which is covered by our 30 day 100% risk-free money back guarantee if not satisfied after you join – now you can't say fairer than that.
Why not try us today and chance your arm at making 2015 a successful year betting with our help.
Sign-up For Your Instant SBC Membership