.


To kick-start 2015 with a bang, today sees the release of our 3rd Annual Betting & Tipsters Award Report, which reveals everything from the best football & racing tipsters (both free and paid) to the best bookmakers & websites.

Voted for by both SBC members and the general betting public, these awards really do highlight the most deserving winners – and just who you should be following or betting with in 2015.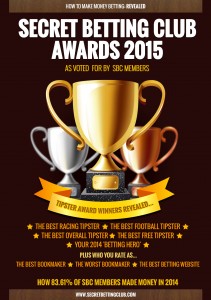 THE  2015 SBC AWARD REPORT REVEALS:
The very best tipsters as voted for by SBC members including…
The Best Racing, Sports & Overall Tipster awards (Gold, Silver & Bronze for each category).
The very Best Free Tipster as voted for by SBC members (Gold, Silver & Bronze awards)
SBC members 2014 'Betting Hero' (The person that inspired them the most last year)
The best (and worst) bookmakers as voted for by both SBC members and the general public.
The best betting website as voted by both SBC members and the general public.
Plus the full stats on the fact that 83.61% of SBC members made a profit last year from their betting.
Grab Your Copy Immediately (And Access The 9 Year Entire Back Catalogue Too)
You can pick up your copy of this fascinating Awards Report, the instant you join the Smart Betting Club.
That's not all though because as an SBC member you will also gain access to our huge back catalogue full of tipster reviews, expert interviews and guides, betting systems and profitable betting advice.
And as you can also sign-up for a Smart Betting Club membership and enjoy a full money back guarantee if not satisfied for any reason with our product, you have everything to gain and nothing to lose.
Sign-up For Your Instant SBC Membership