.


Your votes are in for the worst bookie award….here are the results!

Wednesday saw the release of our 2015 Tipster & Betting Awards Report, which features the lowdown on the very best tipsters and betting experts across a variety of categories as voted for by Smart Betting Club members.

However, this year for the very first time we also opened up a number of categories to the public vote, including that of the worst bookmaker, which proved to be an extremely competitive category indeed!

Not all bookmakers are created equally and these awards provide us with the opportunity to shame those rated the worst. Whether it is offering poor value odds, shoddy customer service or simply not letting you get your full stakes on – you voted in your droves.

So without further ado, here are the results for the worst bookmaker category as voted for by YOU!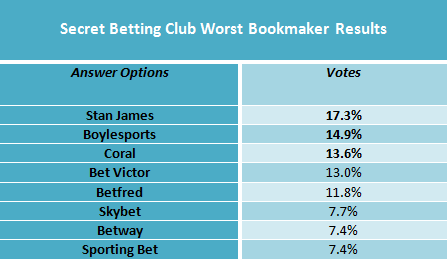 Stan James Take A Bow!
This was a hugely competitive award with votes spread very evenly across a wide cross-section of bookmakers, helping to neatly showcase the general disregard felt for many nominees.
Top of the spot this time out, just as they were last year was Stan James with 17.3% of the popular vote, which suggests this under pressure company has a lot to do to win back favour with many punters. After all – it takes a certain type of bookmaker to claim the wooden spoon prize two years on the bounce!
Not far behind was the often woeful Boylesports with 14.9% whilst Coral climbed from 6th spot last year to win the Bronze award with 13.6% of all votes.
Creditable mentions must also go to Bet Victor and Betfred who each notched over 10% of all votes. The trio of Skybet, Betway & SportingBet also attracted the ire of several punters with a further 22.5% between them to round things off.
So there we have it – Stan James is this year's recipient of our Worst Bookmaker Award. We somehow doubt they will be using our magnificent Wooden Spoon Gold banner on their homepage anytime soon though!

Why Rating Bookies Is So Important
As well as allowing us to poke fun at some of the worst culprits, this award does have a serious side to it.
First of all – the simple knowledge of which bookmakers are rated the worst can help you work out just who to avoid betting with.
Secondly there are also very few (if any) resources or websites you can visit these days where you can find an independent take on the best and worst bookmakers. Our report aims to help fill that gap.
This honesty void when it comes to bookies is often because many in the betting media rely upon bookmaker advertising to keep them going – and let's face it – they are not going to bite the hand that feeds them.
Thankfully, due to our unique model of being funded by our members (and not bookmakers), this does allow us at the Smart Betting Club to speak openly and honestly about what's really going on.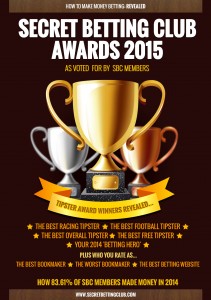 Access The Full Awards Report
If interested in reading more on this topic, you can access our full 2015 Awards Report as a Smart Betting Club member, in which you can find…
The very best tipsters as voted for by SBC members including the Best Racing, Sports & Overall Tipster awards (Gold, Silver & Bronze awards for each)
The very best Free Tipster as voted for by SBC members (Gold, Silver & Bronze awards)
SBC members 2014 'Betting Hero' (The person that inspired them the most last year)
The best bookmakers as voted for by both SBC members and the general public
The best betting website as voted by both SBC members and the general public
Plus the full stats on the fact that 83.61% of SBC members made a profit last year from their betting.
All available to you the instant you sign-up as a Smart Betting Club member.
Sign-up For Your Instant SBC Membership