One of the biggest issues affecting us punters these days is without a doubt – getting our bets on and obtaining good value odds on the bets we strike.
With bookies sensitive to 'shrewd money' especially in markets like horse racing, sometimes obtaining a good price on the bet we want can be a real battle.
Tipster puts up bet, bookie slashes odds…
…or so it goes, especially for some of the most popular tipsters such as Hugh Taylor or Pricewise, where the prices they tip at (and all too often settle at) disappear in a matter of seconds.
Yet all is not lost as with the right data and experts to guide you – it is possible to find genuinely, winning tipsters that quote realistically achievable odds.
Let me explain how using a recent example of a profitable tipster we examined here at SBC.
Intensive Odds Tracking For Each Tipster

Mindful of the issue of odds movement, for each tipster we review here at SBC, we hire a specialist odds checker who tracks and records the odds available to see just how realistic they are.
This odds tracking helps to uncover:
How long the odds quoted remain available for;
How realistic the quoted odds actually are and if you can achieve them in practice;
How the odds move after set time periods (e.g. for a racing tipster – after 15, 30 & 60 minutes, at 10.30am plus Betfair SP);
Which bookmakers are being quoted and used.
Once you have this data, it allows you to make some very informed decisions on whether the odds quoted by a tipster are realistic or the biggest work of fiction since Harry Potter!

Recent Tipster Review Example

To illustrate how this all works, here is an example from one recent tipster review we published.
The review itself focused on a very profitable racing tipster, who since 2012 had advised 2599 bets and made a 15.4% Return on Investment (ROI).
Their strategy was to advise bets in big feature races only, either the big Saturday Meetings or large Festivals like Glorious Goodwood or Royal Ascot. As these betting markets take a lot of money, most tips would be advised late in the evening or early in the morning.
For this particular odds tracking task, our in-house staff member monitored the odds for every tip advised over a 6 week period.
Only quoting the best odds if available with a small panel of bookmakers including: Bet365, BetVictor, BlackType, Betfair Sportsbook, Coral, Ladbrokes, Paddy Power, Skybet, Tote and William Hill.
During this 6-week period, our odds tracker monitored 76 bets in total and noted the following for each tip given:
The advised odds by the tipster;
The best odds available on receipt of tip email;
The best odds 15 minutes after receipt;
The best odds at 8.00am, 
The best odds at 10.30am 
The performance at SP
And here is what he found, with the drop between the advised odds and each other category illustrated by the Estimated ROI difference.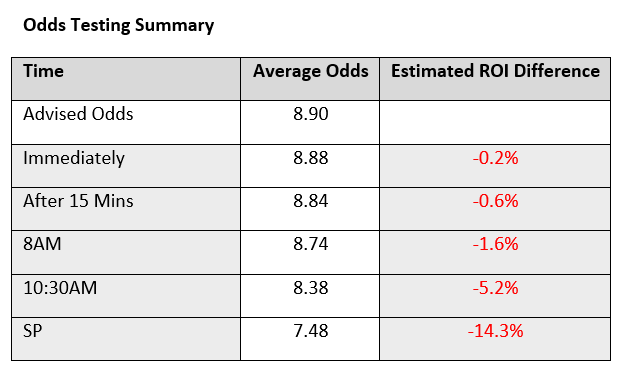 Marginal Odds Movement – Especially Before 8am

Breaking down this table – we noted straight away that there was very little difference in the odds available both immediately and after 15 minutes had elapsed with just a -0.2% and -0.6% swing.
Even at 8am, the difference between the advised odds and what you could obtain was -1.6% and at 1030am, whilst the odds had shifted further, the difference was -5.2%
Remember this service has made a 15.4% ROI long-term, so if getting on by 8am in the morning, you would only lose -1.6% ROI at worse. Leaving you with an actual real-life ROI of 13.8%.
If you couldn't get on until 10.30 am, this 15.4% ROI, would drop to 10.2% ROI. Not ideal certainly, but still allowing you the chance to get on and make a fair profit.
Ultimately, we have to come to expect with any profitable racing tipster that there will be a degree of odds movement over time. The fact that the possible ROI differences within 15 minutes are as small as -0.6% and leaving you with a 14.8% ROI in reality is very good in today's betting world.
It is also very important to note how likely it is you might obtain better odds if having access to more firms than the 9 we quoted from in our odds tracking exercise. Opening up the potential to even beat the quoted odds performance.
Why The Bookmakers Quoted Also Matters!

It's also important to understand which bookmakers are quoted when a tip is put forward and our odds tracking exercise allowed us to report on this as well.
Let's face it, if a tipster is quoting standout odds of 16/1 with a firm such as Boylesports (widely known to be amongst the worst for restrictions) there is next to no chance you will get on if showing a modicum of profit.
Below you can find the detail on those bookmaker firms that this tipster used the most, with Bet365 clearly the most popular and quoted on 42.3% of occasions.
After that, came Paddy Power, Bet Victor and William Hill with a combined 36.3% of all bets, followed by a few bets with the likes of Stan James, Ladbrokes, Betway, Skybet & Coral.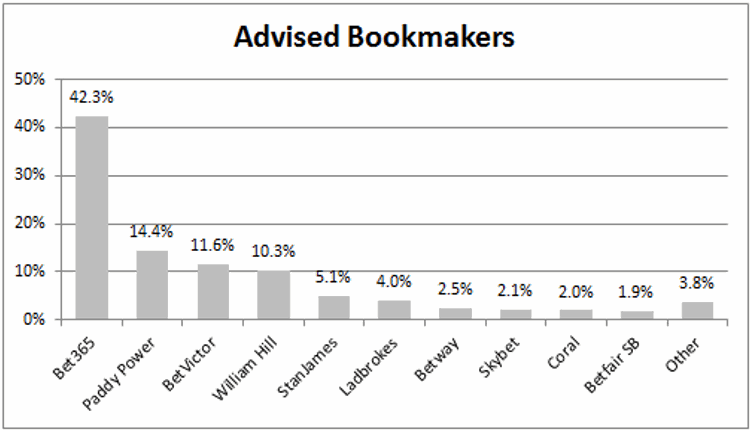 Love or hate the likes of Bet365, they are not known as the worst culprits when it comes to either restricting accounts or slashing odds – which makes sense given the odds tracking study we ran.
How Our Unique Member-Funded Model Can Help You

The above is only a small excerpt from our detailed review of this particular service, but hopefully it goes to show how our analysis can help you genuinely find those tipsters who's advised odds can be trusted.
For every tipster review we publish, you can expect to read concerted odds tracking analysis to help you understand just how the odds stack up (or not!)
We don't just analyse odds movements in our reviews either.  We break down other factors such as yearly performance, monthly performance, performance by odds band, performance by racing code, and performance to Betfair Starting Price to name just a few.
We are able to go into such detail in our reviews due to the unique way we are funded by our members. This allows us to not only report back independently (so no affiliate links) but also to spend hours and hours investigating profitable tipsters.
Providing you with evidence of the tipsters making money in practice, not just in theory!
So if you wanted to see how our reviews and reports can help you – why not consider a Smart Betting Club membership?
Best of all, you can currently save up to £38 on the cost of subscription so don't delay, sign-up right now and let us help you get started betting better right away!
See you on the inside.
Peter Ling
SBC Editor
"90-DAY 100% SATISFACTION MONEY BACK GUARANTEE"……
"I believe so strongly in SBC's ability to help your betting, you can subscribe with a 100% cast-iron 90-day money back guarantee".
SBC Editor – Peter Ling     Subscribe Now