The very latest Smart Betting Club Magazine (Issue 102) is our now and contains special reviews of 4 very different, yet profitable tipsters with a track record of winning betting.
Whether you are interested in Golf, Racing, Tennis or even anything that can make you a profit on, you will find something to suit you. The 4 tipsters cover all budgets (including 1 free expert) and offer solutions if betting with bookmakers or on the betting exchanges.
Sign-up now to gain instant access to this latest magazine (and the entire SBC back catalogue of tipster reviews, systems & betting guides) or read on for more details…
Here's What's Inside SBC 102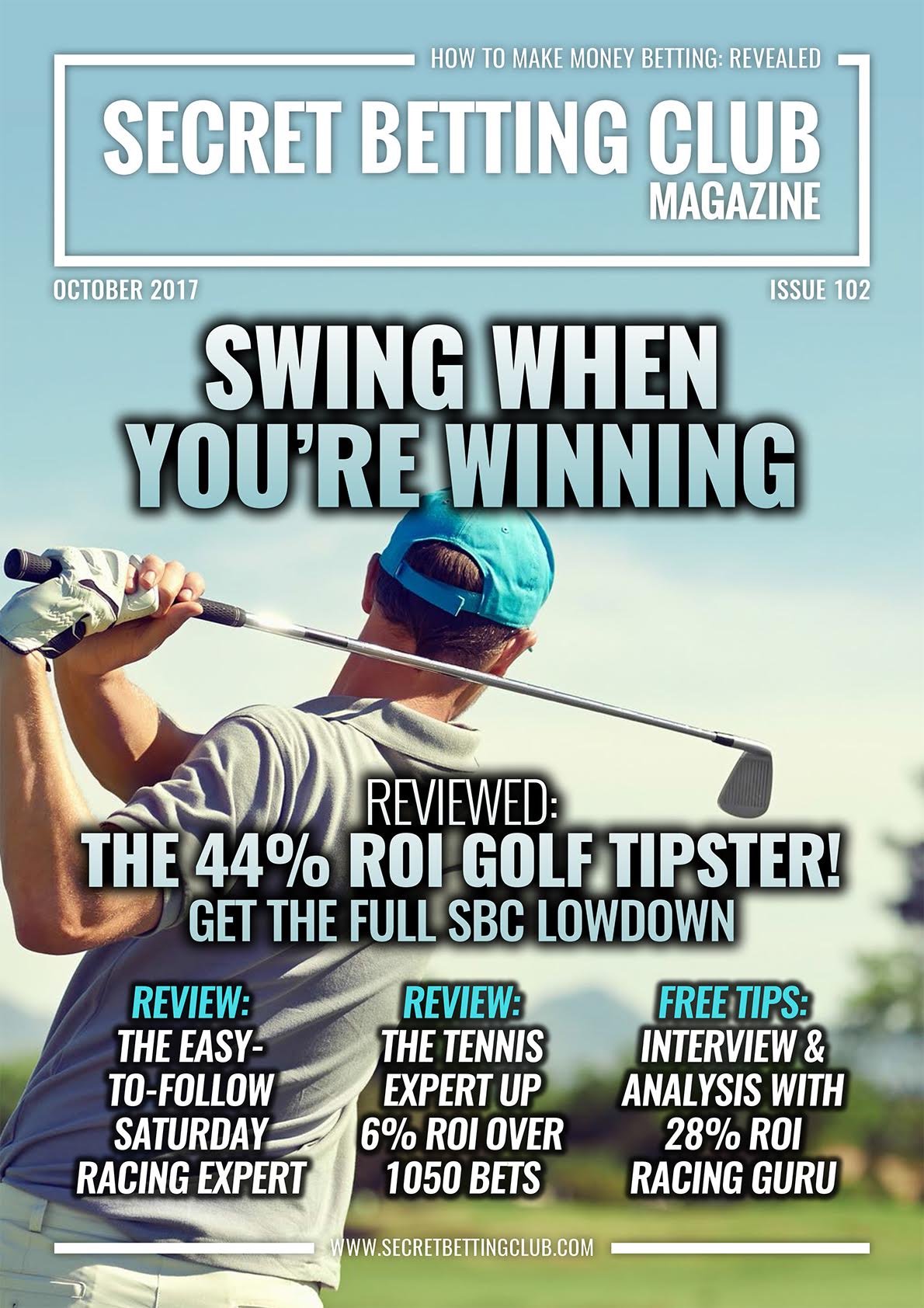 Review 1: Swing Into Profit
Read our full independent review of the Golf Tipster with a 44% ROI since January 2016. Free 60 Day Trial Available!
Review 2: Saturday Racing Tips


Check out our take on the affordably priced Saturday-only Racing Tipster with a very fair odds quoting policy.
Review 3: Tennis Guru


The little-known Tennis Guru with a 6% ROI & 51% strike-rate over 1066 tips. Exchange betting friendly.
Review & Interview: Free Tips


Interview and analysis of the free racing tipster up 28% ROI since 2014. One to follow!

How To Get Your Copy (& The Entire Back Catalogue!)
You can access your own copy of SBC 102 and our entire back catalogue of magazines the instant you join the Smart Betting Club.
This includes every single tipster review we have ever written (there are literally hundreds available!) and all of the Hall of Fame Tipsters we recommend to make you money betting.
You can also enjoy significant discounts on the cost of joining many of these tipsters via our unique Tipster Discounts – exclusively available to SBC members only!
Including the 60 day exclusive FREE trial of the cover feature review service in SBC 102 – the Golf Tipster with a 44% ROI!
Save Up To £38 & Enjoy The 90 Day Money Back Guarantee!

Best of all, by joining today, you can also save up to £38 on the cost of a Smart Betting Club membership.
All of which comes with a 90 day money back guarantee – so you can sign-up totally risk-free, with everything to gain and nothing to lose.
We offer the 90 day money back guarantee as we are 100% confident that we can help you and your betting. This is based on our 11 years experience helping countless punters like you transform their betting.
Join the Smart Betting Club now and see what all the fuss is about!
See you on the inside
Best Regards,
Peter Ling
Smart Betting Club Editor