It's a common myth that when it comes to finding winning betting tips you need to spend a fortune to get hold of them. Because if you know where to look, it is easy to find some fantastic free and budget tipsters that can help you get started winning without breaking the bank.
In fact, as our independent proofing shows, many of them continue to make sums of money betting that put many expensive tipsters in the shade…So if you think you need to spend thousands of pounds in subscription fees for a good tipster…think again!
Free Winning Tips At 14/1, 10/1 & 8/1…
A great example of a profitable free tipster comes in the form of one long running SBC-recommended service, who has been flying this October. His results of late have been up there with the very best!
Tipping up one bet a day at big odds, he has picked up winners in the past 2 weeks at 14/1, 10/1, 8/1, 9/2 & 4/1 and is bang in form.
Over the past 12 months his record now reads as follows:
298 Bets
298 Points Staked (every bet is advised 1 point to win)
97 Points Profit
32.55% ROI
We recommend a 120 point betting bank for this particular service so 97 pts profit equates to betting bank growth of 80.83%.
Putting that 80.83% growth into financial sums, this means:
 A £1000 bank started 12 months ago would now be worth £1808.33;
£2500 would now be worth £4720.83;
£5000 would have grown to £9,041.66.
You can find out more on this tipster, including a full review available in SBC Magazine Issue #78.
One Easy Way To Find Top Budget Tipsters
We recognise that lots of people don't like to splash big sums of money on tipsters so the cost of any service is a big factor in any independent Smart Betting Club review. The more expensive any tipster, the more we demand of them as you would expect.
One easy way to identify the best affordable and free tipsters is using our Low Cost Tipster Tables as published in the regular Tipster Profit Reports we produce.
These tables list the best, affordable tipsters and their profits to a standard £2000 betting bank. All of which is set against the actual cost of their service so you can see the actual profits you can realistically make.
Below you can find a special table listing the top 14 tipsters on our books that charge £25 and under…and the average profits on offer. (Please note the names have been removed as this is for full SBC members only).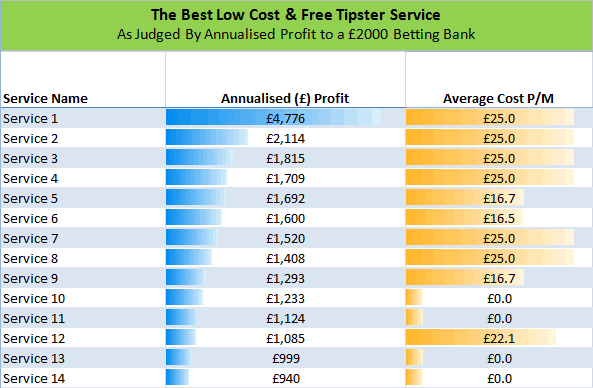 Each of these 14 tipsters makes a clear profit with Service 1 leading the way and a £4,776 annual profit for just £25 a month outlay. Here are some other key stats worth highlighting from the table…
The average profit from these 14 tipsters works out as £1,665 for an average monthly cost of just £15.90
The 4 free services make an average profit per year of £1,074 for zero outlay
Following the top 5 services in an average year would see a total profit of £12,106 for just a £116.70 monthly cost.
More details on each of these services can be found in the latest Tipster Profit Report available to all SBC members. For those of you yet to take the plunge and join our service, it hopefully highlights the quality of tipster available these days.
And remember the next time someone tells you that good tipsters cost a fortune…think again!
To finally make your betting pay, click here to join and gain instant access.