You make great betting profits, by following great betting tipsters!
Sounds easy, doesn't it?
Well it is.  And it isn't.  The tricky bit is finding the great betting tipsters in the first place.  There are literally hundreds of adverts placed by "tipsters" claiming to have the best results.
Who can you trust?  Who has genuinely proven themselves?  Who has fluked a few good results, but is guaranteed to fail in the long term?
What you need is a tipster who has proofed his tips to someone who is 100% independent and who can be trusted completely.  A tipster who has been monitored for a long time to make sure he really does have an edge over the bookmakers.  A tipster who understands the value of customer service as well as the betting markets he works in.
Introducing The Sbc 'Hall Of Fame'
Our betting service Hall of Fame is designed to make sure that all of these checks on a tipster have been carried out and the necessary standards met.  In other words, you know that if a service is in the Hall of Fame, then you've found one of those great betting tipsters we're talking about, and that you need to be following.
So how exactly does a tipster service become a part of this elite group?
It proves every single one of their bets.
It maintains an extremely high level of performance for a long period of time, usually at least 18 months and never for less than a year.
It can produce an official record of all of their bets, detailing the losers as well as the winners.
It demonstrates real professionalism – communication with members is strong, bets are released reliably, and subscribers can follow with confidence.
It's certainly not easy for a betting service to get into our Hall of Fame, and once they have made it in, they need to maintain the excellent profits they make for their followers to stay in.  This is the cream of the tipping crop we're talking about here.
Join the Smart Betting Club today, for immediate access to all the current Hall of Fame tipsters.

Real Life Example…The Brilliant 'Price Power' Service…
If you download our free sample Betting Magazine you will see a typical review of one of our Hall of Fame services…Price Power.
First, we set the scene:
Service In Brief: High turnover racing tipster focusing exclusively on longer odds selections (10/1+) – 12% ROI achieved in over 14,000 bets and seven years of tipping.
So you can see straight away that here is a tipster with a long pedigree, who has been making superb profits for their members for seven years!  Remember too, all these bets were proofed to the SBC, so you know that here is a service that will make you money.
Price Power is a service that keeps things very simple.  Bets are given out in very easy to understand emails, and all tips are advised at just £5 each way.  You don't need to be a high roller to earn excellent money from your betting with this service in your armoury.
Look at this graph that plots the Price Power results.  It shows a beautifully steady, smooth upwards path to profit.  Exactly the sort of graph typical of our Hall of Fame tipsters: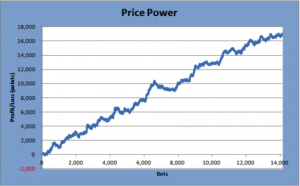 Translating this graph into pounds profit, then imagine you had just a £2,000 betting bank. You'd be taking an average of £2,400 clear profit from the bookies every year!
These results were recorded at the end of 2014.  So how has 2015 progressed?
In 2015 to date, Price Power has made for their members another 1,465 points profit at an ROI of 9.3%! 
Clear evidence that the Hall of Fame rated Price Power's wheels just keep on rolling, generating year after year of exceptional profit.
But Who Is This Service Suitable For?
As part of our review process, we go beyond just the bottom line results (important though they are!).  If you are going to join a betting service, you need to know you'll be able to follow it properly.
Here's a quote from our original review:
"Service Practicality: The service is straightforward to follow and may suit those of you limited to betting at lunchtime. Tips are sent out via two emails (three tips each time) delivered at 12:00 and 1:15 pm each day"
And we continued:
"This service will likely be of most benefit to those of you earlier in your betting careers and would certainly suit anyone with decent access to a range of UK bookmaker accounts looking to gradually build their betting funds using small stakes to try to keep "under the radar" for as long as possible."

Don't forget either that the Smart Betting Club is 100% independent, so you can be assured that what we say is the honest truth. Unlike other 'review' services we do not take fees or a cut of sales for writing a positive review.
Superb Profits…Easy To Follow…Discounts Too?!?
Price Power is just one of 16 current SBC Hall of Fame services.  All 16 have generated the same sort of profits over the long term, and have proven themselves to be true professionals in every aspect.  You can't help but massively grow your betting profits following these elite services.
But we're not content to simply point you in the right direction of who to follow.  We want to help you make your betting be as profitable as possible, and to help you achieve this in any and every possible way.  That's why we set up the SBC member's Discount Club, so that you can make big savings on subscription costs.  We want your betting profits to go in your pocket, not taken by sign up fees.
Take Price Power as a typical example.  As an SBC member, you will have access to an exclusive saving of 20% off the cost of the Price Power subscription fee.  And there are plenty of similar savings to be made when joining more of the very best tipsters of the betting world.
Enjoy All The Benefits Of An Sbc Membership
By signing up to the Smart Betting Club today you will have immediate access to all of our bookie busting strategies, tipster reviews and analysis, expert guides and more to ensure that you make money from your betting…
Full access to all SBC Magazines for the next 12 months;
Full access to all SBC Tipster Profit Reports for the next 12 months;
Full access to our 9 1/2 year back catalogue of Magazines & Tipster Profit Reports, featuring hundreds of tipsters reviewed and strategies for making money. ALSO including our bookie special guide and VPN articles;
Massive savings on many popular tipsters via the SBC Discount Club;
A 30-day money back guarantee if not happy with your membership (Gold & Platinum only);
Plus several fantastic bonus systems & guides to help your betting.
What's more, you'll be able to make excellent profits from today and continue doing so tomorrow, next week, next month, next year….
SIGN UP TO THE SBC TODAY FOR IMMEDIATE ACCESS