>
Earlier this week we released Part 3 of our Essential Football Betting Compendium – featuring our exclusive review of the Brazilian Football Tipster that has really impressed us after stacking up some serious profits.
Predominantly, this was down to the tremendous performance of his Asian Handicap tips which have made 118 points profit from 757 bets and at a ROI of 7.5%.
Yet as I am at constantly urging readers of these emails to be aware – making a profit in theory and a profit in practice are often two very different things when betting.
After all – how many of you have experience betting in the Brazilian leagues and know exactly which bookmakers price these games up and how their odds stack up?
Not many of you I imagine!
So to gauge more on just how we could put these Brazilian tips profits into practice – we ran some very detailed odds analysis – Allow me to reveal all!
OUT TODAY: Part 4 Of The Essential Football Compendium
Enjoy this exclusive SBC review of the FREE Football Tipster with a fantastic 12% ROI record across both UK and European competitions during the 2015/16 season.
Read a full interview with the tipster in question plus details on how you can follow for free during the whole of the 16/17 season.
(Plus lookout for Part 5 on Monday featuring the amazing Football 'Loophole' Tipster, who made £2302 profit from just £3006 staked in 2015/16).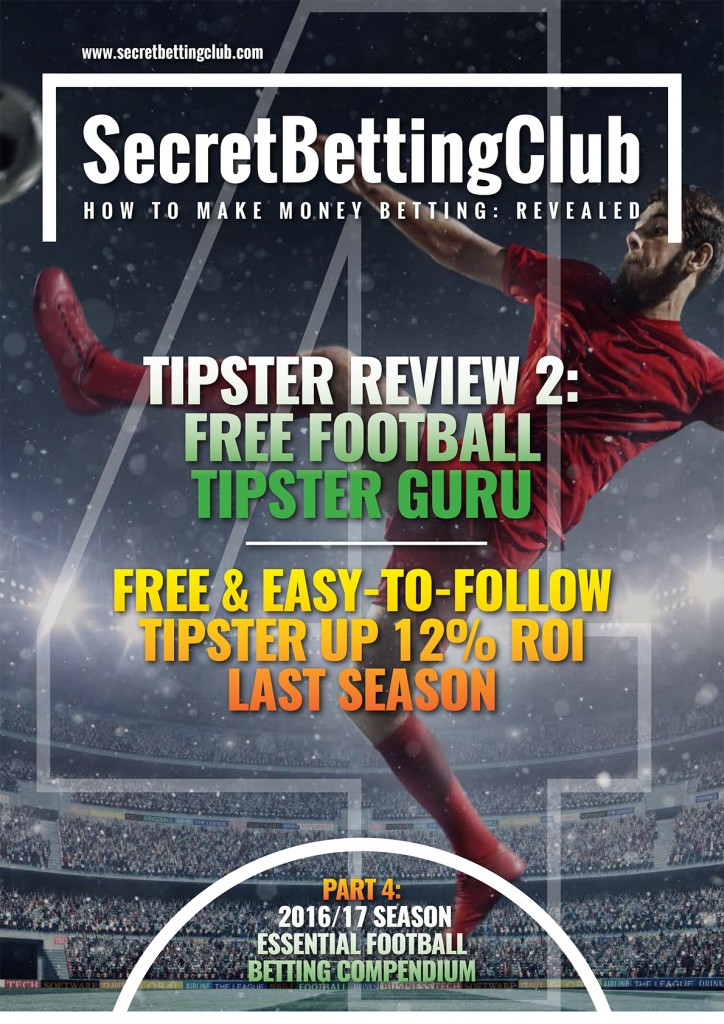 3 MONTHS & 277 TIPS ODDS TRACKING…
As standard practice when reviewing a tipster, we initiate some very detailed odds tracking analysis, whereby we observe how the quoted odds a tipster put forward rise or fall.
If for example a tipster is going to settle a bet at 7/1, when you can only get 5/1 – there really is no point in following!
(Something I see time and time again in the racing world these days – be very careful of tipsters quoting big odds the night before racing as often its impossible to obtain them)
SBC Team member, David, is the man in charge of our odds tracking and he spends hours each week monitoring the betting markets and logging the odds for each tipster under our review microscope.
It's a herculean task but it is a hugely worthwhile one as the results are often invaluable.
As part of the Brazilian tipster review, David tracked the price movements of 277 tips between March and June 2016. He used two bookmaker panels for this exercise; a "UK" panel (consisting of Bet365, Coral, Ladbrokes, Matchbook, Paddy Power, VCBet, and William Hill), and an "Asian" panel (188bet, Pinnacle, and SBOBet).
The advised odds were recorded and compared to prices available on receipt of email, 60 minutes after receipt, and the closing (kick off) price.
Here is what he found – starting with the UK Bookmaker Panel:
Odds Tracking Results (UK Bookmaker Panel)


For those of you with only access to UK bookmaker accounts – the good news is that the odds available when the tips were received could be beaten by around 0.8% ROI on average. Those of you waiting up to 60 mins or when the odds close would be between 1.3% and 2.5% worse off.
Now moving onto the odds movement from our Asian Bookmaker Panel (best odds from Pinnacle, SBObet or 188bet) – here is what David found:
Odds Tracking Results (Asian Bookmaker Panel)

Once again, the good news was that if placing your bet when it was received would result in a 1% increase in overall ROI – signifying the odds quoted by this tipster were both realistic and beatable.
More positive news came in the form of the odds available after 60 minutes had elapsed, which still showed an increase of 0.4% ROI.

WHAT WE LEARNT
The upshot of our odds tracking analysis told us a few things:
Those getting on as soon as they receive a tip can expect to improve ROI by between 0.8% and 1% ROI.
If getting on within an hour, you can expect at worst a 1.3% ROI drop if confined only to UK bookies or at best a 0.4% ROI increase if accessing other 'Asian' bookies.
The odds do move downwards between 0.9% and 2.5% ROI towards kick-off, indicating a tipster that has a clear edge on the betting market.
So to go back to our original question: Does this tipster make both a practice in theory and in practice?…The answer would have to be a resounding yes.
Of course, the profits you make are dependent upon which bookmakers you utilise. The more bookies and exchanges you hold accounts with, then the greater the odds you can achieve.
In actual fact these days you probably only need a few key accounts for football betting – something we will be covering in-depth in Part 6 of our Essential Football Betting Compendium (out next week!)
READ THIS REVIEW
You can read our full and detailed independent review of this particular Brazilian football tipster with a Smart Betting Club subscription (which currently you can save £16 on!)
By signing-up you will also gain full access to all 6 parts of our Essential Football Betting Compendium – all you need to make a profit on the beautiful game this 2016/17 season.
Subscribe to the Smart Betting Club