>
Part's 4 & 5 of SBC's 2016/17 Season Essential Football Betting Compendium have just been released – featuring reviews of 2 more profitable tipsters to check out!
Inside you can find details on the free football tipster with a 12% ROI last season (and how you can follow free in 2016/17) plus the outstanding 'loophole' tipster with a fantastic record.
PART 4) TIPSTER REVIEW: Free Football Tipster Guru (12% ROI)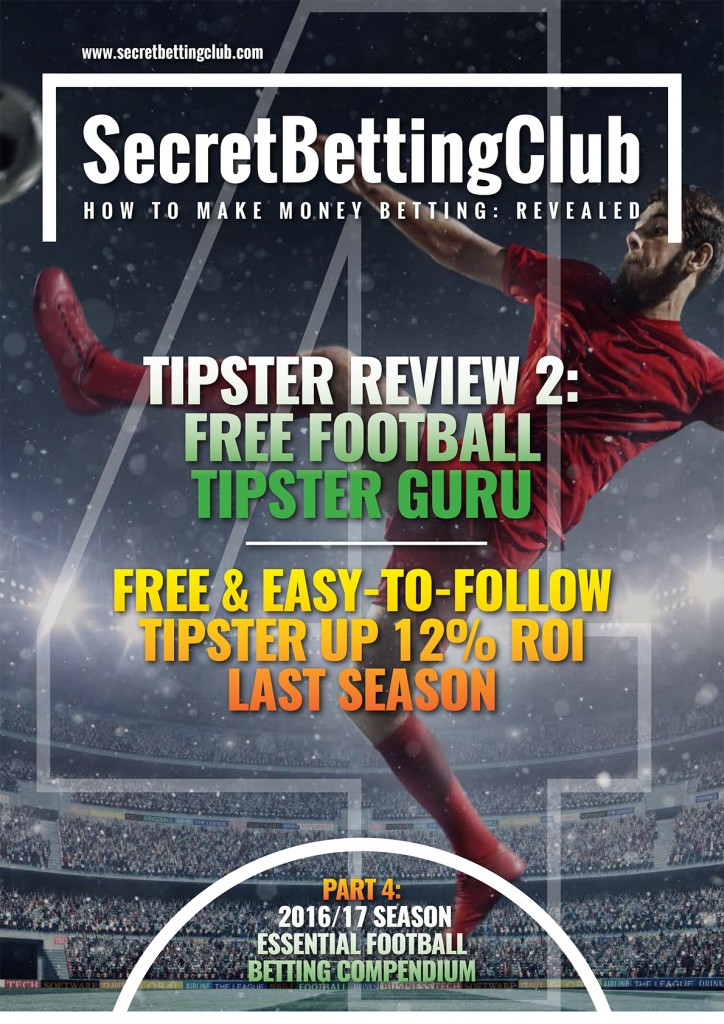 Enjoy this exclusive SBC review of the FREE Football Tipster with a fantastic 12% ROI record across both UK and European competitions during the 2015/16 season.
Read a full interview with the tipster in question plus details on how you can follow for free during the whole of the 2016/17 season

PART 5) TIPSTER REVIEW: Football Loophole Tipster (£2302 Profit)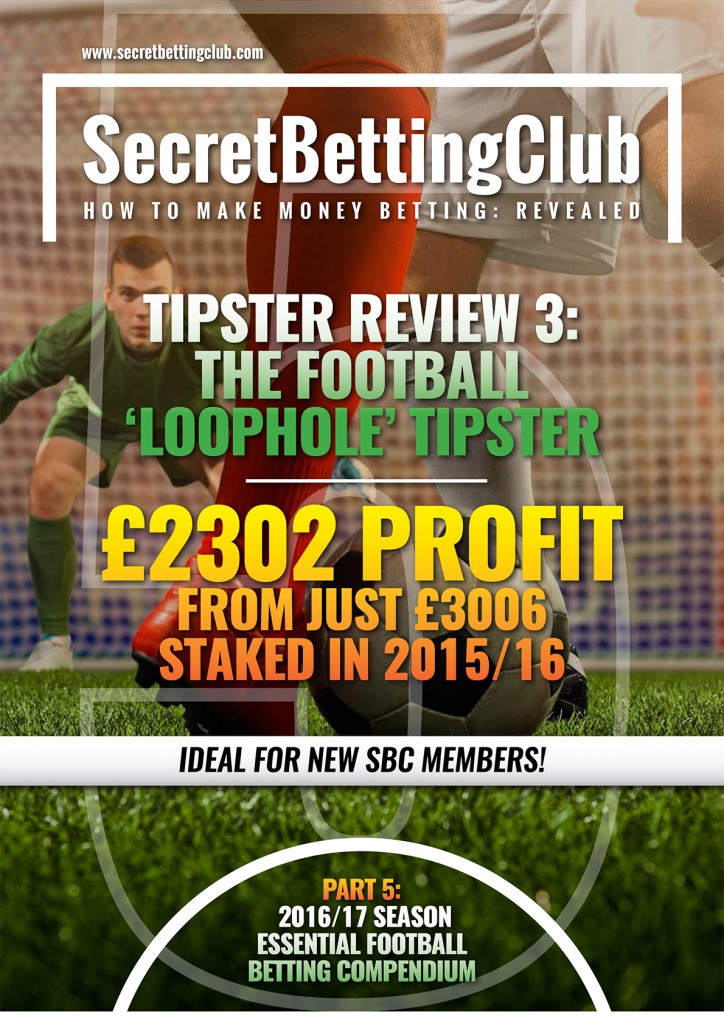 Check out the amazing Football 'Loophole' Tipster, who made a £2302 profit from just £3006 staked in 2015/16.
He utilises bookie specials, accas and shrewd low-risk bets to make some very easy to follow profits.
Best of all the first 20 SBC members to sign-up can save 20% on the cost of joining him!
What's In Parts 1, 2, 3 & 6….
Our 2016/17 Essential Football Betting Compendium comes in 6 parts, with Parts 1, 2 & 3 already available and Part 6 due for release later this week.
Here is what is inside Parts 1, 2, 3 & 6:
Part 1: Sports Tipster Report: Discover just who the best sports tipsters are that we track. View tipster league tables & best buy rankings on 25 different experts. AVAILABLE NOW
Part 2: Football Tipster 2016/17 Guide: Read exclusive interviews and analysis on 13 top football tipsters – including those recommended in our Hall of Fame. AVAILABLE NOW
Part 3: Tipster Review 1: An exclusive review of the fantastic Brazilian Football Tipster that we have been tracking for 18 months – during which time he has scooped a 7.5% ROI from more than 750 Asian Handicap bets. AVAILABLE NOW
Part 6: Best Bookmaker Report: Read about the 4 betting exchanges and brokers you need to use – those that offer the best, most competitive odds and lowest commission rates. Includes exclusive interviews, reviews and analysis on each option. AVAILABLE FRIDAY 13TH
Read all about the Essential Football Betting Compendium

Sign-Up Now & Gain Instant Access
The only way to pick up all 6 parts of this unique compendium is as a Smart Betting Club member.
The instant you join you gain full access to the SBC service and give yourself the best possible foundations to make this coming season a betting success.
If taking up either a Gold or Platinum subscription you can also enjoy the peace of mind of their  90-day Money Back Guarantee if not satisfied once joining! Ensuring you can sign-up totally risk-free, with everything to gain and nothing to lose.