The latest Issue of the SBC Magazine is out now with 3 new tipster reviews to explore in full.
Our headline review this month is our exploration of the insider information based racing tipster with a ROI close to 17% since 2020!
We also have detailed profiles of a pay-as-you-win tennis tipster and a long-shot horse racing service. All three reviews can be read in full as a member of the Smart Betting Club​
Inside SBC Issue 131 you will find:
Review 1: The racing tipster who uses industry contacts and has made over 800pts profit & a ROI of 16.89% since 2020.
​
Bets are profitable across both bookmakers and exchanges and we discuss odds availability, the practicality of using the service and betting bank advice alongside the key data from the 2,228 bets verified so far. SBC members also get a 33% discount on their first subscription purchase!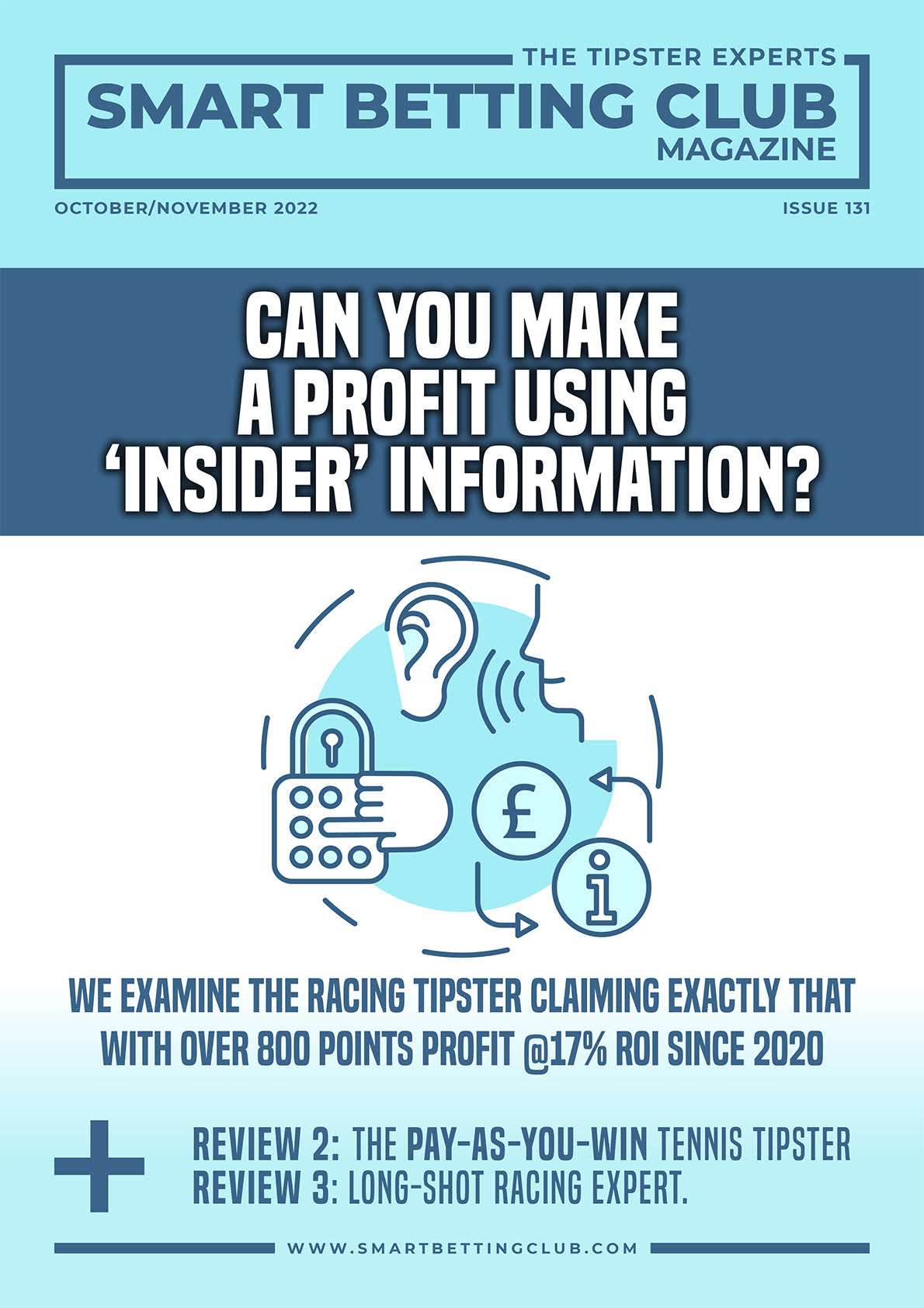 Review 2: The tennis tipster who only charges you when you are profitable! Using their betting experience and expertise of the major tours, this service has shown a consistent edge against bookmakers with a 9.19% ROI from over 2,000 bets! We discuss staking strategies, performance in different sub-markets and odds availability alongside how this tipster's Fair Odds Policy adds value for the customer.
Review 3: The 'Long-Shot' horse racing tipster who provides daily tips that are profitable with both bookmakers and exchanges. By using form study, this service focuses on horses with double-digit prices and has shown a 15.91% ROI against advised odds and a 14.45% ROI against BSP since verification began. We discuss variance with longer priced horses, bankroll management and strategies to increase profitability by placing bets at the right time.
READ NOW WITH A SMART BETTING CLUB MEMBERSHIP
You can read all 3 of these in-depth tipster reviews inside SBC Issue 131 (and our huge back catalogue of reviews and reports) with a Smart Betting Club membership.
Quarterly, Bi-Annual and Annual memberships are available here and with so many verified and profitable tipsters available on the site, this is the perfect time to sign up!
All subscriptions come with a make money guarantee and other benefits that include:
Full access to all of our independent SBC publications and reviews of services
Access to 8 free verified tipsters who publish regular advice from a diverse set of sports
Discounts for numerous tipsters, including some of those from our famous 'Hall Of Fame'
Tailored advice that meets your betting needs with practical help and guides
​Subscribe here and take your betting to the next level