At the Smart Betting Club we're providing our members with even more value by adding another 3 services to our FREE tipster portfolio.
This means members of SBC now get access to as many as 12 tipsters to follow across multiple sports and strategies – all available as part of their subscription.
Subscribe Today & Gain Access To All 12 SBC Tipsters
Introducing the 3 new free SBC tipsters…
Lucky Puck
Lucky Puck is an expert Ice Hockey (NHL) tipster with a proven track record of profits.
This tipster has the rare ability of regularly beating the shrewdest bookmaker in the land – Pinnacle Sports, so you know when following his tips you will be making great bets.
Over the past 2 NHL seasons we proofed his results and recorded a total of 54 points profits at 6.4% ROI over 680 bets.
This is a fantastic deal as the tipster behind this service has traded with some of the best US sports gamblers in the world.
The deal means we will receive all of his tips for the rest of the NHL season (until May 8th) and are confident the service will make a fantastic addition to your betting portfolio.
As a member you will get all of his tips delivered straight to your inbox with bets available at all major bookmakers and exchanges, including Pinnacle Sports.
Bassie 90
Professional bettor, Bassie 90 is Dutch football expert and joins SBC with over 5 years of experience in the game.
He has made regular appearances on high profile betting sites such as Blogabet and Betmarkets and comes with a profitable track record of betting on football since 2017. Since then he has made a 135 point profit @ 6.95% ROI from 1460 bets.
The service focuses on high limit bets that you can take with the likes of Pinnacle Sports or on the Betting Exchanges.
As a professional bettor and economics graduate you can be sure you are making smart bets when following Bassie's expert strategy.
Pricewise with PCB
The 3rd addition to our free tipster portfolio comes after agreeing a deal with Paul Chandler-Burns for the continued supply of his Pricewise Strategy tips for the next few months – including during Cheltenham Festival!
Professional bettor Paul uses the popular Racing Post Pricewise tipping service to create an optimised strategy which makes the service more user friendly.
His filtered approach to Pricewise tips in 2020 made Paul an impressive 23% ROI in 2020 and all at SP.
The strategy is also suitable for use at the exchanges meaning it's ideal for those struggling with bookmaker restrictions or those looking for viable long term prospects.
SBC Free Tipster Update
The 3 new additions now make it 12 free tipsters in total that are available to all SBC members
Overall the free tipsters section has been providing incredible value with all time records currently showing a 7.73% ROI from well over 15,000 bets!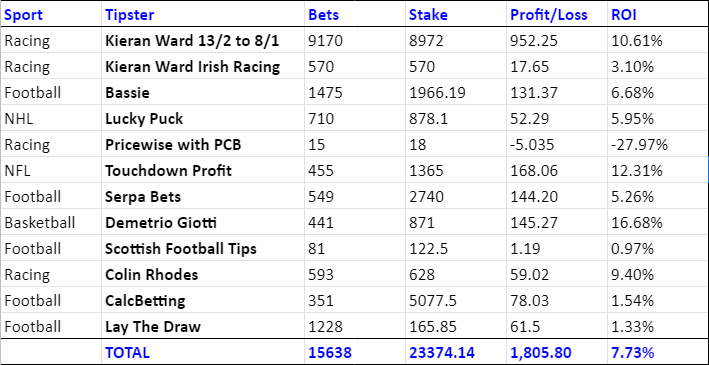 How Can You Follow These Tipsters?
Access to all of the above tipsters is provided exclusively to Smart Betting Club members. Sign-up to the service and visit our 'Free Tipsters' members section for instructions on how to sign-up to each of them.
How Are The Tips Sent?
All of the tips are sent via email directly to you with the only exception being Pricewise with PCB where the advice is delivered via the Telegram app. When logged into the SBC members area, you can simply sign-up to follow those tipsters that interest you the most!
Why Do SBC Offer These In-House Tipsters?
We do so as it's an ideal solution for those of you not sure where to start OR wary about spending money on subscription fees to a tipster service. Instead you can get all of the above as part of your Smart Betting Club membership.
How Quickly Can You Make A Profit?
Betting profits never come in a straight line so we make no bones about stating you will need patience and discipline to profit long-term from these tipsters. We can't guarantee (nor can any tipster) that you will make a definitive profit within 1 week or even 1 month, yet what we can show you is that given time these tipsters have made a clear profit. If you join with that realistic mindset, you will go far!
Where Can I See More Detailed Results?
We keep a detailed log of all results at this online results spreadsheet. Please explore the individual tipster results sheets to see a full breakdown of performance.
You can sign-up today as a Smart Betting Club member and get started straight away by signing-up to the tipsters you want to follow
All of our low priced memberships are backed up by our 30 day and 90 day no quibble money back guarantees so if you're not satisfied we'll refund your fees up to 90 days later!
Subscribe NOW to the Smart Betting Club and gain instant access
Best regards,
Peter Ling
Smart Betting Club Editor
pete@smartbettingclub.com