The latest SBC Magazine (Issue 109) has just been published featuring 3 new, in-depth tipster reviews including the easy to follow football expert making a big impression.
Having made 145 points profit at 8.1% ROI from 1800 bets, this football tipster has made significant returns backing in the 1X2 market since October 2016.
(His Betting Bank Growth figures are very impressive too, with a 290% increase seen so far)
This is a very professional tipster with no issues in obtaining the quoting odds and best of all, its betting exchange friendly so ideal for those of you unable to bet with restrictive bookmakers. SBC members can also join this tipster and enjoy a 20% bonus on your subscription package.
You can read about this and 2 other winning tipsters in SBC 109 – which is available to download the instant you join the Smart Betting Club.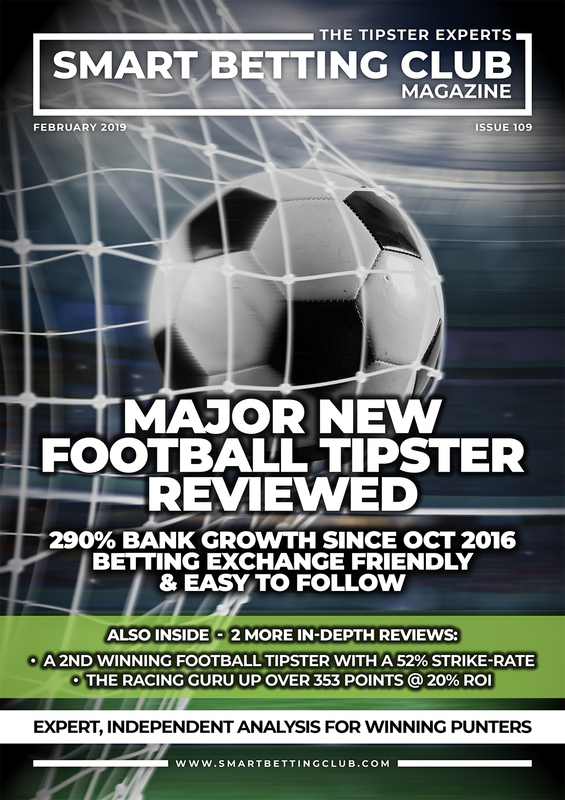 Also inside SBC 109:
Review 2: A 2nd Winning Football Tipster With A 52% Strike-Rate
Read our detailed examination of a second football tipster with a similar long-term record of profitability dating back to 2014. This is a very steady and affordable tipster, charging just £10 a month (or £59 per year via a special SBC member discount) with a 4.2% ROI from 895 bets. That might not sound much to the untrained eye, but in the very competitive football betting world – its impressive, especially given the markets he works in.
Once again, this is a betting exchange friendly service so it's ideal for those of you looking for solutions away from traditional bookmakers who might have restricted your account
Review 3: The Racing Guru Up Over 353 Points @ 20% ROI
Our 3rd review in SBC 109 is a very detailed take on a racing tipster with headline profit figures of 353 points @ 20.8% ROI since December 2017. Admittedly there are concerns over odds movement of the quoted prices (all tips are advised between 9 and 10am each day) but it is setup to appeal to those of you looking for a high-volume, low staking tipping option.
How To Get Your Copy Immediately
You can access your own copy of SBC 109 and our entire back catalogue of magazines the instant you join the Smart Betting Club.
This includes access to every single tipster review we have ever written (there are literally hundreds available) and all of the Hall of Fame Tipsters we recommend to make you money betting.
Check out some of our latest publications.
You can also enjoy significant discounts on the cost of joining many of these tipsters via our unique Tipster Discounts – exclusively available to SBC members only.
Get The Full SBC Membership Package For Just £27.99
You can now join the Smart Betting Club and take advantage of our lowest EVER membership prices for 2019.
From as little as £27.99 + VAT per quarter, you can get started immediately and access the ENTIRE Smart Betting Club service including all our SBC Magazines, Tipster Profit Reports, Best Tipster Guides, Pro Betting Guides & more.
This includes access to our full 13 year back catalogue and no quibble money back guarantee if you join and don't like what is on offer (unlikely!).
£27.99 per quarter works out at just £2.15 per week – less than the cost of the Racing Post.
It's our best ever SBC membership deal and with our amazing money back guarantee offer you have everything to gain and nothing to lose.
Subscribe Now to the Smart Betting Club
Best Regards
Peter Ling
Smart Betting Club Owner and Founder