This May is a special month for us at SBC Towers as it celebrates our 7th year anniversary of running the Smart Betting Club – an event we are marking by releasing a series of special reports.
The first of which is our 4 Part Horse Racing Bookmaker Guide (released today) which features independent advice on the best (and worst) bookies, plus a lot more besides when it comes to the Sport of Kings.
Its findings are based on the results of an in-depth survey of SBC members last month, where we posed all kinds of questions to get to the bottom of who the best bookies really are. Bearing in mind that over 30% of all SBC members made between £10,000 and £30,000 profit betting solely on horse racing (as per the results of our survey) then its findings are especially relevant.
Allow me to reveal a few of the guide's findings here with you today… And remember – as SBC is 100% independent from all bookmakers, we can tell it how it really is!
The Top 7 Racing Bookmakers
We asked all SBC members to give us a rating between 1 (worst) and 10 (best) on all the main horse racing bookmakers. In total we asked them about 19 of the best known bookies and the top 7 were as follows: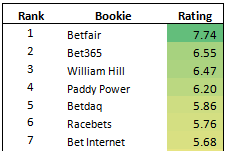 Although it was perhaps no huge revelation to see Betfair top the list, there are quite a few surprising entrants (and also omissions) from the top 7 rated bookies. Smaller firms such as Racebets and Bet Internet scored highly, whilst the likes of Ladbrokes, Coral and Victor Chandler were nowhere to be found. Big advertising budgets count for nothing here!
The 3 Worst Racing Bookmakers
How about the lowest ranked bookmakers in our survey?
Well again, this threw up some interesting results with the bottom trio all fairly well known, yet seemingly hugely unpopular with the many pro gamblers that used our survey.

There was precious little love for Boylesports throughout the many questions posed as part of this survey. It was something also reflected in our Football Bookmaker guide (released in September 2012) where they also finished rock bottom in SBC punters eyes.
Why Boylesports Are So Poorly Rated
But just why were the likes of Boylesports so unpopular?
Well it is something best explained once we dig further into some of the other questions in our survey, such as the responses to the topic of 'account restrictions and closures'. We wanted to find out which bookies limited punters from winning too much with them and Boylesports was one of the very worst culprits!
In fact, 39.60% of members had Boylesports accounts closed with a further 36.64% limited to small stakes as the table below indicates

Given these figures, its perhaps easy to understand why Boylesports finished bottom of our survey! Thankfully not all bookies impact punters like this…
The Best Bookies To Bet With
Whilst it is interesting to reveal the worst bookies, what matters most are the bookies that offer the best service and again our survey tackles that.
As part of our guide we revealed our Top 3 Major and 'Minor' bookmakers – those who run a good service, welcome winners and whom you should bet with.
The 3 'Minor' bookmakers are of particular interest as not many punters are aware of them, yet they scored very highly in our survey from those that did have an account with them.
These include 'Racebets' about whom we have a full feature on, including our findings based on using them for the past 3 months. There is also a £100 bonus code for those that open up new accounts with them – full details once again in the Bookie Guide.
The Full Contents Of Our Bookmaker Guide
All told, there is a huge wealth of information in the 4 part Horse Racing Bookmaker Guide that can help you including…
Ratings for 19 different horse racing bookmakers.
The top 3 Major and Minor racing bookmakers.
The 3 worst racing bookmakers.
The bookie accounts you need to open.
A full review of the bookie 'Racebets'.
Details on which racing bookies – a) Close accounts, b) Restrict accounts and c) Allow you to bet via them without issue.
How much SBC members are winning betting on horse racing
A rundown of independent bookmakers
Our members feedback on their best and worst bookie experiences.
And if Football Betting is more your thing, then all new SBC members also gain access to our 4 part Football Bookmaker Guide as well. This features plenty of similar content and ratings, all from a football betting perspective.
Gain instant access today to all our independent bookmaker guides with a risk-free membership to the Smart Betting Club