This week saw the release of the very latest Smart Betting Club (SBC) Tipster Profit Report – featuring results details on 53 of the very best betting tipsters we have uncovered in over 7 years of independent reporting.
In each unique report you can find unique tipster league tables, ratings and 'Hall of Fame' listings, all aimed at helping YOU identify which often little-known tipsters are genuinely profitable.
You can find out which tipsters…
Make the largest profit?
Make the largest betting bank return?
Are the simplest to follow?
Are easy to get advised odds with?
Offer the best option on a budget? (including 5 totally free)
And most importantly…can genuinely make you money betting?
All of these questions and more are answered courtesy in this latest Tipster Profit Report, enabling you to quickly and easily find the right tipster to start bashing the bookies with!
What's more – many of these tipsters are far from household names and its only Smart Betting Club members who know exactly who they are.
Pick up the latest Tipster Profit Report instantly as a Smart Betting Club member – available for less than 22p a day.

The Top Ten Tipsters Revealed…
To help showcase how valuable our Tipster Profit Report is, here are the top ten tipster services as revealed by our Best Overall Tipster table below.
This lists the top performing tipsters from the last 12 months if working to a £2000 betting bank after their individual subscription fees have been deducted. Meaning what you see is totally realistic!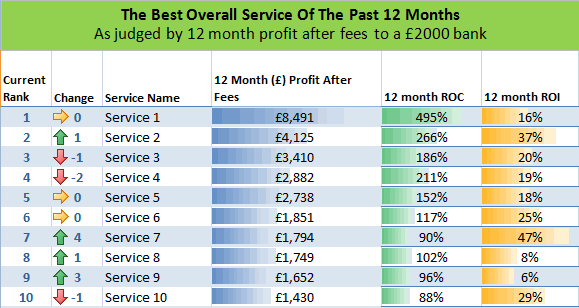 We have blanked out the names as this is for full members only (it's a top secret!), but as you can see – the top tipsters are making an excellent profit.

Service 1 leads the way with £8,491 profit from just £2000 over the past 12 months (they are amazingly consistent!). Even Service 10 has made 88% growth in the past year with a £1,430 profit after costs.
In fact, the average profit in the past 12 months from these top ten services is £3,012 – all from a £2000 starting point and with fees deducted.
How This Tipster Report Can Have A DRAMATIC Impact On YOUR Betting
In each of our top secret Tipster Profit Reports you can find many more tables just like this – all designed to help reveal the few elite tipsters that the bookies really fear.
In total, we rate 23 of these tipsters as good enough for a 'Hall of Fame' rating – meaning we thoroughly recommend them to help you make a profit from your betting.
Its no exaggeration to suggest these reports can have a dramatic impact on your betting forever.
Take for example one of our members – Padraic who has gone from nowhere to semi-pro punter in just 3 years…
"I joined SBC sometime in 2010 and started by subscribing to the most affordable tipsters which were listed in the SBC Hall of Fame in early 2011. This was the first time that I discovered that you could make money from betting. After two years I have graduated onto following more of SBC's top rated tipsters and now I make a good living as a semi professional bettor."
A Secret Dossier On 53 Top Tipsters
You can pick up your copy of this latest Tipster Profit Report instantly, by signing up for a Smart Betting Club membership today.
In the Report, alongside our detailed best buy tables that compare and contrast 53 of the best racing and sports tipsters you can also find:
Our unique SBC ratings and Key Facts Page for each of the 53 tipster services.
Our Hall of Fame rankings – those we consider the best tipsters for making money betting and recommend to you.
In-depth analysis and commentary on individual tipster performance.
Details on the unique savings, free trials and deals available to many of these 53 tipsters via the SBC Discount Club.
That's not all though as a Smart Betting Club membership also provides you with…
Regular SBC Magazine –Find out the best new tipsters through our independent SBC reviews alongside expert interviews and free systems and strategies for you to follow.
Access to our Ultimate Betting Package (Worth £380), which consists of:
1. The Secret Betting System Guide including profitable systems such as the 4 Pronged Attack and Golf Betting Expert (Worth £200)
2. The Professional Gambler Blueprint (Worth £100) – a 100+ guide written by pro gamblers to help you make your betting a success.
3. Our Two Independent Bookmaker Guides (Worth £80) on the very best and often little-used bookies you need to bet with for better odds!
Access to our dynamic forum rammed full of advice, free strategies and systems devised by some of our very shrewd members.
Access to our outstanding 7+ year back catalogue full of reviews, features and profitable betting advice.
9 Times Cheaper Than Today's Racing Post
The great news is that all of this available for the equivalent of just 22p per day – 9 times cheaper as a copy of today's Racing Post!
What's more as we are independent we carry no bookmaker or tipster adverts, so you can be sure what we say is the truth!
A Smart Betting Club membership also comes with a full money back guarantee if not in any way satisfied once you joined, so you can subscribe with full peace of mind.

Best Regards,
Peter
Smart Betting Club Editor