>
The latest in a series of special Smart Betting Club Reports has just been published and this time out we are looking at how you can increase your profits by utilising some very simple multiple betting strategies.
Using similar multiple betting strategies helped me make £1600 from just £54 staked on 3 bets earlier this year (more on this shortly) and partly inspired by this, the team at SBC have put this special report together.
Entitled 'The Magic of Multiples' – this special report reveals the following:
The theory behind successful multiple betting & how you can utilise it to good effect;
How betting in multiples can keep you under the bookies' radar and extend the longevity of your accounts;
The best multiple bet strategies to follow (how and why they work)
Real-life evidence of how multiple betting has worked for us at SBC (and the tipster tearing it up with a simple doubles strategy)

£54 Staked Over 3 Bets = £1600 Profit
I know that multiple betting is a strategy that works as I utilise it myself personally (As I know several other shrewd punters do as well)
To prove this success, I have copied some screenshots from my bookmaker accounts that highlight a few recent big 'multiple bet' winners.
First of all, you can view the simple £10 Trixie (3 Doubles and 1 Treble) bet from the end of March that returned a £778.20 profit when all 3 horses won.

Secondly, here is another Trixie from the 28th May where once again all 3 horses won to return a £374.07 profit from just £20 staked.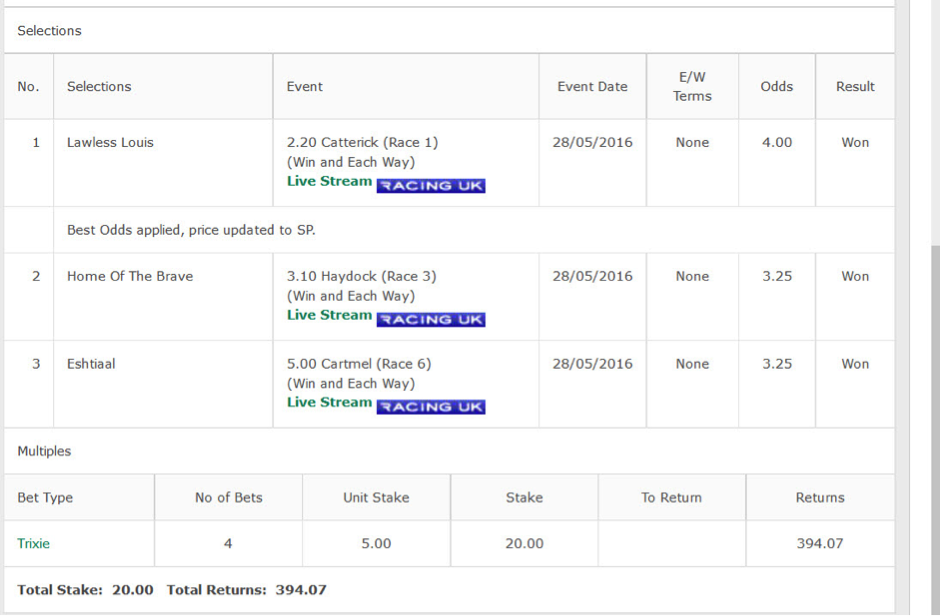 And finally, yet another Trixie from the 16th June, which returned £448.50 from £24 staked.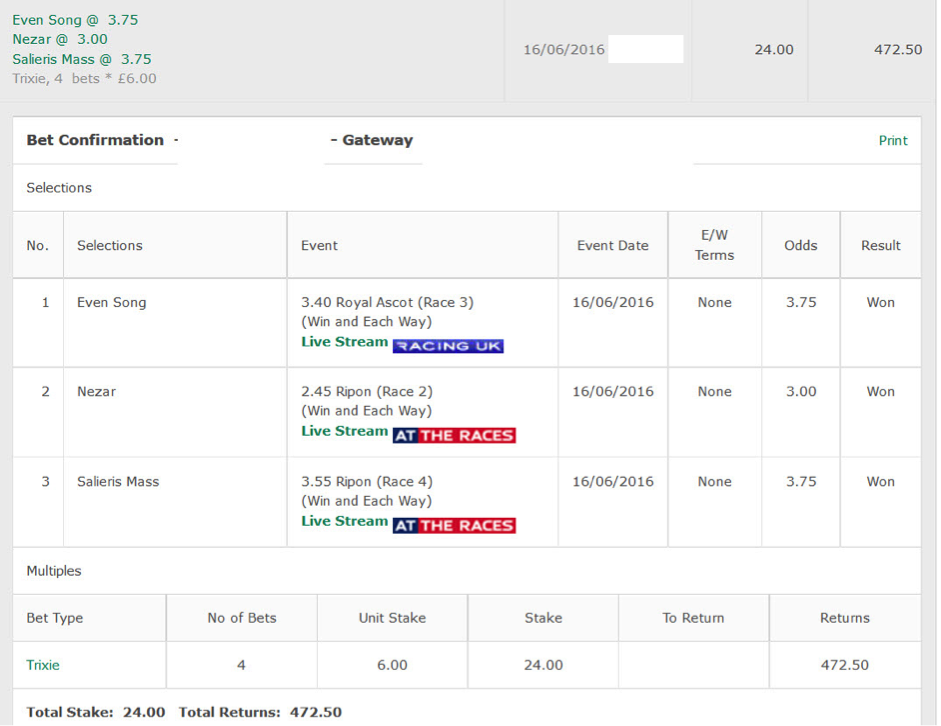 All 3 of these screengrabs are taken from my own betting accounts and are 100% correct (I would be happy to put together a video showcasing this should anyone be in any doubt!!)

All told – for £54 staked over these 3 bets, I made a £1600.77 profit.
Now of course, not every multiple bet I have placed has won and there have been losses during this period as you would expect. Still I remain hugely in profit overall from this strategy so far in 2016 alone.
It is a method that requires patience at times but ultimately if willing to think strategically and be disciplined, it does reap the rewards.
Best of all you don't need huge stakes to make a good return in this fashion, making it ideal if some bookies have limited how much you can stake.
Don't Miss Out On Multiple Betting Profits
If you are looking to add another string to your betting bow then you must check out 'The Magic of Multiples' report and see how it can help you.
It could well be that you are missing out on some easy extra profits – simply by considering some of the multiple betting strategies we outline.
You can access The Magic of Multiples Report the instant you sign-up for a Smart Betting Club membership.