In this article, the analysts from the excellent Form Lab software analyse over performing teams in major European leagues.
A look at the Big Five European leagues shows that teams that are over-performing in comparison to the previous season tend to fall back during the season and by spotting these sides we have the basis for a successful strategy.
Using a sample that includes almost all Premier League matches since the start of the 1998/99 season we have a total of 920 games where a team has been 4-7 positions higher in the table than they finished the previous season. Had you backed their opponents every time you would have achieved a 5% profit on turnover.  Backing the over-performing side would have yielded a 23% loss and the draw would have been a 15% loss. This is based on average odds, taking the top odds could yield better results.
Narrowing this sample to matches where the teams in question were playing away and were not playing an opponent who also fit the profile we are left with 456 matches and a profit of 13% from backing their opponents (37% loss backing the highlighted teams and 11% loss on the draw).
Furthermore, a similar pattern is seen across the other major European leagues.
Profits when the away team is 4-7 places higher than last season.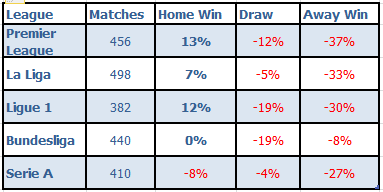 Table note: The % refers to Return On Investment (ROI). This means you would have returned a 13% ROI (or £13 for every £100 staked) by backing the home side in the Premier League if the away side was 4-7 places higher than the previous season and lost 37% ROI if backing the away team in the same situation.  
Bearing in mind the fewer teams in the Bundesliga we've also looked at sides that were 3-6 places lower than last season and playing on the road, and we get 497 matches with a 3% profit from backing the home team compared to a 13% loss backing our highlighted away teams. Both La Liga and Ligue 1 generate good profits from just backing the home team each and while there is a loss from following this strategy in Serie A, it's still better than backing the away team.
Teams currently 4-7 places higher than their finishing position last season are:
Premier League – Stoke (7 places higher)
La Liga – Mallorca (5), Zaragoza (4),Malaga(5)
Ligue 1 – Nice (4),Caen(7),Lorient(4)
Bundesliga –Wolfsburg(3)
Serie A –Catania(4), Juventus (6)
Playing away this weekend:
Stoke at Arsenal
Mallorca at AtleticoMadrid
Zaragozaat Osasuna
Nice at Nancy
Wolfsburg at Hamburg
Catania at Fiorentina
Do you like analysis like this? Pick up a 
Smart Betting Club
 membership to access football betting strategies and independent reviews of major sports tipsters.