Here at SBC we have just released our new Horse Racing Tipster Profit Report, outlining our ratings and recommendations for the many different racing tipsters we proof and track.
With Cheltenham quickly approaching, this provides the perfect opportunity for you to sign up to the SBC and read all of our detailed analysis and commentary.
Inside, you will find updated results figures for each tipster, comparative league tables to help you pick out the best racing experts and our independent commentary to help you decide which tipsters you should follow in!
Changing Times, Changing Analysis
This report is a little different from what has come before it.
Bookmakers, markets and liquidity are changing all of the time and we have introduced even more assessment tools, focusing on providing the clearest possible picture of what services offer and how practical it is to follow them.
Fair Odds – The Good, The Bad And The Ugly!
One of the focal points of our reports, especially when it comes to racing, is our quest to highlight those racing tipsters who quote realistically achievable odds.
This is vitally important in this day and age as bookmakers 'treat' customers who take bets in weak, early markets to account closures and heavily limited stakes.
One bad example of this came in the form of a racing tipster we proofed (but refused to review given how they worked) who continues to tip bets into early, weak markets.
Tips are released at 5pm the day before racing – as soon as bookmakers price them up -and it is not rare to see a bet quoted and settled at 20/1, which has been slashed to 10/1 within minutes.
We have seen 20/1 winners logged that no-one will realistically be obtaining given how quickly the odds move. And if you do get on these bets, your bookie accounts won't last 5 minutes.
When putting this issue to the tipster he simply shrugged and says its not his problem.
Hence why we won't be reviewing – plus the fact he has listed a Dead Heat bet as a full winner for well over a month, despite our highlighting of the issue!
Adjusted Odds Tables
To combat this and fairly measure attainability, we have produced 'adjustment tables' that reflect tipsters' odds at different intervals after they are released.
This paints a picture of which services are realistic to follow if you can't get on straight away and which ones require 'lightning quick clicking' to get on. They look like this and provide a valuable summary of price sensitivity for each service.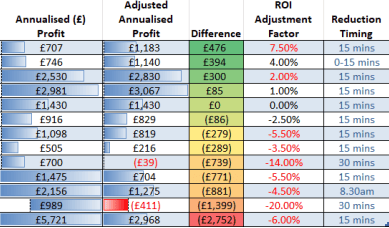 More Than Just Profits Or Return On Investment
In summary, this Racing Tipster Profit Report provides our recommendations of tipsters that offer:
A long-term edge and profitability
Realistic release times for bets so that followers can get prices without restrictions
An avoidance of using stand-out prices and fair odds settlement when prices change dramatically just after tip release
Membership Caps for those services where price sensitivity is an obvious issue
We feel that these expectations should be a bare minimum for all tipsters and have made this clear to all of the current or prospective we monitor, meaning that only the very best tipsters are recommended to our members.
Sign Up To Read In Full
To read the latest Horse Racing Tipster Profit Report you will require SBC Membership.
To sign up for instant access to all of our reports, discounts, free tipsters, analysis and guides, click here.