As a Smart Betting Club member, you can enjoy access to our huge 12 year back catalogue of magazines and reports – all designed with the central goal of helping you to improve your betting profits.
Whatever the sports that interest you – Football, Horse Racing, Tennis, Golf, Baseball, NHL, Darts…
Whatever your experience level betting – Novice, Regular Gambler or Full-Time Pro…
The Smart Betting Club can help you!
…And with a huge amount of content released in the last few months alone, below I have compiled just a few of the recent highlights and how they can help you.
SBC Magazine #104 features reviews of 2 new profitable, betting exchange-friendly tipsters.
It includes the uniquely profitable Tennis System with a 5-year winning track record AND the favourite-backing Racing Tipster with 140% bank growth. Both tipsters are ideal for following on betting exchanges – ideal for those of you unable to bet with bookies.
You can also read our special guide to betting on tennis where we explain you need to know from the bookies to use, tournament & betting market structure, type of bets & much more besides.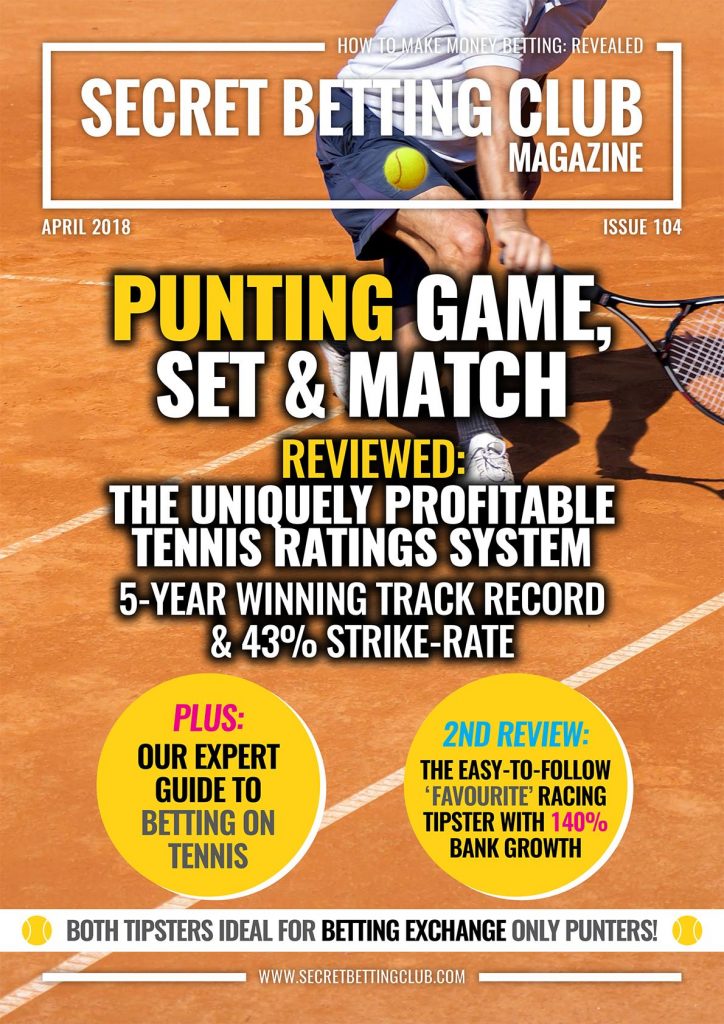 SBC 103 / Profitable Boxing & Racing Tipsters Reviewed
SBC Magazine #103 features 2 more profitable tipster reviews including our first ever look at a profitable boxing tipster with a heavyweight record at the bookies.
With a track record of 14.4% ROI over 5 years, this expert continues to stack up the profits. Best of all – he costs just £10 a month to follow in.
You can also delve into our exclusive review of the racing tipster with a significant edge over the bookies. Having generated well over 500 points profit and 434% Betting Bank growth since 2015, we put them under the SBC review microscope.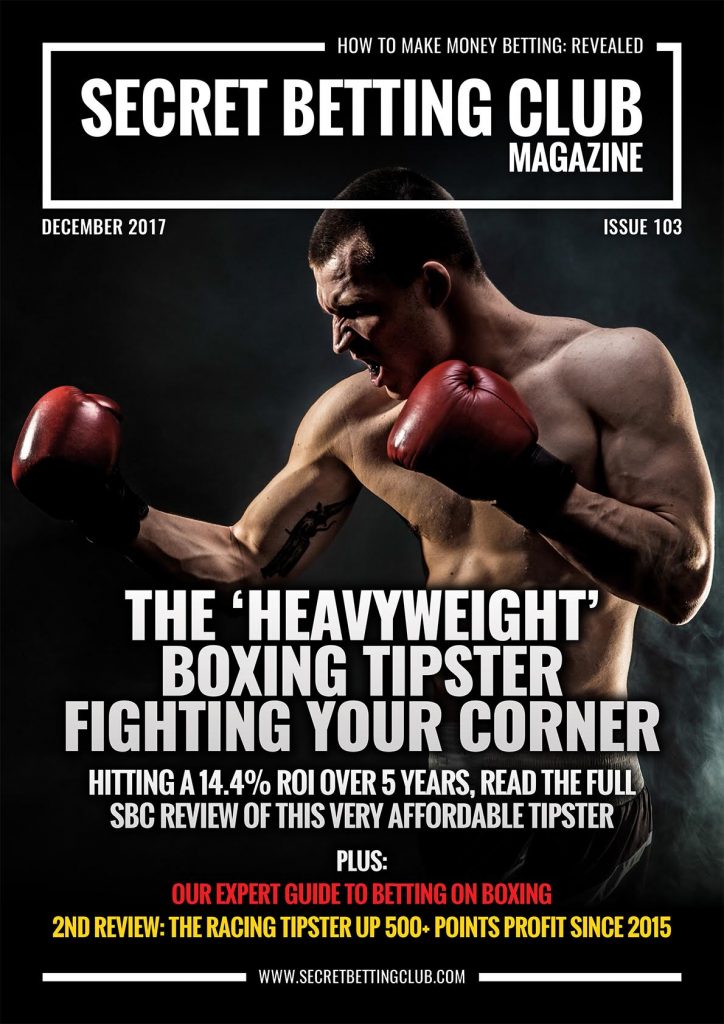 Tipster Profit Report / 58 Of The Best Tipsters Explored 
The latest SBC Tipster Profit Report features ratings, rankings and reviews on 58 of the very best betting tipsters we have uncovered since 2006.
Each Tipster Profit Report is designed to help you find the very best betting tipsters – those that have proven themselves to be successful over a long period of time.
Anyone can pick a few winners every now and then, but it takes REAL SKILL to beat the bookmaker year after year after year – which is exactly what this report reveals.
Best of all – the 58 tipsters included in this report have been independently evaluated and ranked with no affiliate links or kickbacks (unlike so many other 'tipster review' websites).
The Smart Betting Club has a unique, 100% independent reviewing policy so when we say a tipster is good – it's because it truly is and not because someone is paying us to say to!
Read more on our stance and why we are different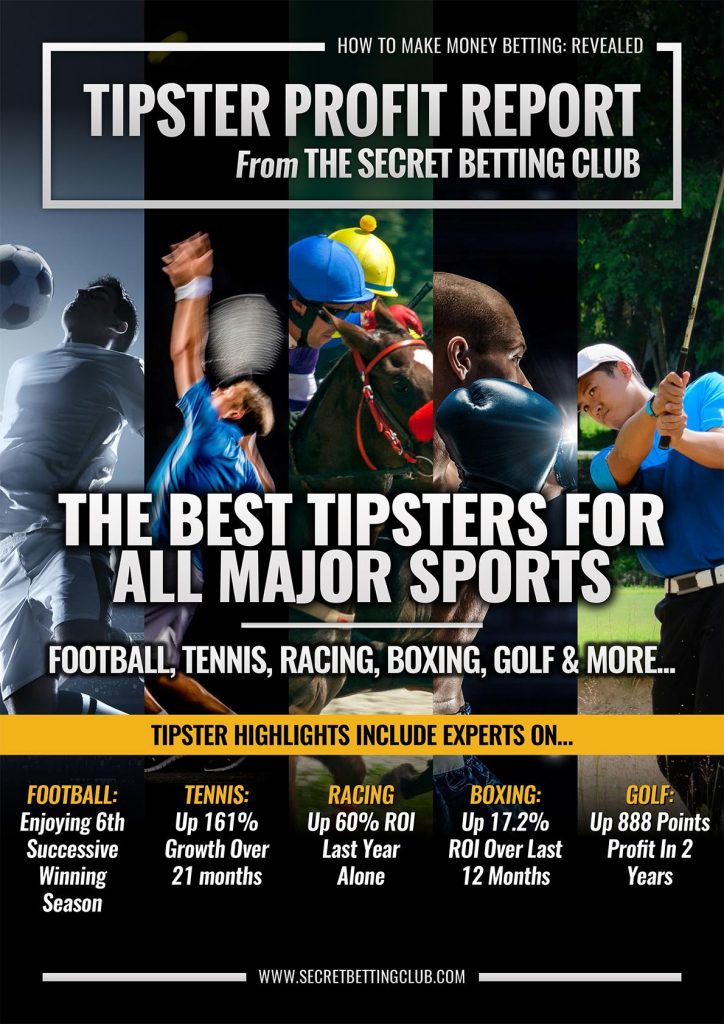 2018 Best Tipster Guide Reviews #1 & #2 (Platinum SBC members Only)
Access to the 2018 Best Tipster Guide provides you with 4 detailed reviews of some seriously profitable tipping experts – the best we have found yet.
The first 2 reviews are out now and are must reads for those of you serious about turning a profit from your betting.
The first tipster unveiled in the 2018 Best Tipster Guide has been included thanks to the exceptional profits made since they began proofing advice to us back in May 2015.
Over the course of 2 and 1/2 years and 1176 bets, this tipster has made a fantastic profit of 457.1 points at a very impressive 14.5% Return on Investment.
The second tipster featured in the 2018 Best Tipster Guide is for our money, one of the best pound-for-pound racing experts that we have ever had the pleasure to come into contact with.
Having proofed his advice since 2012, over the past 6 National Hunt seasons (for that is his specialty) he has made a Return on Investment of 35.1% from 1,305 bets advised.
Focusing solely on the big race meetings, there are no issues at all obtaining the odds he quotes and matching the profits he has generated over the years. It is an ideal service if you are restricted to betting exchanges only.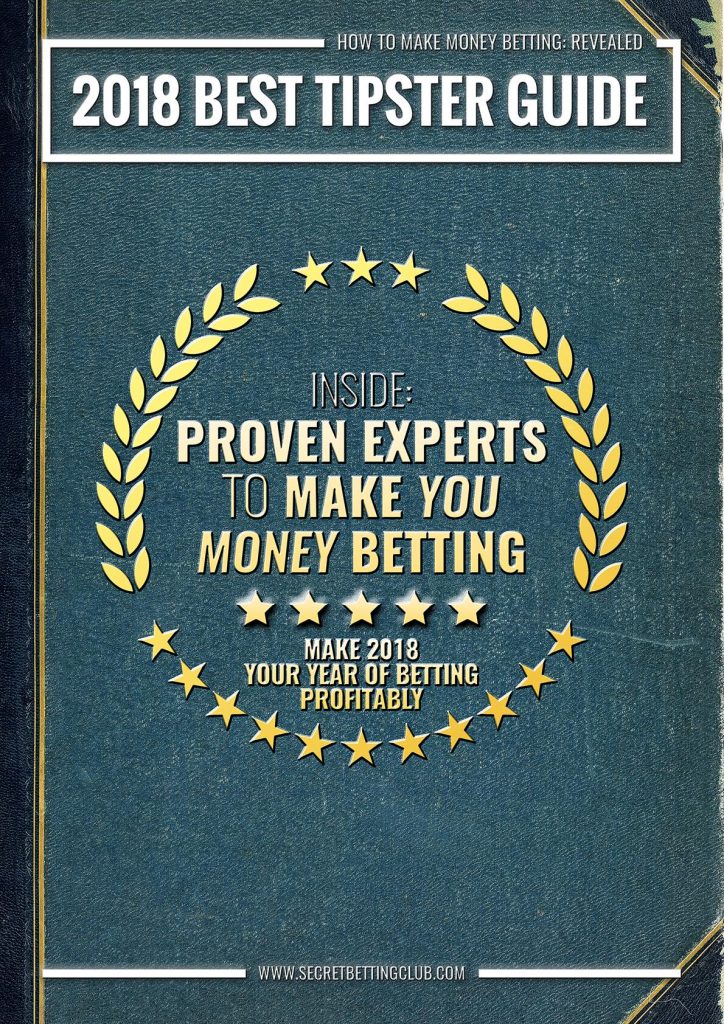 How I Make Money Betting Interviews (Platinum SBC members Only)
How I Make Money Betting' is the name of a new and unique set of interviews with winning punters, tipsters and expert gambling professionals, published by the Smart Betting Club.
With a collection of interviews available immediately and more planned throughout 2018 and beyond – it's your chance to learn the secrets behind the betting success of several very different gambling figures.
This series was kickstarted by a detailed interview with Andrew, AKA 'The Value Bettor' who is the founder and brains behind the tremendously popular National Hunt tipping service of the same name.
As an extra bonus report, you can also read some of the best 'How We Make Money Betting' interviews we have published in the past in our Legacy Report.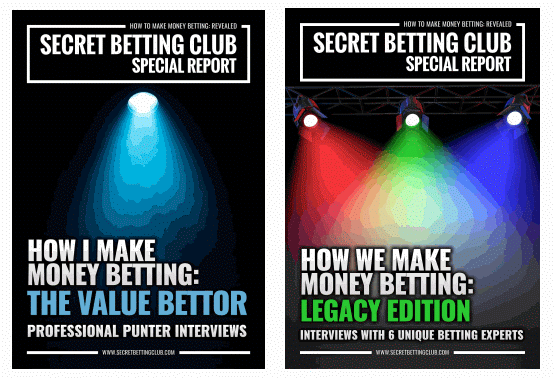 Access All Of This Content & More With SBC
The above is just a small snapshot of what has been released by SBC recently and you can access all of it and a LOT MORE with a Smart Betting Club Membership.
In operation since 2016, you can access 12 years worth of tipster reviews, profit reports, specials and betting magazines as an SBC member.
We offer 3 different membership options – Silver, Gold and Platinum to suit all budgets and to help you access the content you want.
You can read about each membership tier and get your SBC membership started instantly via our Subscribe Page.
See you on the inside
Best Regards,
Peter Ling
Smart Betting Club Editor