It seems like everyone fancies themselves as a tipster these days!!.
It's fairly easy to understand why – start a twitter account or blog advising tips, pick a few early winners and soon enough, you can start charging for your advice.
So the key question for any punter is 'how do I find good quality free (and budget) tipsters when there are so many so-called tipsters around'?
Well, that's where we at the Smart Betting Club can help.  It is our role to monitor and proof hundreds of tipsters for the benefit of all our members. We sift through the good, bad and the ugly of the tipster world to reveal to you which of them are genuinely profitable and worth following.
And today with the help of our latest members report, I want to showcase details on some of the BEST budget and low-cost tipsters we recommend.
Some of them are so good, that they put many more expensive tipsters firmly in the shade.
Over 50 Top Tipsters Rated And Compared
As part of our tipster tracking, we keep individual results spreadsheets for each tipster on our books to ensure our records are as detailed and as accurate as possible. This then helps us to identify the best, most profitable tipsters for us to review.
Then, every other month, we painstakingly put together what we term our 'Tipster Profit Report', which features the full proofed results of over 50 top tipsters, all of which we have rated, ranked and compiled into various league tables.
One such example is our 'Best Low Cost' tipster table, which we compile for Horse Racing and Sports Betting (football mostly) services separately. This compares the best tipsters that charge the lowest fees and illustrates the annualised profit you can expect to make if following them.
And amongst this table are some real gems…
Best Racing Services £30 A Month & Under
Let me show you with an example taken from our best performing Low Cost Racing Tipsters table, all of whom charge £30 or less a month on average. I have removed their names as this is for SBC members only but as you can see the profits on offer are excellent for such affordable services.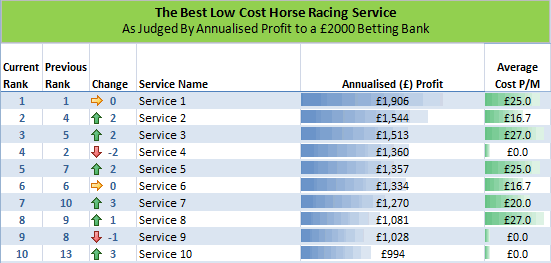 We rank these tipsters by our unique 'annualised profit' calculation, which shows the average yearly profit you will make to a £2000 betting bank. (note – you don't need £2000 in your pocket to get started, it's just a ball-park figure we use for easy comparison).
Highlights include…
The best budget racing tipster (Service 1) costs £25 a month but makes an annualised profit of £1,906 from a £2000 'betting bank'
The best free tipster (Service 4) makes a profit of £1,360 as an average each year from a £2000 'betting bank'
If you followed all 10 services, you would make an average of £1,339 profit for an average cost of £15.70 a month via the standard £2000 'betting bank'.
It's easy to see why so many punters find it easy to get started making money betting with tipsters like those above.
You don't need to splash out on big subscription fees or need big sums of money behind you – simply use our tables to choose the right tipster for you and get started right away!
All The Best Tipsters In Our Report
If you have never tried betting using tipsters, now is a great time to get started…especially with so many affordable tipsters out there.
And to help you choose the right tipster for you, our very latest Tipster Profit Report (released on Wednesday) will help. Available for download the instant you join us at SBC, through this report you can view all our best buy tables, reports, ratings and analysis on 54 of the best tipsters we have uncovered.
Some of the tables we feature include:
The best all-time tipster service across all types of betting
The best tipster over the past 12 months for sports and racing
The best low cost tipster for both sports and racing
The easiest tipster to follow for both sports and racing
Pick up your 27 page Tipster Profit Report today with a Smart Betting Club membership