As promised, today we have released the second of our Expert Betting Reports, which have been specially designed to help you make money betting
Today's report is our very latest SBC Magazine (Issue 86) and features a whole host of independent tipster reviews, interviews, expert analysis and pro gambler advice you won't want to miss out on.
Coupled with the release yesterday of our 2014 Betting & Tipster Awards Report, which highlighted the very best tipsters & betting experts as voted for by our members, its a great time to join us at SBC.
Sign-up here to gain instant access to this latest magazine (and our entire back catalogue) or read on for more details…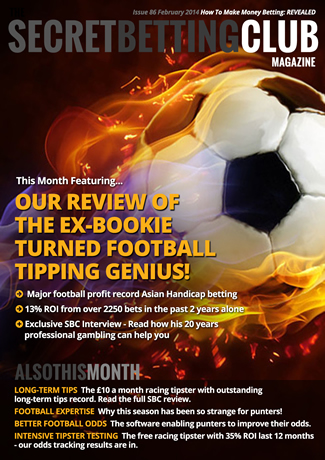 SBC 86 CONTENT INCLUDES:
Our exclusive review and interview with a proven football tipping expert. His betting service is second-to-none with a 13% ROI from over 2250 bets in the past 2 years alone.
Our Independent review of the £10 a month racing tipster with an 18% ROI dating back nearly 2 years.
Exclusive analysis of the very popular free racing tipster with 106 pts profit from just 298 bets in the past year.
The football bet brokerage service offering you better odds & exclusive free SBC access until March 31st.
Shrewd football analysis – why this season has been so unique!
Grab Your Copy Immediately (And Access Our Entire Back Catalogue Too) 
You can pick up your copy of this latest magazine, the instant you join our service at the Smart Betting Club.
That's not all though because as an SBC member you will also gain access to our huge 7 1/2 year back catalogue full of tipster reviews, expert interviews and guides, betting systems and profitable betting advice.
All of this is supplied complimentary to every new member.