It's an exciting 24 hours here at SBC Towers as we are releasing not one but TWO massive Expert Reports that can have a huge impact on your betting profits.
First up we have just released our 2014 Betting & Tipsters Award Report, which reveals everything from the best football & racing tipsters to the best betting expert & website…as voted for by our members.
And as these awards are voted for by SBC members, they really do highlight the most deserving winners as they are the people on the ground using them day in, day out as part of their quest to make money betting.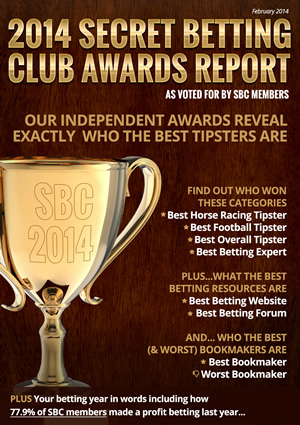 THE  2014 SBC AWARD REPORT REVEALS:
The very best tipsters as voted for by SBC members including the Best Betting Expert and the Best Racing, Football & Overall Tipster awards (Gold, Silver & Bronze)
The best betting resources as voted by SBC members including Best Betting Website & Forum.
The best (and worst) bookmakers as voted for by SBC members! Who you should and shouldn't be betting with.
How 77.9% of SBC members made a profit last year and the overall betting figures.
Plus their betting year in words and their highs and lows.
Grab Your Copy Immediately (And Access The Entire Back Catalogue Too)
You can pick up your copy of this fascinating report, the instant you join the Smart Betting Club.
That's not all though because as an SBC member you will also gain access to our huge 7 1/2 year back catalogue full of tipster reviews, expert interviews and guides, betting systems and profitable betting advice.
All of this is supplied complimentary to every new member.
Risk-Free Membership With Money Back Guarantee
The great news is that all of this is available for the equivalent of just 22p per day and comes with a full money back guarantee if not in any way satisfied once you joined. We are that confident you will love this service!
This effectively means you have nothing to lose and everything to gain from taking up an SBC membership today.

P.s Keep an eye out for the second part of our major betting report release coming tomorrow, featuring some news you really wont want to miss!