How To Bluff Your Way To Sports Betting Profits
Top tips to improve your betting profits, impress your friends and bluff your way to professional betting.
Betting can be a social activity, with groups of friends sharing the exploits of their weekend accumulator or lumping on in the final race of the day during a beer fuelled day of the races.
Professional betting can at times feel the opposite of this. It can be a lonely affair for the dedicated punter who updates his spreadsheets and tries to keep a level head and ignore the more emotional aspects of betting.
So how do you balance a professional approach with not feeling like a stick in the mud?
How To Bluff The Weekend Acca
The weekend coupon is a bookmaker's bread and butter. For many groups and sports teams across the country, the simplicity of ticking numerous teams on the coupon is a bit of fun and like the lottery offers the chance of a big pay-off from a small initial stake.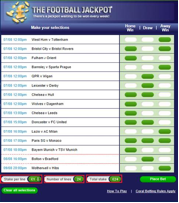 A typical weekend coupon
The problem is that, like the lottery, the weekend acca is stacked heavily against you. By offering such easy betting, the bookie often offers poor odds. By taking multiple bad bets, you're multiplying the poor value and therefore the likelihood of you earning money in the long run.
So how can you play the weekend acca and keep your betting sanity?
Good Acca v Bad Acca
Few professional punters play weekend accumulators, but there is a way to stick to your rules and even increase the chance of that unlikely jackpot.
It of course comes down to choosing the right bets. Taking multiple bad bets will multiply your poor value, but taking multiple good bets will increase your value exponentially. This is not exactly rocket science as the summary below explains:
Bad Acca: Backing five short priced teams because "they'll win" and the combined odds are more attractive than the individual odds.
Good Acca: Backing five or more teams at various odds because their odds are bigger than they should be, not just because you think they are 'bankers'.
You're not aiming for that particular acca to always win, you're aiming to win money in the long run.

Finding The Right Bets Part
So how do we source the right bets? Using one of the recommended tipsters that we proof in the Smart Betting Club is a great place to source such bets, especially using our bespoke combo method. If you're on a budget though, there are some good free options available.

Decision Technology's 'Fink Tank' System
One option is to utilise the excellent FREE Fink Tank ratings made available via Decision Technology.
Here's how to spot the big value bets:
1) The ratings display an estimated probability of an outcome such as Aston Villa to win at 44.7%.
2)  To convert percentages into odds, take 100 and divide it by the percentage.
3) 100 divided by 44.7 is 2.37.
4) So the ratings are saying that the odds should be 2.37, but you can get 2.47.
5) Result! Aston Villa is a value bet!
You then repeat the process for all the outcomes – you can get the full methodology free here. It's all free, but can be time consuming, so to save you the bother, we provide weekly value qualifiers on our member's forum.
We also identify Asian Handicap value bets, with our AH+15 Value system providing a 100% return this season to date.
In fact one member recently landed a 58/1 six fold by backing the selections! Now that's a good acca strategy!
Get more details on the SBC Fink Tank System here.
More Ways To Find The Right Bets
If the Fink Tank method sounds too complicated or if you want even more ideas, then there are some other options we'd recommend.
Twitter Accounts To follow:
The excellent Pinnacle Sports recently put together a neat summary of the best soccer/ football Twitter accounts to follow for your football betting. Here's a quick summary:
@InfostradaLive
@OptaJoe
@SimonGleave
Get the full list of recommended Twitter accounts here
One account not mentioned is @footballformlabs who put up some excellent analysis on Twitter and in their weekly newsletter. Picking out some of their recommended bets from the free email is a neat way to shortlist your bets for the weekend. You can sign up to their free email here.

Football Myths & How To Avoid Them
Another way to avoid making a bad weekend acca is to avoid following one of football's many myths.
The more that radio talk show hosts bang on about myths like 'bogey teams', the more you can be sure that the idea of a bogey teams is another football myth.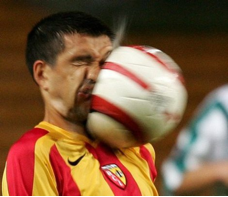 Avoiding Football myths can help your betting
To help you avoid making bad accas and improve your betting in general, here are some of the most common football myths you should avoid following:
Myth #1 Premier League Derbies Are Dirty Affairs: Actually the Premier League is the cleanest of all of Europe's top divisions and there is on average just one more booking point per game compared to the Premier League average!
Myth #2 Mid Week Champions League Fixtures Hurt Team Form: There is no significant difference in top team's performances on the weekend after a mid-week Champions League game.
Myth #3 The Existence Of Home Specialists: Are some teams massively better at home (or away) because they are a home (away) specialist? Nope! Home teams generally perform better than away teams, but any team over performing in the short term will just revert back to normal eventually. For example, in 2006/07 Liverpool, having gained 95% of their total points at Anfield in the opening 12 games, finished with an unremarkable 59% of their total points coming from home matches.
Myth #4 There Are Bogey Sides: When a team goes on an extended run against a rival in head to head games, we're often quick to label them a bogey team. Yet in the long run, these patterns are just random. Backing the bogey team because they've won all five of the last meetings will not increase your betting profits and may cause you to lose money.
Myth #5 The Returning Gaffer Curse: Do managers returning to their old clubs hold an unfair disadvantage? You guessed it, nope!
By avoiding making your betting decisions based on what the talking heads are saying, you stand a better chance of making your betting pay. Ok you might come unstuck sometimes and your friends following the myths will have a chuckle, but in the long run you should be the one laughing all the way to the bank (or bookmaker withdrawal screen!)
In Summary – Good Luck
Successful betting is a long term game and with patience, playing the weekend acca can be a profitable angle.
Whether you continue to play the multiples to keep one over on your friends or a way to achieve the occasional jackpot we hope this guide has been useful.
For more ways to improve your betting profits, visit the Smart Betting Club today for reviews of the best tipsters, free tips and professional betting guides