One of the biggest myths when it comes to following tipsters, is that the good ones ultimately cost a lot of money in subscription fees.
Sure, you get the odd exceptions of tipsters who charge large sums, but the vast majority these days play fair and are more than affordable.
So if you are thinking of following tipsters but have been put off by the perceived cost…let me show why it's easier and cheaper than you think (plus just how much money you could make).
52 Top Tipsters Rated And Compared
Every other month, we painstakingly build up our Tipster Profit Report, the latest of which is due for release in the next few days.
It features the full proofed results of 52 top tipsters, all of which we have rated, ranked and compiled into various league tables.
One such example is our 'Best Low Cost' tipster table, which we compile for Horse Racing and Sports Betting services separately. This compares the best tipsters that charge the lowest fees and illustrates the annualised profit you can expect to make if following them.
The Best Affordable Racing Tipsters 
Let me show you with some examples such as our best performing Racing Tipsters, all of whom charge £20 or less a month on average. I have removed their names as this is for SBC members only but as you can see the profits on offer are excellent for such affordable services.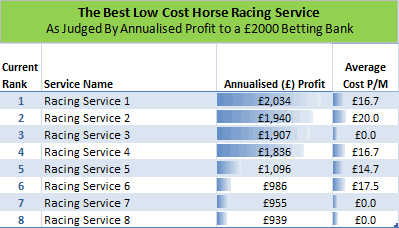 As the table reveals, we even have 3 free services within our top 8 racing tipsters, with the best performing making a £1,907 profit on average each year.
Each of these tipsters are ranked by our unique 'annualised profit' calculation which shows what on average you will make to a £2000 betting bank each year.
This isn't to say you need £2000 to make it work, we simply chose this amount as it's easy to divide or multiply to your own amount. So for example if you would rather work to £1000 – simply halve this figure.
Best Affordable Sports Tipsters
Taking this a step further, here are the top sports (football, tennis, golf & darts) tipsters that charge £20 a month and under…plus what you can expect to make in terms of annualised profit.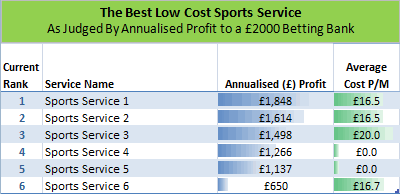 Once again, there are some strong profit figures with the top service averaging a £1,848 profit for just £16.50 per month. There are also 2 Free services making £1,266 and £1,137 profit respectively.
14 Top Tipsters At Affordable Fees
Hopefully the above tables have helped to put to bed the myth that all good tipsters are expensive to follow. In our Tipster Profit Report alone, we have 14 top low cost services for both racing and sports that are making regular profits. We also have 5 top tipsters which are totally free to follow!
All of the above was adapted from our forthcoming latest Tipster Profit Report, where you can view similar league tables on 52 of the best tipsters that we monitor.
Some of the tables we feature include:
The best all-time tipster service across all types of betting
The best tipster over the past 12 months for sports and racing
The best low cost tipster for both sports and racing
The easiest tipster to follow for both sports and racing
Sign-up now for a Smart Betting Club membership and gain instant access to our latest Tipster Profit Report upon its release early next week.