In the latest SBC Magazine – Issue 129, my team and I explored the unique Tennis Tipping service as offered by Winner Odds – a service we have tracked and used personally for several years.
Winner Odds is undoubtedly a tipster challenging preconceptions, not least that you can make money betting using tipsters, but also that you can make money betting odds-on.
Including betting as short as 1/5 or 1.2 in decimals!
So, if you thought that betting odds-on, including at some very short prices was a mugs game. Well, think again.
Let me reveal more on the edge that Winner Odds has including at short prices….
​Download SBC 129 and the entire SBC Back Catalogue of Reviews, Reports & More with a SBC Membership.
€5,678.49 PROFIT USING WINNER ODDS
I have been personally using the Winner Odds service for a couple of years now, having added the service to my portfolio back in late 2019/early 2020.
As of the date of writing the Winner Odds review, my profit stats are as follows with a screengrab taken directly from my Winner Odds account: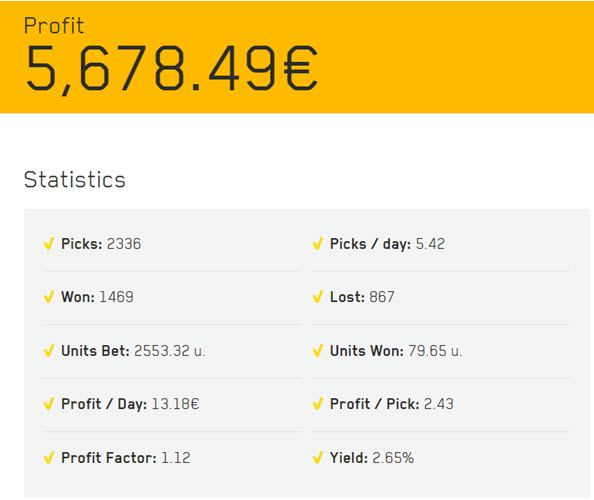 Now over a usual 2 ½ year period, it is entirely likely you would see a lot more bets being placed, however its important to make clear the disruption that Covid caused from early March 2020 into 2021.
We had circa 4-5 months without any live Tennis action and even when it did return, there were issues such as players unable to travel, train properly or with full motivation and a lack of discernible form to work from.
As such, Winner Odds wasn't active or charging subscribers for a long period during this time – which is certainly something to bear in mind! The average tally therefore of 5.42 bets per day is likely a lot higher in reality in terms of active days tennis that was available to bet on via Winner Odds.
WEEKLY PROFIT & LOSS
Exploring these stats further, you can see the profit by week in the chart below and the proportion of profitable (green) vs loss-making (red) weeks over time.
The majority of weeks I made a fine profit, apart from a few periods including one 2-week run which lost circa €1500. As disappointing as that was at the time, I stood firm and that loss was soon made back with extra profit on top in subsequent weeks and it was quickly forgotten.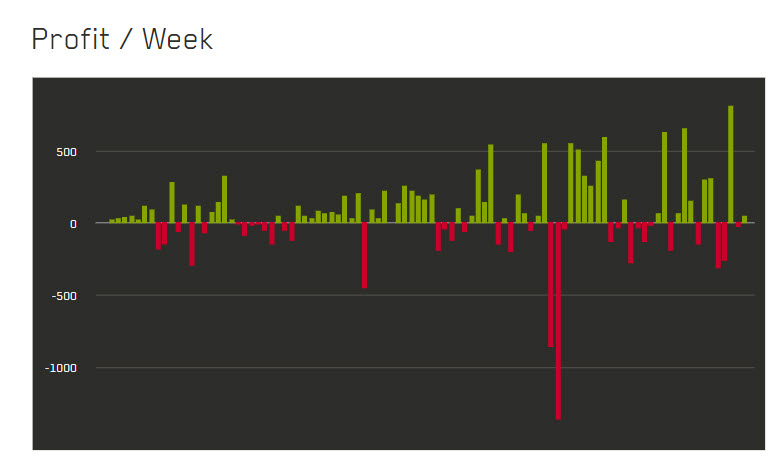 PROFIT AT LOW, LOW ODDS
Onto the point I raise at the top of this article and my profit at various odds ranges, which you can see in the next graph.
A full €4247.14 of my total €5678.49 profit has come on bets priced between 1.01 and 1.2, with another €1744.27 at those between 1.2 to 1.4.
Who says you can't win betting heavy odds-on?
Everything is possible with the right edge and these stats prove it!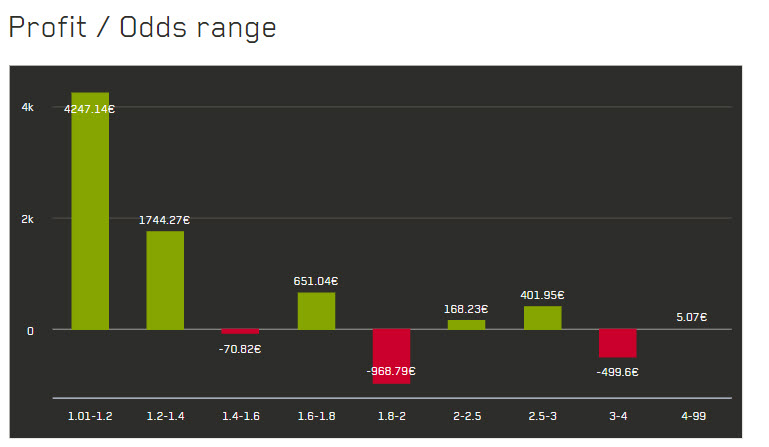 You can also see the Yield or ROI from each odds range below, with a 5.05% ROI at those between 1.01 and 1.2.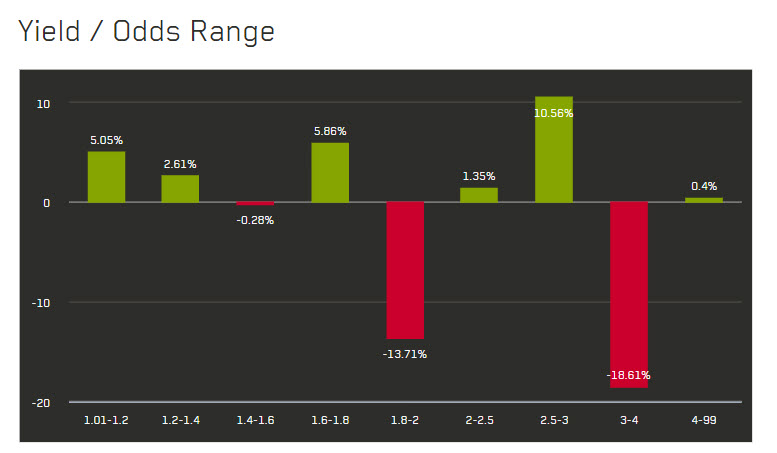 TRACKING PERFORMANCE
The following hitrate/odds range chart also backs up how I am underperforming somewhat in a few areas.
The dashed line shows what you would expect long-term over a larger set of data (look how smooth it is!), yet my strike-rate on a couple of odds ranges is a bit lower, including at 3.5 (5/2) and 4.0 (3/1) and over.
At 4.0 and over I have only achieved a 15.56% strike-rate from 90 bets, yet long-term this should hit just over a 25% strike-rate. So, I am about 10% down on what I could reasonably expect, although from just 90 bets, which is clearly a very small sample.
I am also tracking at just a 44.83% strike-rate for bets between 1.8 and 2.0, where I should be at about 52 to 53%.
Again, this backs up my confidence that over time my ROI figure will improve when my sample size at these odds ranges increase, especially when you consider that the higher ROI returns for the service come at bigger odds.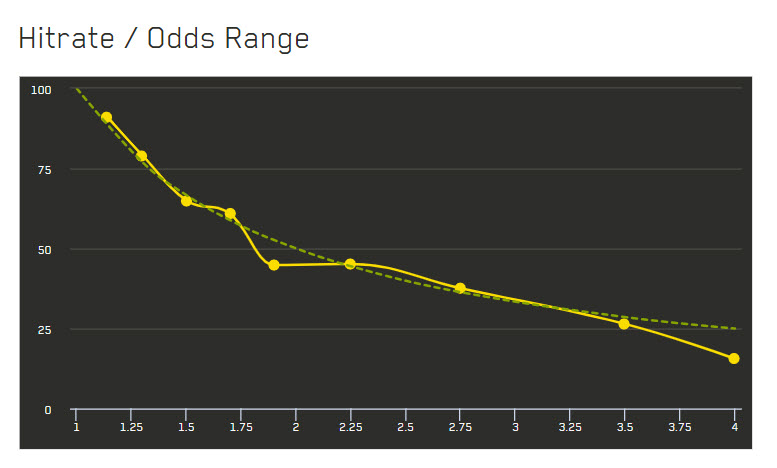 MANY WAYS TO SKIN A BETTING CAT!
My experience over the years is that there are many ways to make a profit betting.
Some punters and tipsters make a profit betting odds-on, some at single figure odds and others even at triple figure odds.
Some swear by single bets only whilst others do doubles, trebles, lucky 15's or even yankees to make their edge.
There are many ways to skin a betting cat and its good to challenge your preconceptions at regular intervals!
So next time you hear from someone who says "You cant make a profit betting odds-on" – you know they are completely missing the point!​​
READ THIS REVIEW NOW!
If you enjoy this small excerpt from our review of Winner Odds, you can read the full in-depth review as a Smart Betting Club member.
This includes a detailed look at the average user results across thousands and thousands of data points from Winner Odds customers, with an ROI of 5.61% since 2016.
Review based on several years actively using and monitoring Winner Odds Tips
Explore our own real-life results and how we made €5678.49 over 2336 bets using Winner Odds
Explore the strong betting bank growth stats and staking analysis for optimal returns
Full rundown on how the service works include how to customise it to the bookmakers you have available
Monte-carlo simulation results
Exclusive €50 SBC member discount on the cost of joining Winner Odds