First off this week I want to highlight a very concerning Betfair Trading Scam doing the rounds, which seems to have caught a few people out.
Those behind this scam have obtained the phone numbers for thousands of keen gamblers and are sending text messages offering a risk free trial of their Betfair Trading service. This might sound harmless enough until you realise there is no actual free trial – they simply want access to your personal details and any funds in your Betfair account.
One such example text message received is as follows:
'BETFAIR TRADERS. Earn RISK FREE profit on your online account daily using our team of specialist traders. For more info on the FREE TRIAL text back (YOUR NAME)'
Upon sending a reply back, you can expect to receive a call from this mysterious company, who will do everything in their power to convince you to give them a free trial.
Ultimately, all they want is access to your Betfair account for 'trading' purposes, but if doing so, not only will they clear your account of its funds, but they can also then access your bank details. Not good at all!
If you receive any such invites for any such Betfair Trading schemes, please do leave well alone, whether its via email, text or even a direct phone call. Don't even reply as once they know it's an active number or address, they will only bombard you with messages.
You can find a lot more detail on this at the Bet Angel Blog – and in the meantime remember, that if something sounds too good to be true, then it probably is!

Good Betting Systems Are Hard To Find!
Sadly, these kind of scams are all too common these days and you do need to have your wits about you when buying any kind of betting product. This is also the case when it comes to betting systems, where it doesn't feel like a day goes by without a dubious spam email lodging in my inbox trying to sell me one.
The reality is that good betting systems are hard to find. Very hard indeed….And the ones that do work are often the result of years of expert analysis and effort.
One such example of a real-life working betting system is our recently released Fink Tank Football System Guide, which uses years of live performance analysis and a study of over 10,000 games dating back 5 seasons. It's safe to say the hard yards have been put in here!
In doing so we have identified 6 different and profitable systems for betting on football – each of which has a working track record.
All you need to make it work is access to the free football ratings that the Fink Tank produce each week (all published online) and the rules of our 6 systems and voila…you have the bets!
And to prove how well it works, today I want to showcase just 1 of these 6 systems to give you a sample of what's on offer.

The 'Win Value 15' System
We call this particular system, the 'Win Value 15' which although not the sexiest name, matters little when you see how well it performs.
It is the first of our six Fink Tank Systems, and quite simply selects any bets that have 15% or more value when checking out the best odds available.
It's a neat little system with around 500 bets over the course of a full season (so around 13 a week) and with a strike-rate of 27%.
The expected Return on Investment over a target season is around 8%, which would result in a betting bank growth (or ROC) of about 50%. Over the course of an average season, a £2000 investment would make you a £1000 profit.
For each of the 5 past seasons, it has made a consistent profit with the 2012/13 season the best of all, with a 91.6 pt profit and 114.5% ROC (Betting Bank Growth) so is bang in form.

The consistency of this system is showcased in the profit graph below, where you can find the expected profits to both Best Odds (and Target Odds).
The Target Odds are those we have quoted above and used throughout so you can be sure these calculations are based on actual fair odds you can achieve.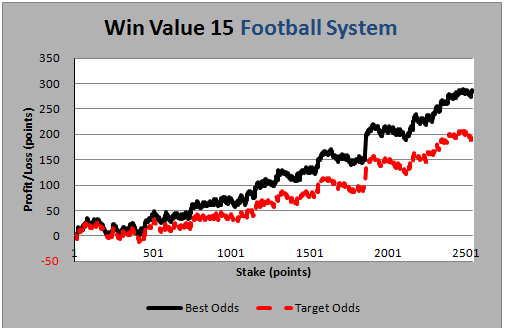 How To Follow The 'Win Value 15' & 5 More Systems

This lucrative system is just 1 of 6 we highlight in our Fink Tank Football System Guide, which is available now to all members of the Smart Betting Club.
All you need to generate the bets is a copy of our 6 system rules (available in the guide) and access to the FREE Fink Tank football ratings website. It really is as simple as that!
Sign-up today to get started and begin following these football systems today.