It is fair to say that wherever you look now, betting is becoming more and more prominent in our society. Bookmakers are heavily involved in all major sports, especially so in the field of sponsorship and the increase of sporting coverage in the media has only heightened interest across the board in betting.
What hasn't changed though are the risks involved in betting and how we as humans understand this and are affected by it. Nor the immutable rules of investment such as the fact that anything promising you a high reward almost always comes at a higher risk.
It is therefore important that we understand risk and how we as humans react to it.
Yet most crucially of all from a betting point of view – how we can calculate our own risk profile and how that should inform the way we bet and the tipsters we follow.
Understanding Your Risk Profile
Each of us has our own thoughts on the level of risk we take in our day to day lives. What we term your risk profile.
Are you for example, happy to risk speeding while driving as you calculate the chances of getting caught to be slim?
Alternatively, perhaps you prefer to drive within the speed limit to completely rule out the chances of attracting the long arm of the law.
If you do speed, how often and how far above the speed limit are you willing to risk on a fine or losing your licence? Are you happy to go 5%, 10% or even 20% over the limit?
We very often take these risk decisions and many others every day in our lives without realising.
Whether it be our speed driving or even in today's coronavirus impacted world – when and how often we go outside and if we wear a mask when doing so. These decisions all feed from our in-built risk profile.
Therefore understanding risk and our perception of it is also especially important to those of us who gamble successfully.
If your approach to betting isn't compatible with your risk profile, then chances are at some point it will cause you to fail or lose money.

The 'Risky' Tipster Promising +30% ROI  & Who They Suit
Through the Smart Betting Club and the tipsters we review and recommend, we see plenty of examples of the different types of risk that are open to us when betting.
So to highlight this we publish several different ratings that rank those at both ends of the risk spectrum for our members to note.
For example, there are those higher risk experts who put up betting tips at large prices, who offer high rewards, yet come with the risk of large losing runs or drawdowns at differing points in time.
These high risk tipsters can be very testing when following especially for those of you who might have a risk-averse risk profile.
As ever, that immutable law of investment rings true – high reward investments come at a high risk.
Take for example our recent review of a very profitable racing tipster. This is a service who over 1200 bets had made a profit of 389.77 points @ 30.19% ROI at advised prices. An exceptionally fine record.
Most people will immediately note the extremely high ROI at over 30% and be attracted to it – yet it is vitally important to explore the facts behind the service to check whether it is suitable for you or not. As for some people, it will be simply too volatile a follow for their risk profile
As we get into the figures behind the profits, what is notable about this service is that it tips up bigger priced selections at an average price of around 14/1 and attains a strike-rate of approximately 14.14%. Just over 1 in 8 tips win.
So, whilst this service has made an extremely high ROI at 30% ROI, it also had endured some bad losing runs at time, as indicated by the drawdown graph below. This highlights the depth of each bad run the service has suffered, which have pushed just beyond 100 points at one point.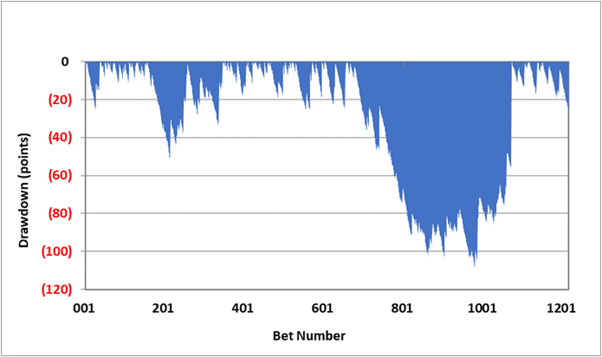 So if you were someone considered to be risk-averse, there is every chance that if you had joined at the onset of any of these bad runs – possibly the drawdown in excess of 100 points, you would have quit before it could recover.
And it is important to state that this tipster did recover from this bad run, and the profits have since continued, but it took time and patience to do so. Something those of you risk-averse might not be comfortable with.
How to Evaluate Your Approach To Risk
The good news is there are several ways to work out your risk profile and tolerance including some simple tests we provide to Smart Betting Club members on how to calculate where they stand.
Yet if you are keen to work out your risk profile, you might want to see how many of the following, if any, apply to you:
You get upset easily after short term losing runs
You quickly give up if something starts losing
You don't handle losing money very easily
Your moods are impacted by losing runs and losing money
You feel if paying for tips they should not lose regularly
You feel the need to win money every week/month
If any of the above ring true, then you may well be a candidate to take a more risk-averse approach and to step away from any tipster, system or strategy that has a low strike-rate of success.
If however…
You can stick out long losing runs
You can lose money and not be upset by this
You understand that you may not win every day/week or month
You understand that anything with high reward comes at high risk
You are happy to take a chance and speculate.
Then you may well be more suitable to a low strike rate, more long-term type of tipster that offers a higher reward in exchange for higher risk.
Using SBC's Ratings To Help Calculate The Risk Of Any Tipster
To help you calculate the level of risk involved with any given tipster, we provide several different risk related ratings when reviewing a service.
For example, our simple risk rating works on a scale of 1-5 and is updated every few months for each tipster we monitor.
A risk rating of 1 indicates a very high risk tipster and one that will be suitable to those of you who have an extremely aggressive risk profile.
A risk rating of 5 indicates a very low risk tipster and one that will be suitable to those of you who have an extremely conservative risk profile.
Beyond that we also provide several other more detailed ratings that relate to risk as follows:
Patience: Expressed as per the length of time you need to commit to following a tipster to ensure a profitable return. Those with patience ratings 12 months and beyond can be considered higher risk as if you join at the wrong time (which no-one can predict) then you might well need to be very patient.
Risk Reward Ratio – This is a simple rating that accurately reflects the level of risk versus the rewards of following any given tipster.
Capital Risk Ratio – A simple percentage figure illustrating the size of betting bank lost during the worst run any tipster has endured. The higher figure lost the greater the risk.
Dispersion Factor Rating – This rating takes out the top and bottom 5% of results and those that might be considered outliers or 'freak results'. The ensuing rating outlines just how risky a tipster will be to follow.

Ignore Your Risk Preferences at Your Peril!
Perhaps the biggest risk that you can take is to ignore this area altogether and simply 'cross that bridge when you come to it'.
You really need to act and understand this area because if you make choices that are incompatible with your risk profile and tolerance, it could set you back a long way.
Failure to bet in a way that is compatible with your risk profile could cost you in the form of lost winnings, extra losses and even unused subscription fees if you choose to follow tipsters.
If you are interested in learning more on your risk profile, then as an SBC member, you can access a detailed guide to the topic including some simple tests to calculate where you stand when it comes to risk. And of course – all SBC reviews also come with various risk ratings as standard to help you identify the right tipsters to fit you!
Join The Smart Betting Club and take advantage of our lowest EVER membership prices for 2020.
The good news is that from as little as £27.99 + VAT per quarter, you can get started immediately and access the ENTIRE Smart Betting Club service including all our SBC Magazines (including detailed tipster reviews), Tipster Profit Reports, Free Tipsters, Advanced Tipster Analytics, Betting Insight Articles, Pro Betting Guides & more.
This includes access to our full 14 year back catalogue and no quibble money back guarantee if you join and don't like what is on offer (unlikely!).
£27.99 per quarter works out at just £2.15 per week. Subscribe NOW to the Smart Betting Club and gain instant access
Best regards
Peter Ling
Smart Betting Club Owner and Founder