Did you know that as an SBC member you can gain access to free betting tips as provided by a series of hand-picked profitable tipsters?
Providing you with several, ready to follow experts that have a proven record of making profits and all without breaking your bank.
Experts like the Betting Man (207 points profit at 25% ROI), The Accountant's Betfair SP Laying System (£1500+ Profit) or the Five Star Faves System (40 Points @ 11% ROI) are all currently available for you to follow for free with an SBC membership.
All told, it's an ideal solution for those of you not sure where to start OR wary about spending money on large tipster subscriptions.
Once you have signed up for either a Silver, Gold or Platinum SBC membership, simply choose the tipsters you wish to follow via our members-only 'Free Tips' section.
You can receive these free tips via email direct to your inbox or through access to the SBC members-only tipping forum.
And for those of you wanting to know more about each tipster and how much they have made – I have penned a few words below on the performance of our very own 'Famous Five' panel of tipster experts:
1. The Betting Man: 207 Points Profit @ 25% ROI
The Betting Man has been punting successfully for over 2 decades and has a wealth of contacts and experience to add to expert knowledge of the form book and an exceptional work ethic.
With the main principle and theme of the service being realism and transparency, the majority of bets are given from 8.30 am onwards on the day of racing, and the odds quoted are available with at least 3 major bookmakers listed on odds comparison sites.
Since he began in November 2017, The Betting Man has put up 433 tips and made a 207 point profit at 25.87% ROI with 8 winning months out of 9.
Just look at his profit graph below for more evidence of this consistency…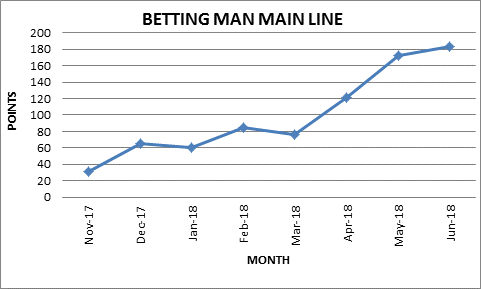 2. Five Star Faves: 40 points @ 11% ROI backing favourites
SBC Member, James runs the Five Star Favourites system, which since June 2017 has been advising regular short priced racing tips and built up a tremendous record over this time.
His goal is to identify easy to bet racing favourites with strong bank growth potential – something he has been achieving with a 40.39 point profit @ 11% ROI from his first 367 bets.
Considering this is based on backing favourites in mature markets (with tips sent around midday) and quoted odds are widely available, this is a very impressive record from his first year of tipping.
3. The Accountant Lays: £1532.63 Profit in 10 months @ Betfair SP
The Accountant has been successfully trading on Betfair for the past 20 years and he puts up several tips each day for you to lay to lose on the exchanges in the place market (where effectively you are backing each horse not to finish in the each-way places – usually the top 2 or 3).
Since he began advising tips on the 29th August 2017, he has put up over 1100 place lays and grown his betting bank from a starting point of £1000 to £2523.63.
This is by risking 3% of his bank every day on each place lay at Betfair SP (5% commission has been deducted from each profitable lay as well)
As you might expect from a tipster with a name of 'The Accountant' – numbers are his thing (as he is indeed an Accountant by trade) so he is using this expertise to make strong profits in the little-explored Betfair SP Place market..
4. Rooster Tips: +399 Points Profit Since 2014
The 'Rooster' has a particular skill for highlighting big priced racing tips, having made 399 points profit from over 1400 bets since 2014.
Tips are supplied the day of racing with prices quoted from a range of bookmakers and a clear staking plan on offer.
To backup his success, The Rooster was also voted the 'Top Free Tipster' in the recent SBC Awards by our members.

He doesn't bet every day, but when he does he often goes in at big prices and as his excellent record will testify, he knows how to identify winners!
5. Chris Baker +125 Points Since 2015
Chris is a true racing enthusiast with both a love for the sport of Kings and an ability to make profit from it!
Since 2015, he has put up 1704 tips and made 125.30 points profit at a ROI of 8.09% – all to widely available odds and sensible stakes.
Chris was also the 2017 winner of Racing UK's 'Tipstar' competition to find the UK's best amateur tipster. He was the unanimous winner according to all 3 judges, impressing with his racing knowledge and enthusiasm for the sport. You can read more about Chris's victory here.
Follow These Tipsters With A Risk-Free SBC Membership.
All 5 of the tipsters mentioned above are now available to follow for free each day as part of your Smart Betting Club subscription.
Simply choose the tipster(s) you wish to follow and sign-up to get their selections sent via email by following the links in the SBC 'Free Tips' membership section.
Alternatively, you can also follow each of their tips as they are posted on the SBC members only Tipping Forum.
So, if you are looking to get started betting with tipsters and don't want to splash the cash on expensive subscriptions, why not consider following these 5 free tipsters as part of your Smart Betting Club membership.
Best of all, you can now sign-up totally risk-free thanks to our 90-day money back guarantee,which ensures if you find our service (and these free tipsters) not for you, then you can get a full refund.
Meaning you have everything to gain and nothing to lose from joining our exclusive club!
Sign-up today and gain instant access to the Smart Betting Club
See you on the inside.
Peter Ling
Smart Betting Club Editor