All the betting tipster information you will ever need…Welcome to the January 2021 Tipster Profit Report
Your prime location for finding out the very latest results, commentary and performance data on all the top tipster services that we monitor at the Smart Betting Club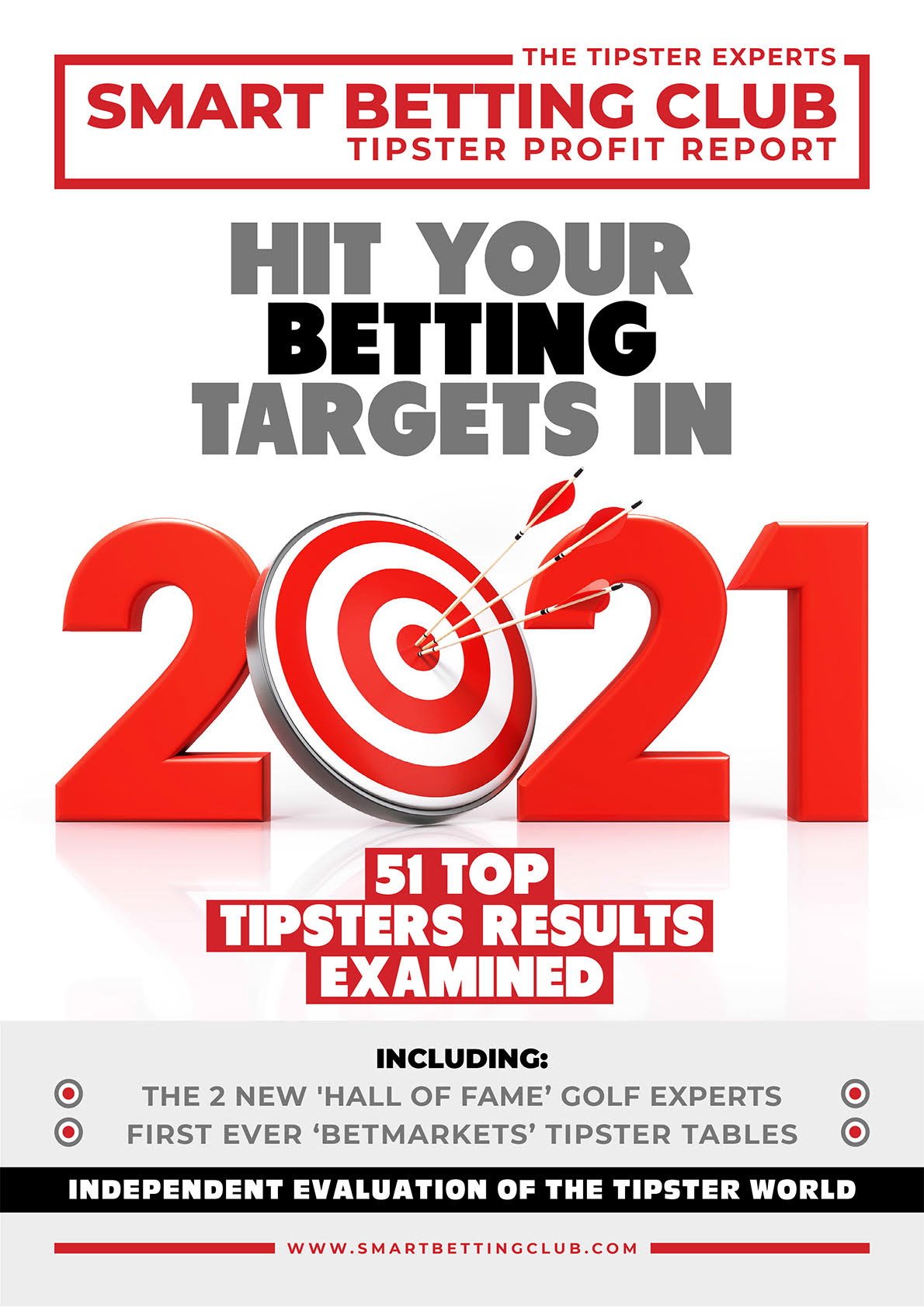 Inside this special report, you can get results, league tables and ratings for 51 different tipsters,
We then pick out and recommend services to follow this year and beyond with 20 tipsters in our 'Hall of Fame' including 2 new additions:
Free Golf Tipster: The FREE golf tipster who returned a huge 75.0% ROI from 262 bets in 2020.
PGA Golf Tipster: The low-cost PGA tour expert who returned a healthy 46.5% on all of his advised golf tips in 2020.
Both of these golf tipsters also have long-term profitable records dating back several years and are well worth their Hall of Fame inclusion.
Proven Experts Over A Long Time!
Each Tipster Profit Report is designed to help you find the very best betting tipsters – those that have proven themselves to be successful over a long period of time.
And when I say a long period of time, I mean it…
As unlike many other tipster 'review' sites that base their recommendations on 3, 6 or sometimes 12 months results, the average age of a 'Hall of Fame' SBC tipster is over 4 years.
You have to be a seriously good tipster for a seriously long period of time to get a Hall of Fame recommendation.
Not only can you explore our Hall of Fame recommendations in this report, but also view a full breakdown on all 51 tipsters we monitor so you can easily compare and contrast them to find those that suit you. Including:
Our unique Best Buy Tables to keep you fully informed
Independent SBC ratings for every tipster
Details of SBC savings and free trials available including several free to follow experts
Suggested staking calculations revealing 12 month tipster profits to sensible stakes
Profit adjustment tables – to take into account 'odds movement' tipsters
Join Now With Our Best Value Membership Offer
You can access your own copy of the Tipster Profit Report and our entire back catalogue of magazines the instant you join the Smart Betting Club.
This includes access to every single tipster review we have ever written (there are literally hundreds available) and all of the Hall of Fame Tipsters we recommend to make you money betting.
Our memberships are currently the lowest price they have ever been, with the chance to save as much as £38 if signing-up today.
Annual Membership – Was £119.99. Now ONLY £81.99. SAVE £38
Comes with a 90 day money back guarantee
SUBSCRIBE NOW
Bi-Annual Membership – Now ONLY £49.99 per 6 months.
Comes with a 30 day money back guarantee
SUBSCRIBE NOW
Quarterly Membership – Now ONLY £29.99 per 3 months.
Comes with a 30 day money back guarantee
SUBSCRIBE NOW
As an SBC member you get access to all of our winning products…
SBC Magazines
Tipster Profit Reports
Bet Diary Pro
Free Tipster Access
Betting Exchange Tipsters
Pro Betting Fundamentals
Back Catalogue Access
Tipster Savings Access
Bookmaker Restrictions Help
How I Make Money Betting Interviews
All this at crazy low, super affordable prices that you will often make back immediately on tipster discounts and profits.
Cast-Iron Money Back Guarantee
To go with our low prices we have our 30 day and 90 day no quibble money back guarantees.
Quite simply, if you decide for whatever reason it's not for you at any time during your first 90 days (annual subscriber) or 30 days (bi-annual or quarterly subscriber) then you can claim a FULL refund.
We're so confident that you will benefit from an SBC membership that we will refund your fees up to 90 days later!
Click here to get started right away!
Peter Ling
Smart Betting Club Editor