.
The very latest Smart Betting Club Magazine has just been released and once again its jam-packed full of expertise, tipster reviews and analysis to help you make money betting.
This month's issue features an exclusive guide to betting using Virtual Private Networks (VPN) to help you beat the bookies. VPN's are very easy to use with a number of free and affordable available options that can help you if impacted by bookmaker staking limitations. It's essential reading for any modern-day punter.
Sign-up here to gain instant access to your copy of our latest issue or read on for more details…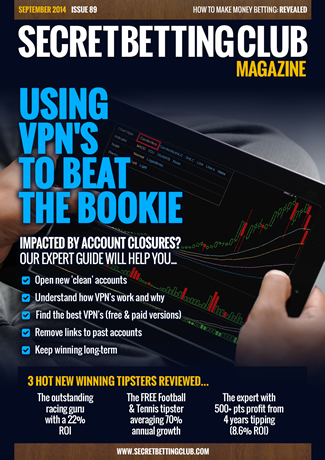 THIS LATEST ISSUE REVEALS:
USING VPN'S TO BEAT THE BOOKIES
Impacted by stake restrictions? Our explosive 9-page guide reveals..
1. How to safely open new betting accounts.
2. How VPN's work and why they are so useful.
3. The best free & paid-for VPN options.
4. How they can keep you winning long-term.
5. PLUS Ask our VPN expert your questions!
PLUS 3 HOT NEW TIPSTERS REVIEWED:
1. The fantastic racing guru with a 22% ROI from over 900 tips (+ 20% SBC discount)
2. The FREE football & tennis tipster averaging 70% bank growth year-in, year-out
3. The betting expert with 500+ pts profit from over 4 years tipping at 8.6% ROI
Grab Your Copy Of This Report Immediately
You can pick up your copy of this magazine, the instant you join our service at the Smart Betting Club with full access to our exclusive members-only area.
Not only this but as a Gold SBC member you can also gain full access to our regular Betting Magazines, Practical Punter Reports & enjoy the peace of mind of our Money Back Guarantee if not satisfied once joining!