With the Grand National now less than two weeks away, bookmaker marketing machines are about to about to go into melt down.
The 'National' is a British institution and many bookmakers will plan their year around their takings from one race at Aintree. Be prepared for lots of red hot offers such as Faller Refunds and paying out to six places. So the bookies are falling over themselves to take your money, but this still leaves the thorny questions of how to pick the Grand National winner.
We would love to share with you the top tips from all the professional tipsters that we track for Smart Betting Club members, but most will either avoid the National or just treat it like any other race without too much of a fuss.
You see the tipsters that we track aren't concerned about winning bragging rights from picking winners in high profile races, they're entirely focused on making their members a long term profit. Find out more here.
Solid Racing Profits from a Strong Winter Season
Just last week we released our latest Smart Betting Club Tipster Profit Report which features the latest results from over 50 tipsters that we have uncovered in 8+ years of independent reporting.
The racing tipsters in particular have had a fine winter, with many experts making solid profits for their members. Here are some of the racing highlights from our latest edition:
The well respected tipster elevated to our Hall of Fame with a 12 month Return on Capital of 209.5% gained at an ROI of 19.1%.
The busy tipster that has crammed a total profit of 624.4 points into just eight months representing an ROC of 312%.
The magical tipster who is a model of consistency without a losing month since January 2014 and weighing in with a 12 month ROI of 26.9%.
These are just the highlights of what is turning out to be a vintage Winter season.

The Best Racing Tipsters Over The Last 12 Months
In our latest report you can find out just who the best racing tipster services are from the past 12 months. This is AFTER tipster subscription fees have been deducted.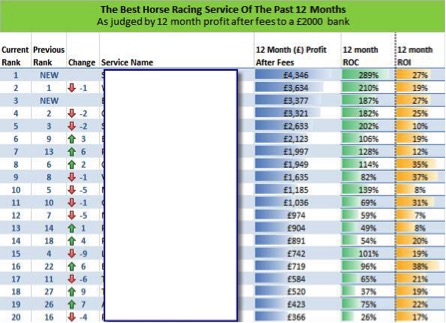 If you're not into racing, don't worry, we have the same table available for sports tipsters.
We have blanked out the names of the tipsters as this is for full members only but as you can see – the top tipsters are making an excellent profit. This table also includes other key figures such as Return on Investment (12 month ROI) and Return on Capital (12 month ROC).
If you're looking for a low cost tipster, then we also highlight the performance of any tipster who charges £30 a month or less (some are free).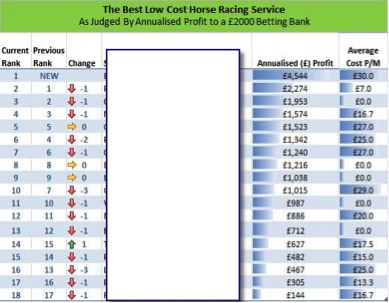 You can pick up your copy of this latest report, the instant you join our service at the Smart Betting Club with full access to our exclusive members-only area.