A hidden benefit for Smart Betting Club members is our collection of free betting systems and tipsters. While our key focus is reporting on the most profitable betting tipsters in our regular magazines, we like to provide access to free tips as a nice bonus.
As you might expect, we keep detailed records of all these free tips just as we might all the tipsters we monitor. Quite often our members use these free tips as a way to kick start their betting and more experienced members use some of them as part of their betting portfolio.
Our Awesome Foursome of Free Tips
Our Fink Tank Football Betting System: +31.2 pts (9.1% ROI)
Badrinath's Racing Tips: +57.67 pts (9.5% ROI)
Greeneye's Racing Tips: +43.13 pts (10% ROI)
Sportsman's Racing Trades: +£3,301.00 profit
This awesome foursome are available free to Smart Betting Club members, but be aware that they are going soon! By the end of May these tipsters will have flown the roost as standalone services or will be available only as part of our Platinum subscription.
However, you can sign up now to experience at least two months of these great free tips and lock in big discounts. To whet your appetite, here are some more details on each free service.
1. Fink Tank Football System: +31.2 pts profit. 9.1% ROI
Each week we post the latest qualifiers from our in-house football system – the 'Fink Tank' up on our members' forum. There are 4 different sub-systems you can choose from with the best this season – and all four have made a profit in 2014/15.

The trailblazer is the AH 15 system, which has made +31.2 points profit with a Return On Capital of 103.8%. For those of you interested in bank growth or 'Return on Capital' – this equates to a 103.8% increase on your betting bank since August.
Here's how the money has been made this season: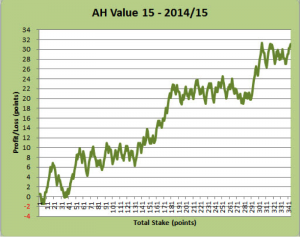 This is no flash in the pan either with 5/6 previous seasons pulling in a solid profit!


2. Badrinath's Racing Tips +57.67 pts profit. 9.5% ROI
Badrinath is a well connected racing expert, who has agreed to post his regular tips on the SBC Forum for the foreseeable future. He has got off to an excellent start with a 10% ROI from his first 555 bets and given his pedigree, we only expect this to continue.
3. Greeneye's Racing Tips +43.13 pts profit. 10% ROI
Greeneye is a solid all round racing tipster who has enjoyed a highly profitable 2015 so far. Big winners include Under The Phone on Feb 2nd at 15/1 and Regal Encore on Feb 8th at 10/1.
Recent winners have helped keep the momentum going, with a profit of +43.13 points (10% ROI) since posting started on our forum.
4. The Sportsman's Racing Trades +£3,301!
If the ups and downs of horse racing are too much for you, then Sportsman's Racing Trades could be the answer. It's a simple method whereby you back early and lay late to lock in profit from trading on racing and since it began it has made over £3,300 profit!
Worth £24.99 a month – this expert racing trading service is now free to all Platinum SBC members at least until the end of May.
All of the above free tips & systems are available to you as a Smart Betting Club member, alongside many of the additional benefits listed below.
1 Years SBC Magazine Subscription
1 Years Tipster Profit Report Subscription
1 Years Practical Punter Subscription
Access to our huge 9 Year Back Catalogue of Magazines & Reports
Our First 4 US Sports Tipster Reports
Full Access to our Private Members Only Forum
Access To All The Massive Tipster Discounts Exclusive To SBC Members
PLUS A FULL MONEY BACK GUARANTEE IF NOT SATISFIED FOR ANY REASON
Simply choose the membership package that suits you best (Silver, Gold or Platinum) and tailor your subscription to your requirements.