Ray "Its all about the in-play" Winstone and our friends over at BET365 have a cracking free £50 bet for tonight's Real Madrid – Man Utd game and we have a special guide on how to lock in profit thanks to Darren Hall from Bet72.com
Real Madrid v Man Utd Free Bet Offer
Real Madrid and Man Utd clash in the last 16 of the UEFA Champions League at the Santiago Bernabeu Stadium on Wednesday 13th February – and we've got a fantastic free bet offer to add to the excitement.
Place a pre-match bet on this much anticipated fixture and we will give you a free In-Play bet to the same stake during the big match.
To qualify for your free In-Play bet, simply place a bet before kick-off, then once the game starts place another bet on any In-Play market. If your FIRST In-Play bet loses we will refund this stake, up to the same value as your largest pre-match bet (max £50*).
As always, there'll be plenty to choose from with over 70 In-Play markets available throughout the game including Next Goal, Match Goals, Total Corners, Half-Time Result, Full-Time Result and much more.
Getting Started With The Free Bet
All of the above seems pretty straight forward.
Just back / lay a selection on the Real v Man United game for upto £50 (pre match) for the lowest possible loss in the normal way.
Then you will get a free inplay bet upto the same value of your first bet (max £50) on the big game too, which, of course, you can play however you like.
A straight punt or maybe as some insurance if you are trading the game.
Remember if you win happy days, if not then the inplay bet will be refunded after the game, so there is no risk!
Or you can lock in some risk free profit if you like. The key is to underlay the bet on the exchange so that if the bet does win you lose less at the exchange to have locked in a profit. Or if the bet loses you will win something from the lay bet plus get the refund too to take you into profit.
And if you are nervous of a goal whilst you are mid-bet, then don't worry you can always place it at halftime. This will give you plenty of time to sort out your calculations!
Talking of which, just calculate the lay stake in the same way you would a stake not returned free bet offer using the Bet72 Risk Free Calculator or sign up to our mailing list for a free copy of our matched betting spreadsheet as shown below.
Examples For Tonight's Game
Here's an example based on the current Real Madrid – Manchester United prices as at 9am today
Step One: Pre match qualifying bet….
The cheapest current method to qualify for this offer is with a simple, pre match back/lay of Real. The advantage too is they are nicely odds-on so the liability on the betting exchange is relatively small for this portion of the bet.
BACK Real Madrid at Bet365 with £50 at 1.65
LAY Real Madrid at Betfair with £50.61 at 1.68 (you will need £34.42 in your Betfair account to cover the liability of this lay bet)
This will give a fixed loss of £1.92 whatever the outcome of the game but will qualify for the free £50 inplay offer
This is how it would look in the Bet72 spreadsheet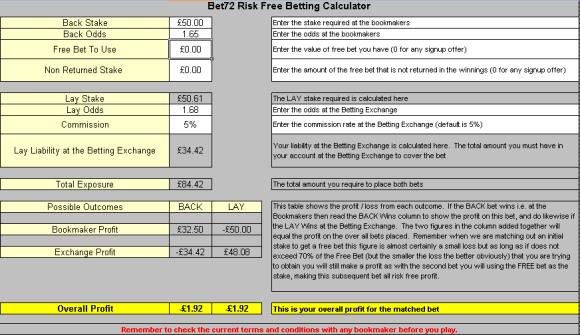 Step Two: In play bet….
Obviously we cannot show the inplay odds in advance as nobody knows exactly what they will be (if I did I would not be here typing this that is for sure!) but if we look at a couple of scenarios using the prices we can see at the moment.
One option would be to jump on straight after kick off as the prices will be virtually the same as they were pre KO unless we get a super quick goal. So in this instance we could just….
BACK Man United at Bet365 with £50 at 5.25
LAY Man United at Betfair with £38.99 at 5.50 (you will need £175.46 in your Betfair account to cover the liability of this lay bet)
This is how it would look in the spreadsheet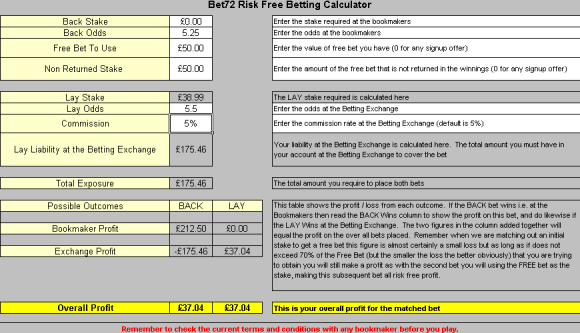 Outcomes
Man United win the game. You will win £212.50 at Bet365 and lose £175.46 at Betfair for a £37.04 profit. So less the £1.92 loss for the qualifying bet gives a net profit of £35.12
Man United don't win the game (lose or draw, remember this just the 90 min match odds market we are looking at here). Then we will lose our £50 at Bet365 and win £37.04 (after 5% commission) at Betfair. So we will be £12.96 down but we will then be refunded our £50 stake by Bet365 so will have a £37.04 profit. So again, less the £1.92 loss for the qualifying bet gives a net profit of £35.12
Of course the big danger here is that there is a goal between getting the back and lay bets accepted to change the odds or the odds change anyway at one of the sites and you need to recalculate.
So you may prefer to wait for a natural break in play, stoppage, injury etc.. or better still until halftime when there is no action at all to effect the prices. Again we have no idea what these will be but the important thing is to look for close odds, above say 5.0 so you can maximise the profit in this offer
Of course you will be needing a BET365 account for that, so you can grab yourself upto £200 (yes £200) sign up bonuses too in the process.
Naturally we have all this covered on our odds finding software, Oddsmatcher so can cash all these free bets out for maximum risk free profit and you can use the software to to find the very best match up for the free £50 offer too, brilliant!
Remember however you choose to play it, it is a great offer so, just click below to get cracking……
—————
Our thanks go to Darren Hall of Bet72.com for this article. If you enjoyed this guide to maximising this free bet, be sure to visit his website for more regular offers.