Over recent weeks, I have been helping to uncover just how to find the Best Tipsters and today I have more to share on this topic.
It involves another extremely important, yet often misunderstood indicator for your betting – Return on Capital.
It's a vital ingredient to weighing up a tipster, as it puts the profits they have made into perspective and shows how much your money has grown in relation to its starting point.
It's a great way of cutting through marketing hype and finding out just how good a tipster really is.
Let me show you why with a simple example…
Which Is The Best Tipster?
Consider the following question:  Which of the following Tipsters do you think is the best? (Tipster X or Tipster Y)

Well, based on the information provided, it's clearly Tipster X as they have the higher profit and ROI ( No arguments there!!).
However, a word of advice for any gambler, there is some vital information missing to enable you to determine which tipster is best.  Yup you guessed it 'the size of the starting betting bank'.
Therefore consider the same question again but this time with the size of the starting betting bank added…Who then would be the best?

Now this is where it starts to get interesting as we need to work out the growth or Return on Capital to see who really is most effective. This can be done as follows….
Tipster X has made £2000 profit on a £5000 bank: 40% Return On Capital
Tipster Y has made £1000 profit on a £2000 bank: 50% Return On Capital
Now it's all change, as we can see Tipster Y actually has the best ROC (or betting bank growth) and will have made your hard earned cash go further!
To explain with real money, if you started with the same betting bank figure of say £2000, Tipster X would turn this into £2,800 (40%), whereas Tipster Y would make it £3,000 (50%).
ROI For Show, ROC For Dough
The above example is why one tipster began to coin the phrase "ROI for show, ROC for dough"  as to emphasise just why Return On Capital is so vital.
You can have amazing profit figures but if your ROC is low, then that's a real worry!
We think so too here at SBC, which is why in our tipster league tables, we publish the ROC figures for every service we monitor.
To give you an example, here is a sneak preview of our ROC tables for the best horse racing tipsters we monitor as taken from our upcoming Tipster Profit Report (due for publication in the next 24 hours).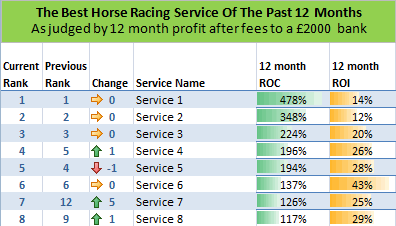 The names of the tipsters are removed as this is for members only, but you can see what the top 8 racing tipsters have achieved in terms of both ROC and ROI over the last 12 months. So whilst the likes of Service 6 have the best ROI at 43%, they are only 6th best ranked when it comes to actual ROC and bang for your buck.
To put some of these percentages into financial figures…
Service 1 with a 478% ROC, would have turned £2000 into £7,966 after fees
Service 2 with a 348% ROC, would have turned £2000 into £5,555 after fees
Service 3 with a 224% ROC, would have turned £2000 into £3,597 after fees
So if you find yourself approached by a tipster claiming results that look too good to be true, then be sure to ask them about their own Return on Capital.
If they don't know what this is or refuse to answer, then you may well have dodged a bullet!
Get The Full Best Tipster Lowdown

You can pick up more key stats such as ROC on over 50 of the best racing and sports tipsters in our latest Tipster Profit Report, which is due for publication in the next 24 hours.
Sign-up to the Smart Betting Club today and gain instant access to all of our in-depth tipster analysis

Best regards,
Peter – SBC Editor