If like many of us, you have a busy life – then when it comes to betting, many of you will simply want to know exactly who the best tipsters to bet with actually are.
Which tipsters for example…
Make the largest profit?
Make the largest betting bank return?
Offer the lowest workload to follow?
Are easy to get advised odds with?
Offer the best option on a budget?
If the above information applies to you, then the latest edition of our new-look Tipster Profit Report will appeal to you as it contains all this information and more. Let us show you how…
Betting Tipsters Best Buy Tables
Throughout each Tipster Profit Report we publish our 'Best Buy tables', where we list the top performing Tipsters to a number of different measures.
For example our Best 25 Tipsters table below, lists the top performing tipsters based upon their annualised profit if working to a £2000 betting bank. We have blanked out the names as this is for full members only, but as you can see – the top tipsters are making a huge return.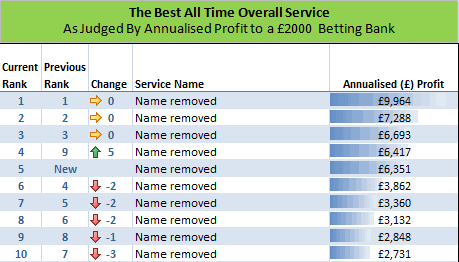 That's not all though as we also compare all tipsters and the profits they make after subscription fees are taking into account. Not only this but other key figures such as Return on Investment (Also known as Profit on Turnover) and Return on Capital.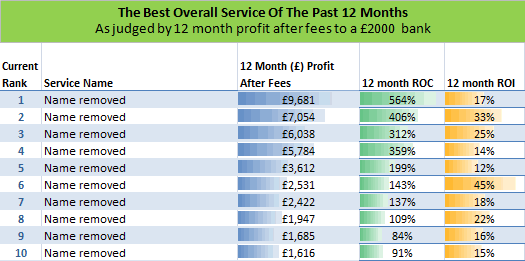 Taking this further, if you are more concerned about the number of bets any tipster will provide then our Low Bet Turnovers table as copied below will help you. Here you can see the specific horse racing table, which calculates the average number of bets supplied per month and the best performing tipsters for the least amount of work!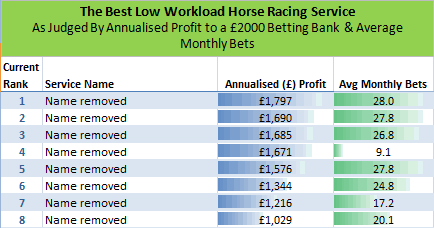 We also calculate the best tipsters on a budget for those of you concerned about affording the fees that some tipsters charge. Below you can find the best sports tipsters that cost £30 or less per month, where it's fair to say that even some of the cheapest tipsters offer great profits.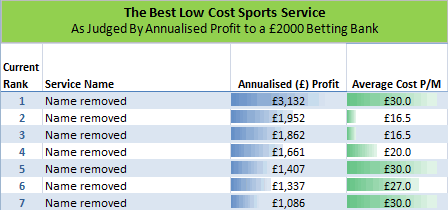 All of these tables are just a snapshot of the information and reporting we provide on both Sports and Horse Racing Tipsters via our regular Tipster Profit Reports. In total we monitor and update on 48 of the best performing tipster services, with results in the latest published report accurate up to the 30th September 2012.
Pick Up The Very Latest Tipster Profit Report

Our very latest Tipster Profit Report was published yesterday and if signing up for a Smart Betting Club membership today, you can gain instant access.
In the Report, alongside our detailed best buy tables that compare and contrast 48 of the best racing and sports tipsters you can also find:
Our unique SBC ratings and Key Facts Page for each of the 48 tipster services.
Our Hall of Fame rankings – those we consider the best tipsters for making money betting and recommend to you.
In-depth analysis and commentary on individual tipster performance.
Details on the unique savings, free trials and deals available to many of these 48 tipsters via the SBC Discount Club.
The great news is that all of this available for the equivalent of just £1.32 per week and with a full money back guarantee if not in any way satisfied once you joined.