If like many of us, you have a busy life – then when it comes to betting, many of you will simply want to know exactly who the best tipsters to follow actually are.
Which tipsters for example…
Make the largest profit?
Make the largest betting bank return?
Are the simplest to follow?
Are easy to get advised odds with?
Offer the best option on a budget?
And most importantly…can genuinely make you money betting?
All of these questions and more are answered courtesy of the latest Smart Betting Club Tipster Profit Report (published yesterday) which features results tables from 54 of the best tipster services out there.  All of which has been designed to enable you to quickly and easily find the right tipster to start bashing the bookies with!
54 Top Tipsters Intensely Scrutinised
Each Tipster Profit Report features our latest ratings, analysis and results details for 54 of the best tipsters we have uncovered in our near 7 years monitoring the tipster industry.
The team at SBC have personally tracked and reviewed each tipster featured – analysing every aspect of their service, so you don't have to!
We also help you to compare each tipster through our unique 'Best Buy tables', where we list the top performing tipsters to a number of different measures. Making it easy to find the right tipster(s) for you.
It's easy to use and finally brings a level of professionalism to an industry that has been crying out for a reliable comparison site…and as we are 100% independent you can be assured that when we say a tipster is good, it's because they actually are!
When you consider that the top ten tipsters on our books average between 370% and 87% betting bank growth in the past 12 months alone (after subscription fees) then it's clear just how helpful this latest report can actually be for you.

Sample Tipster Table
For example, check out the top tipsters from our Best Overall Tipster Service table below, which lists the top performing tipsters from the last 12 months if working to a £2000 betting bank. This is after each tipster's subscription fees have been deducted so is completely realistic. Not only this but it also includes other key figures such as Return on Investment (12 month ROI) and Return on Capital (12 month ROC).
We have blanked out the names as this is for full members only, but as you can see – the top tipsters are making an excellent profit.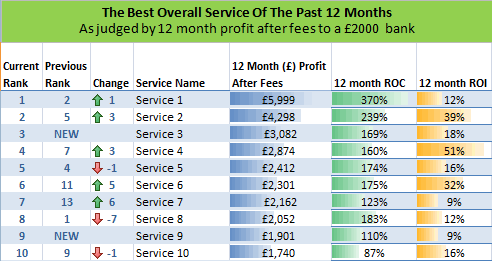 Service 1 has made a £5,999 profit in the past 12 months and all from just the £2,000 starting point. Even Service 10 has made 87% growth in the past year with a £1,740 profit.
What's more, we are uncovering more and more top tipsters every month as can also be observed by the two new entries at number 3 and 9 in the table above. Both were reviewed in the March edition of the SBC Magazine.
Pick Up The Very Latest Tipster Profit Report

You can pick up your copy of this latest Tipster Profit Report instantly, by signing up for a Smart Betting Club membership today.
In the Report, alongside our detailed best buy tables that compare and contrast 54 of the best racing and sports tipsters you can also find:
Our unique SBC ratings and Key Facts Page for each of the 54 tipster services.
Our Hall of Fame rankings – those we consider the best tipsters for making money betting and recommend to you.
In-depth analysis and commentary on individual tipster performance.
Details on the unique savings, free trials and deals available to many of these 54 tipsters via the SBC Discount Club.
Sign-up to the Smart Betting Club today and gain instant access to all of our in-depth tipster analysis

P.S. All new Smart Betting Club members get our Secret Betting System Guide absolutely for free the instant they join. It includes the free Golf Betting System that made  £8,330.50 at £50 level stakes during a live trial last year. Ideal for those of you betting on the Masters!