If you're looking for some decent free football bets, then you don't have to look much further than the excellent Fink Tank ratings.
As we did last season, we've been closely tracking the football ratings from Dectech (AKA The Fink Tank Column in the Times).
We tested the Fink Tank ratings on the EPL last season using the same value betting approach and found some very positive results. Click here for a summary of the results and an outline of how we identified a value bet from the ratings.
We've been tracking all the qualifiers this season for our members on our forum [membership required] and the results so far have been absolutely superb. Big winners recently include:
Norwich beating Spurs away at 10/1
Wigan beating Man U at home at 9/1.
These big winners are no flash in the pan with the season tally now standing at:
Bets: 308
Profit: 40.94
ROI: 13.29%
It's not exactly been a steady climb though with the winners coming in fits and starts.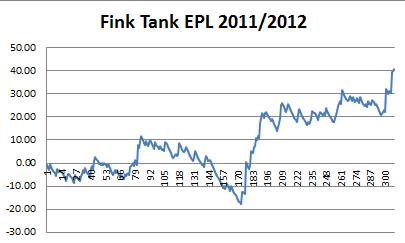 The home away split has now tilted towards the home bets, which is a reversal of what happened at the start of the season.
Home bets: 
Bets: 141
Profit: 23.08
ROI: 16.37%
Away bets: 
Bets: 173
Profit: 18.38
ROI: 10.62%
Get this weekend's qualifiers:
We have just posted this weekend's qualifiers on our forum, with some juicy value prices on offer again. If you'd like to follow the ratings and would like us to do the hard work for you in identifying value bets, then consider a Smart Betting Club membership today.
FA Cup Semi Final Bets:
We haven't got the complete records for the FA ratings, but results so far indicate that this is also a profitable arena.  With this in mind, here are the value bets from the weekend fixtures:
Liverpool vs. Everton: Everton @ 3.32 Pinnacle Sports.
Spurs vs. Chelsea: Chelsea @ 2.95 Pinnacle Sports.
Here's to a profitable weekend!