Love it or hate it, the new football season is now officially here and with it comes the opportunity to start making money betting on the beautiful game once again.
And to do that, you need to get away from all the cliched pre-season guides featuring washed-up former pro's and their 'expert predictions' and instead focus on the top tipsters proven to make money football betting.
Tipsters such as the 8 featured below, all of whom we continually monitor as part of our independent proofing service and feature in our regular betting magazines and reports.

We know these guys are good as we track every single bet they tip – winners and losers and report back to our members on just how they are performing overall. Although we have removed their identities above (as this is for paid-up SBC members only sorry!) you can see all the key stats from months active to ROI, points profit and bank growth.
The 8 tipsters above might not be household names or get to cosy up on the Match of the day sofa every weekend, yet they know a heck of a lot about making money football betting!
You can read detailed reviews and ratings on each of the 8 tipsters above PLUS the stats on their ongoing tipping results as a Smart Betting Club member.
Set-Up Your Instant Access To The Smart Betting Club
Enjoy significant savings on the best tipsters as an SBC member
Not only do we report back on all the best tipsters and their ongoing performance, but we can also save you significant sums of money if you decide to join them.
This is courtesy of the numerous tipster savings we negotiate on our members behalf – often enabling you to save more than the cost of joining us at the Smart Betting Club.
Below you can find the details of the current savings on offer for the 8 tipsters featured above.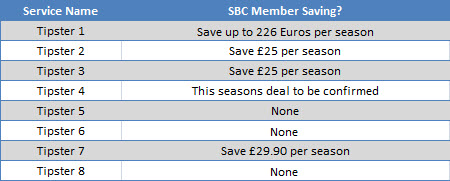 So whether you are looking to make money football betting for the first time this season or simply to build on the profits you have already enjoyed, we can tell you which tipsters can help you (and save you £££ on their subscription fees at the same time!)
Sign-up for a Gold Smart Betting Club Membership today and gain instant access to all our full reports and magazines on just who the very best tipsters are!