The very latest Smart Betting Club Tipster Profit Report is out now and features the latest results for 53 of the very best betting tipsters we have uncovered in nearly 8 years of independent reporting.
In each unique report you can find tipster league tables, ratings and 'Hall of Fame' listings, all aimed at helping YOU identify which often little-known tipsters are genuinely profitable.
Sign-up here to gain instant access to this latest mag (and our entire back catalogue) or read on for more details…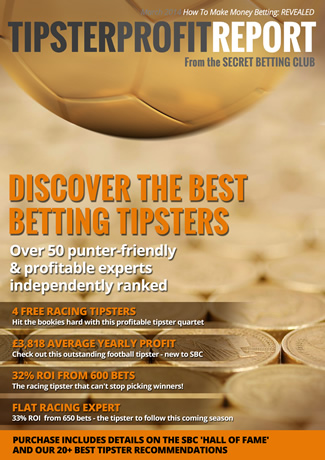 THIS MONTHS REPORT REVEALS:
The latest results & easy to view comparison tables for 53 of the most successful tipsters 
The 22 tipsters listed within our Hall of Fame – those we recommend as the very best to follow.
The 4 free to follow racing tipsters picking out consistent winners.
The in-form football tipster with a £3,818 average yearly profit.
The flat racing expert with a 33% ROI from their 650 bets on turf – ideal for following this coming season.
Plus as ever, the latest Report also contains our Independent SBC ratings and rankings for each tipster on everything from profitability to odds availability and professional betting bank advice.
Helping you to find not just the most profitable but also most practical to follow – that can make a real impact on your betting.
Grab Your Copy Immediately (And Access Our Entire Back Catalogue Too) 
You can pick up your copy of this latest magazine, the instant you join our service at the Smart Betting Club.
That's not all though because as an SBC member you will also gain access to our huge near 8-year year back catalogue full of tipster reviews, expert interviews and guides, betting systems and profitable betting advice.
All of this is supplied complimentary to every new member.