.
So you've decided to take the plunge.  That advert you saw for the 'Inside Job' racing tipster service in one of the racing papers or magazines, with its boasts of big-priced winners and a seriously sexy monthly income which is practically guaranteed….
Well, it's drawn you in and you've signed up.  You've sent over a fair wad of cash for a subscription to the tipster and you now wait, expectantly, for the first email containing their hot tips to hit your inbox.
Its nailed on you will make money with these tips…isn't it?
You're full of anticipation and excitement.  Perhaps you've never followed a 'professional' tipster before, yet you've long hoped to put your betting on a more serious footing. No more just the couple of fivers you usually stick on a pair of outsiders in the big Saturday handicap or the six team accumulator you whack on the footie.
This is the first step of what will be an exciting journey in taking money off the bookies.  After all, that tipster service you've signed up to – it must be expensive for a reason, and you've noticed their big adverts for what must be years now in the papers. It must all be genuine, mustn't it?
When The Odds Are Odd…
The first email comes through.  20/1 shot in the 3.30!  You quickly log in to your Ladbrokes account, find the race, find the horse, and….12/1!  12/1…that can't be right? It's very strange as the tipster said it was 20/1, although this admittedly was with a different bookie.
So you open up an odds comparison site to check the best odds from all the bookies you know – only to find the best price overall is now 12/1. The 20/1 was with Boylesports for what seems just 2 minutes! Oh, well.  12/1 is 12/1, so you strike the bet.  It loses.
As does the next one which was tipped at 8s but you could only get on at 5s, and the next, and the next, and so on.  After a week you do bag a winner finally but you only get 10/1, whilst the tipster is claiming 18/1. Surely that isn't right as you were as quick as you could be to get your bet down.
After three months, you've had a couple of winners, but at odds much shorter than those being shouted out so loudly in the adverts that you still see every week. Instead of the huge profit those ads are claiming, you're actually running at a loss.  How disheartening.
Does this sound familiar? Sadly for many punters it does, but it needn't be so…

Book In For A Tipster MOT!
So what can you do about it?  Is this the end of the dream?
Well, what if I said to you that it needn't be, and in fact all that you're missing is some proper analysis and research that you can trust and rely upon?
After all, if you buy a second hand car, wouldn't you get somebody who knows what they're talking about to give it the once over?  Might you not get the AA or a qualified mechanic to look under the bonnet?  Wouldn't you test drive it first, before handing over your cash?
That's exactly what we at the SBC do for the tipping industry.  We look under the bonnet of each tipster we review.  We test drive those services for you so that we can point you towards the most profitable and reliable.
After all, as you might have found with many tipsters and the service you signed up for, it's very easy to make expensive mistakes.
The tipping world is a minefield populated by a lot of scammers and rip-off merchants.  BUT, there are some golden nuggets amongst the dross.  Good, honest, and talented tipsters who provide excellent levels of customer service and who have a PROVEN, long term track record of making a profit.
Specialist Odds Checking…
Finding these pieces of gold though, is only half the battle.  And as many find out – if you can't get anywhere near the prices the service tips at, you're not going to make money in the long run.
This is why for each SBC tipster review, we hire a specialist odds checker, who tracks and records the odds of the service's bets to see just how realistically achievable they are.
Here is an example from a review published in the very latest SBC Magazine which was released earlier this week…
EXCERPT FROM TIPSTER REVIEW. SBC 89 – SEPTEMBER 2014
Odds Availability: Our trusted odds checker Michael was tasked with tracking the odds of the selections to see just how achievable the advised prices are.  From his research conducted between 16th July 2014 and 30th August, we found that if able to bet as soon as the selections are sent, then the likelihood is that the subscriber need factor in only a small reduction in profitability from that attained at advised prices (1-2%).  However, if betting later in the morning, then a significant reduction in profitability is inevitable as prices are seen to drop by an average of 6-8%.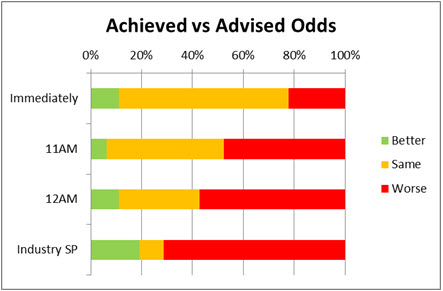 To get close to the officially recorded results, you need to be able to strike your bets pretty sharpish once the email has hit your inbox.  The positive inference from this though, is that the tipster is consistently identifying strong levels of value in the markets.
How To Find The Good Tipsters…
The above is only a small excerpt from our detailed review of this particular service, but hopefully it goes to show how our analysis can help you genuinely find those tipsters who's advised odds can be trusted.
If you wanted to follow this tipster – you have all the info at your fingertips to decide if it is for you – that is if you are in a position to get this service's bets on quickly. If you can, this tipster has produced an ROI 22%+ over 919 bets – all of which were proofed to us here at the SBC (They also offer an exclusive 20% discount to SBC members only)
Mind you, we're hard people to please, because we've assigned a 'Watch' rating to this service until we can see more results that will justify a full recommendation. Yes, its good and shows oodles of potential but we only upgrade a tipster service into our Hall of Fame when we are truly satisfied they meet our strict criteria. As yet with this tipster we have yet to be fully convinced.
We don't just analyse odds movements in our reviews either.  We break down other factors such as yearly performance, monthly performance, performance by odds band, performance by racing code, and performance to Betfair Starting Price.  Like I say, we really do look under the bonnet.
By subscribing, you will get all this information on three or more services in each of our regular SBC magazines, plus our must-read Tipster Profit Reports that help to track the ongoing performance of the very best services.
Read More On How We Can Help YOUR Betting