World Cup Fever has well and truly taken over at SBC Towers with the release of a very special World Cup Football Betting System that you can download totally for FREE!
This system is based on our successful 'Fink Tank' method, which during the 2010 World Cup, made a 33% Return on Investment from 32 bets. In this free guide you can learn how to run the system in 6 easy steps and how to pick out the best value bets for every single fixture at Brazil 2014!
As a further bonus – all who download our World Cup System will also receive details of a 10% discount code to save you money if joining the Smart Betting Club.
Click Here To Grab Your Free World Cup System!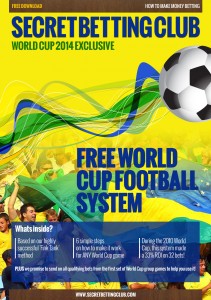 Group Stage 'Qualifying' Value Bets
This free World Cup System is not all we are giving away as before the tournament starts itself, we will also send on the ratings and qualifying bets for each of the first set of group fixtures – to help you follow this system that bit easier!