>
As a Smart Betting Club member you can now gain access to over 10 years worth of independent tipster reviews, tipster league tables, systems and strategies…All designed to help YOU make money betting.
This is all part of the huge number of Betting Magazines, Tipster Profit Reports & Special Reports the SBC team has published since June 2006!
To provide just a taster of what is on offer, below you can find a rundown of our latest publications from the last 6 months alone.
All of which are available to you the instant you sign-up for a Smart Betting Club membership!
There is a huge amount for you to sink your teeth into, whatever sports or betting markets you are interested in – we can help you beat the bookmaker!
LATEST SBC PUBLICATIONS – LAST 6 MONTHS
NOVEMBER: SBC Issue 98: 
2 RED HOT RACING TIPSTER EXPERTS REVIEWED…

• Tipster #1 has made 6X Betting Bank growth in just 27 months!
(Free 1 month trial available!)
• Tipster #2 has bagged 33.2% ROI from 782 bets since June 15
ALSO REVIEWED THIS MONTH:
• The FREE Golf betting guru hitting a 29% ROI over the past 5 years!
• The FREE Racing Tipster profitable at both Betfair SP & the bookies
PLUS – How you can win 2 free Premier League tickets with Appbet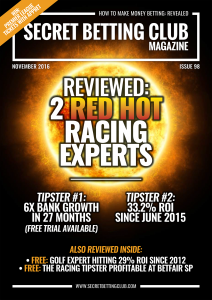 ---
OCTOBER: Tipster Profit Report:
HOW MUCH CAN YOU MAKE BETTING?
WE REVEAL ALL WITH 58 TOP TIPSTERS SCRUTINISED INCLUDING…
• The Betfair SP Tipster up 152 points profit at 17% ROI already in 2016! *Also a new Hall of Fame rated tipster!
• The new football ratings service with 85% ROC (bank growth) since October 2015
• The 5 star rated expert that's made 1084 points profit in 12 months and currently tops our rankings!
• The on-fire racing tipster that's posted 344% bank growth in the past 6 months.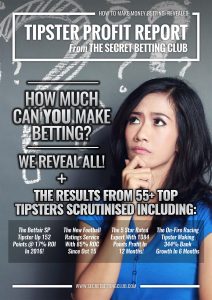 ---
SEPTEMBER:
RACING PROFITS MAXIMISER!
Learn how to bet less and make more in our ground-breaking report including:
• How to easily identify the most profitable racing tips using the simple Racing Profits Maximiser Strategy.
• Discover how this strategy turned a 11.9% ROI into 22.9% (11% increase).
• Understand how you can use it to make a profit betting at Betfair SP (with 5% commisson deducted)
• PLUS view 6 ready to use Racing Profits Maximiser 'Tipster Portfolios' for you to get started with. 
---
AUGUST: 6-PART EXPERT GUIDE TO FOOTBALL BETTING 
Learn how to make a profit betting on the beautiful game with this amazing 6-part 2016/17 Season 'Essential Football Betting Compendium'
• PART 1) SPORTS TIPSTER REPORT:
League Tables & Best Buy Rankings
• PART 2) FOOTBALL TIPSTER GUIDE 16/17: 13 Top Experts Examined
• PART 3) TIPSTER REVIEW:
Brazilian Football AH Expert (7.5% ROI)
• PART 4) TIPSTER REVIEW:
Free Football Tipster Guru (12% ROI)
• PART 5) TIPSTER REVIEW:
Football 'Loophole' Tipster (£2302 Profit)
• PART 5) BEST BOOKMAKER REPORT:
How To Get The Best Odds!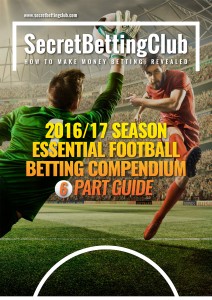 ---
JULY: SPECIAL REPORT
THE MAGIC OF MULTIPLES!
Learn how you can increase your profits by utilising some very simple multiple betting strategies including:
• The theory behind successful multiple betting.
• How betting in multiples can help keep you under the bookies radar.
• The best multiple betting strategies to follow (how and why they work).
• Real-life evidence of when multiple betting works!
As proven to work by the serial winning punter that made 46.5K from multiple betting in 2015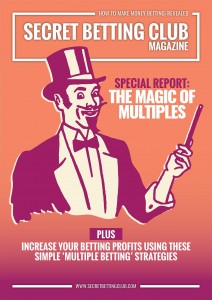 ---
JUNE: SBC ISSUE 97
THE AWESOME FOURSOME!
4 FANTASTIC 'RETURN ON INVESTMENT' TIPSTERS REVIEWED
• The Free Racing Tipster up 11.1% ROI & 140 points profit since 2013. Extremely easy to follow!
• The Football Guru with 12.2% ROI from over 2000 bets in the last 2 seasons. Profitable in all 3 main markets: 1X2, Asian Handicap & Multiple bets.
• The Racing Tipster duo with an excellent track record: 13.8% ROI from 2306 bets and over 200% bank growth since 2014.
• The Free Golf, Racing & Football Tipster in profit to the tune of 15.4% ROI.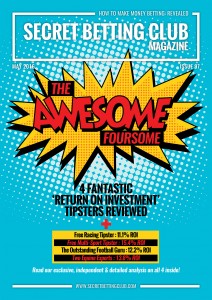 Access All SBC Publications From The Past Decade
Alongside instant access to all of the reports listed above, as a Gold or Platinum Smart Betting Club subscriber, you can also enjoy our 10+ year back catalogue of expert tipster reviews, interviews and strategies.
This includes every single tipster review we have ever written (there are literally hundreds available!) including all of the Hall of Fame Tipster we recommend to make you money betting.
You can also enjoy significant discounts on the cost of joining many of these tipsters via our unique Big Tipster Discounts – exclusively available to SBC members only!
All of which comes with a 90 day money back guarantee – so you can sign-up totally risk-free, with everything to gain and nothing to lose.
Join the Smart Betting Club now and see what all the fuss is about!