How To Bet On The General Election 2015
As we reach the 1st of May, the Premier League title is firmly in the hands of Chelsea. However, there is another betting market hotting up right now with all still to play for – The UK General election.
2015 is likely to be one of the tightest elections in living memory, so if you fancy a flutter you'll need to be on your toes. This complete guide to betting on the general election 2015 breaks down the key markets, the latest odds and any value bets.
First let's start with a look at the big picture.
1)  Horse Trading and Dodgy Deals
To understand the election – let's break things down into key numbers:
• Seats required to form a majority government (no coalition): 326
• Bare minimum seats to form a government of any sort: 323
• Probability that there will be no majority government: 90%+!
In 2010, the Tories got over the 326 seat threshold (more than half the house) with the help of the Lib-Dems in a coalition. This time around however, not only are the Tories expected to fall short again, the Lib Dems are unlikely to gain enough seats to help them out. So – no overall majority.
No Overall Majority Implied Probability (Betfair Exchange Odds)
So what's likely to happen?
Everything is still to play for, but the most likely outcome is for there to be a minority government. The government won't have half the seats, but will get by with informal agreements with various parties for support on individual issues. The key will be to get enough support to pass a vote of no confidence.
As you can imagine, there will be lots of promises, deals and general shenanigans as parties jostle for power and influence.
There are three big reasons for the potential spaghetti cluster fudge that UK politics are about to enter, all neatly summarised by this neat little chart from FiveThirtyEight.com.
Three key factors:
1. The Lib Dems Broke Promises – Well in the eyes of key voters, especially students, this is what happened. Either way, the number of Lib Dem seats is expected to plunge.
2. The rise of UKIP – In the last few years, UKIP have risen to take an increasing share of the vote initially from Tories, but also from Labour more recently. This share isn't enough to see them win many seats (just two at recent estimates), but it is enough to nick votes from the Tories primarily.
3. Scottish Power! – Following the independence vote, the Scottish National Party are riding a wave of goodwill and are expected to secure 52/59 seats North of the Border. Many of the seats were former Labour Strongholds.
The SNP will be the third largest party in Parliament, but their role is likely to be complicated. They won't form a coalition with the Tories and Labour have ruled out a coalition too due to negative feeling this creates in English voters.
So where do we find our value bets then?
2)  What Do the Betting Markets Say?
First let's take a look at the key betting markets and the current favourite.
Overall Majority: 'No' @ 1.13
Most Seats: Conservatives @  1.32
Next Prime Minister: Ed Miliband @ 1.62
Next Government: Labour minority @ 2.78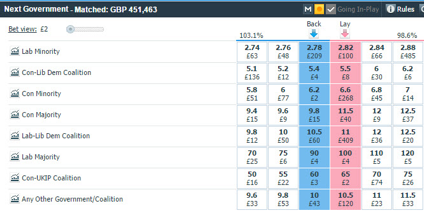 There are many weird and wonderful markets that you can bet on, right down to betting on your individual constituency. Here's the best place to find odds for the election 2015:
 What do the polls say?
One way to find value bets is to compare the latest betting odds to the national polls…However this doesn't even come close to telling you half the story!
If the polls directly translated into seats, then UKIP would be a power broker in parliament. The fact is that UK elections come down to a small number of constituencies. Vast swathes of the country will always be Labour and vast swathes will always be Tory. The key is what is likely to happen in the key undecided or 'marginal' seats.
Political polling is a highly sophisticated affair nowadays, but one person to listen to is Nate Silver of fivethirtyeight.com who gained a huge following after correctly calling the last two US elections. This stats genius has partnered with a number of UK academics to produce what is likely to be the most accurate prediction of the general election.
FiveThirtyEight's Election Prediction
This model takes into account everything from marginal polling from the Likes of Lord Ashcroft to historical voting patterns. In one graph you have what is likely to be a highly accurate prediction of the 2015 election.
So…
3)  What Are The Value Bets?
The key to political betting is to vote with your head not your heart. You may or may not like the idea of Ed Miliband becoming Prime Minister, but it's what the betting markets are currently saying is the most likely outcome.
Taking into account FiveThirtyEight's analysis, electionforecast.co.uk
and lordashcroftpolls.com we've arrived at what could well be value bets in this election.
Overall Majority: 'No' @ 1.13
Verdict: Value Bet – The prediction models are saying there's 98% chance of a hung parliament with 90% accuracy, so the odds should be 1.02 not 1.13.
Most Seats: Conservatives @ 1.32
Next Prime Minister: Ed Miliband @ 1.62
Next Government: Labour minority @ 2.78
Verdicts: No Value – The 90% confidence range for outcomes in these markets are just too wide to be taking odds like 1.32. The Maths stack up for the Labour Minority government odds, but we'd prefer not to bet on something that depends on political horse trading!
There is one market well worth a look at though, based on the chance of 'Shy Tories' coming out and changing the vote. Back in 1992 polling was neck and neck between Labour and the Conservatives, but the Tories won easily in the end. It turned out that everyone saying "don't know" in the polls was either not willing to admit to voting Tory or just ended up voting for who they voted for last time (Tory). Opinion polls have been adjusted to account for this, but there's no way of knowing how accurate these adjustments will be in another tight race.
With the Tories expected to win 279 seats, there could be some hidden upside in betting on them to win between 276 and 300 seats at 1.98 with Betfair.
Conservative Seats Total: 276-300 seats @ 1.98
4)  Wrap Up
We hope you've enjoyed this summary of the General election 2015 betting options. We're officially politically neutral in this and have tried to stick to what the markets and expert statisticians are saying in this analysis. The internet and political arguments are messy bedfellows so we have purposely tried to avoid any comment!
If you liked this article then check out what else the Smart Betting Club has to offer for punters looking for an edge. From beginners guides to tipster reviews, a Smart Betting Club membership is your ticket to better betting.