A new generation of tipster services are doing something quite different.
Artificial Intelligence, the capacity to process large data sets and the facility to scrape odds and data from sites like Pinnacle make following market moves a viable betting angle for those looking for a considerable edge.
That is exactly what the latest service under the SBC review microscope – Chasing Steamers – has done.
Chasing Steamers is a tipster we have been tracking all year and after building up a considerable bank of nearly 3,000 bets in a personal betting 'snapshot', we have been able to test out their their service and conduct our usual analysis in a full review.
This detailed review is out now and available instantly with an SBC Membership (You can also access a 15% SBC member discount on Chasing Steamers too!)
Chasing Steamers – How It Works
Although the technology behind Chasing Steamers may be sophisticated, the underlying principle is not.
When money arrives for a selection on the world's largest sharp bookmaker, Pinnacle, you receive a Telegram notification informing you of everything you need to know, including:
The selection name
How much the odds have dropped
What odds you need to beat
The minimum odds required for a '10% value bet'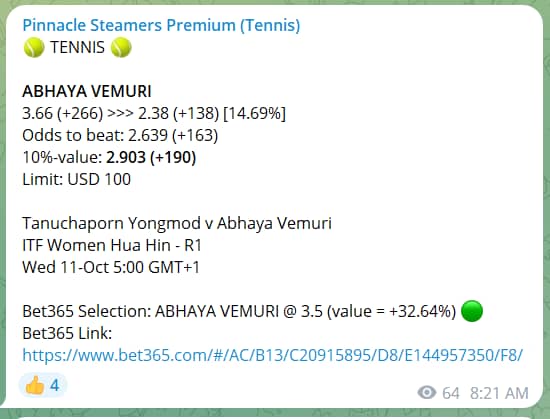 To profit from this information, all you need to do is back the selection with any bookmaker(s) who are a lot slower to update their odds.
So in the example above, Pinnacle have priced up this player at odds of 2.38, yet he is available with the likes of bet365 at 3.5 (Although Bet365 are used for comparison purposes – the reality is you can follow this service with a huge number of bookmakers)
Hundreds of varied betting records have been documented by Christian from Chasing Steamers and to add to the 'evidence base', both Josh and I had a period of profitably using the service in real time (with real money!) earlier on this year.
Sign Up For The Full Story (& A Discount!)
Chasing Steamers is a real way to grow a bank and with so many bets provided each day, week and month, it offers the opportunity to do this very quickly.
As with any service, you need to consider things like the amount of time you have available, the bookmaker accounts you have access to and how big your bankroll is before subscribing.
The full lowdown and our analysis of Chasing Steamers is available now with a paid SBC Membership in an 18 page review just published
Best of all, you can also enjoy a 15% discount on ALL Chasing Steamers subscriptions as an SBC member. Saving up to as much as £82.50 on a 12 month package with the service
Detailed reports, practical advice, member only content and considerable discounts are all examples of how we will help SBC Members assess this service but the benefits of membership don't end there.
​This page discusses everything that you can access with full SBC Membership – I would love for you to join us!