Yesterday saw the launch of SBC's Better Betting Campaign, which is demanding action and raising awareness on 3 key issues impacting many punters.
Its launch is part of our fight back against unfair bookmaking because as many as you outlined in our recent survey on bookmakers, the restrictions they often place upon your betting accounts is reaching critical levels.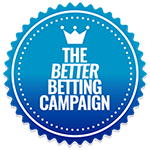 To help illustrate the depth of the problem especially for the sport of Horse Racing, I wanted to highlight some of the key findings from our survey in today's email including
the bookmaker that closed 53.6% of all accounts!
You can download the full report and survey findings here via The Better Betting Campaign webpage
Question: The Depth of Restrictions & Closures
Between July and August this year, we invited as many of you as possible to fill in our Bookmaker Survey – and 611 of you took the plunge and shared your experiences with us.
In total it encompassed your experience of 6575 betting accounts from 17 different bookmakers and so produced some comprehensive results.
The first question we posed was as follows: "Restrictions and Closures – Share your experiences on the following well-known bookmakers and how they may have restricted your stakes or closed your betting accounts."
The findings from this question were stark with as many as 21.22% of all accounts closed and a further 33.46% heavily restricted. Combining both answers, this equates to 3595 or 55.68% of all accounts which are either fully closed or heavily restrictions.
On the flipside, only 29.22% (1921) accounts were not restricted – just under 3 out of 10 punters are now able to bet without issue.


Which Bookies Closed You Down The Most?
Drilling further into this answer, we also were able to identify both the best and worst bookmakers for closing your accounts.
In terms of closing accounts, Stan James lead the way with 53.6% of all accounts held with them shut down. Both Victor Chandler and Boylesports are not far behind with 43.4% and 42.5% respectively.
Questions need to be asked as to why Stan James, Victor Chandler and Boylesports are closing down so many betting accounts?
Is it right for example that Stan James had closed down more than 1 in every 2 customers that took our survey?
Looking at the other end of this table, the 'Best' bookmakers were led by Betfair Sportsbook (7.8%), Marathon Bet (8.8%), 32Red (9%) and Bet365 (9.9%).
It is notable however the survey indicated that ALL 17 bookmakers do close accounts – suggesting it is a clear policy for every major firm and an industry wide problem.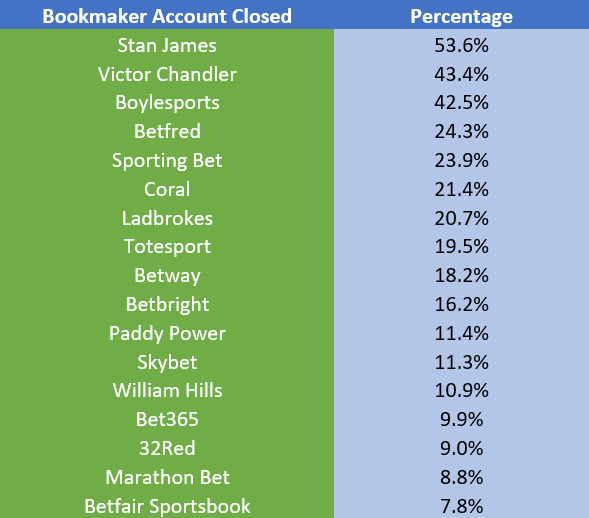 Which Sports Get Your Bets Closed & Restricted?
We also wanted to find out which sports you experience the most restrictions on – because the long held suspicion is that this issue impacts Horse Racing bettors more than with other sports.
To find out the answer, we posed the following question: "Which sports have you experienced the most problems as per restricted and closed accounts?
We listed 10 sports or markets as follows: Horse Racing, Football, US Sports, Cricket, Rugby, Tennis, Motorsport, Politics, Darts & Golf.
The most startling results came when we combined the numbers of you either closed or heavily restricted (i.e. You can only get a small percentage of your desired stake on) where a whopping 78.1% of all Horse Racing punters were impacted.
Comparing that to its nearest rival – Football at 29.6% and the majority of others which range from 13% to 22% it must be a major concern for the Horse Racing authorities.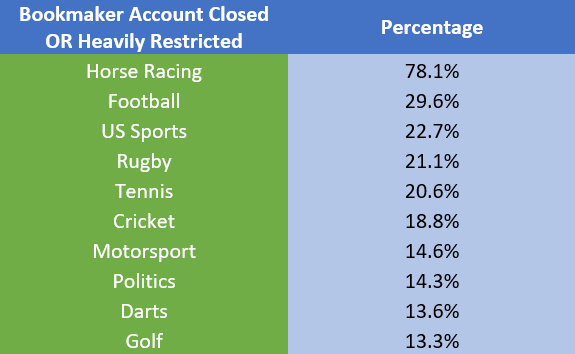 The Questions This Survey Highlights
The survey findings highlighted above and the other damning revelations contained in the Getting On Report raise a number of questions that require answers such as:
Why are bookmakers closing down and restricting the stakes of so many customers?
What do the British Horseracing Authority think to this issue and are they concerned about its impact on interest levels in Horse Racing?
What role do the Gambling Commission play in ensuring bookmakers play fair?
Why are no bookmakers willing to discuss this issue honestly and be clear from the outset that punters run the risk of being banned?
The hope is that through this campaign, we can get a step closer to finding some answers to some of these questions and demanding action is taken by the authorities.
Read More In The Free 'Getting On' Report
If you are keen to find out more than you can read the full survey findings in our FREE 'Getting On' Report – which is dedicated to helping you understand some of the key issues at stake.
The report is freely available to distribute and can also be accessed via The Better Betting Campaign webpage itself.
Inside it you can also read a series of interviews from various professional gamblers on their own solutions and suggestions for getting your bets on. So if you have been impacted by betting restrictions – all is not lost!
How You Can Support The Better Betting Campaign
The more people that support and share the Better Betting Campaign, the greater the impact it will have. Here are just a few ways you can play your part:
Take Action: Inside the Getting On Report, you can find advice on how you can demand action from your MP and an investigation into bookmaker restrictions and closures. The more people that write to their MP the better!You can also discover how you can complain to the Information Commissioners Office about the usage of hidden bookmaker tracking software and demand they investigate further.
Discuss on Social Media: You can use the hashtag #betterbetting to raise awareness, share the Campaign links and keep the conversation flowing. The Smart Betting Club Twitter account is @sbcinfo – feel free to copy us in!
Share The Campaign: Invite others to visit the Better Betting Campaign website and read our report! Post on Facebook, send emails, tell your friends and family…whatever you need to do.The Getting On Report is free to download and distribute – we want as many people to read it as possible as these issues impact thousands and thousands of punters.
Why We Have Launched This Campaign
We have set-up this campaign in response to the huge increase in problems that punters are suffering at the hands of bookmakers.
Their refusal to play fair and its impact on some sports such as Horse Racing has reached critical levels and it's time for action.
The Better Betting Campaign has been developed as a central resource to drive awareness of the issue, educate punters as to how they can take action and provide practical advice on how they can get their bets on.
As one of the few bookmaker-independent outlets, this also enables us to speak the truth about the betting industry and to represent the people that matter most to us – you the punter.
For more information on the Smart Betting Club and how we can help your betting visit www.smartbettingclub.com