.


Today I want to reveal my 5 tips to help you avoid bookmaker restrictions – ideal for those of you closed down or limited by unfair bookies. It is a follow-up article to my 2 part guide on using the betting exchanges – read both Part 1 and Part 2.

Here then are 5 simple tips on keeping your bookmaker accounts open and unrestricted for as long as possible!

1) Bet More On The Big Race Meetings & Festivals

Whilst many bookmakers care very little for run-of-the mill midweek racing fare, they do raise their game when it comes to the major race meetings.
Whether it be Cheltenham, Goodwood or simply the big feature races each weekend, the extra interest and money swirling around these races allow the bookies to lay more bets.
Yet how bookies react to winners at the different meetings is notable as a big 20/1 winner at the Cheltenham Festival won't raise half as much interest in your betting account than a 20/1 winner on a wet Wednesday at Wolverhampton.
Therefore, one strategy a number of punters (and tipsters) utilise is to bet a lot more during the major race meetings.
One tipster we recently upgraded into our Hall of Fame takes this approach – and their primary focus is to provide tips for higher quality races.
It's a strategy that has reaped dividends already this year with the first 50 tips of 2017 making a 107.4% ROI, following on from a 26.9% ROI from 496 tips made in 2016.
Below is what they have made after subscription fees in the past 12 months (Figures taken from March's Tipster Profit Report)

Best of all, you can save 50% on the cost of your first months membership with our Tipster Savings.
Whether you follow a big race meeting specialist tipster like this or simply focus and stake more during the major festivals, it a strategy worth serious consideration.
2) Bet At Shorter Odds

Many punters dislike tipsters that tip at short prices because the theory goes that anyone can pick out these tips and make a profit.
To which I say "Well, if its that easy, why aren't you doing it?"
The reality is most people can't pick short-priced tips that will win long-term and do need expert help to guide them.
The tips might seem 'obvious' but actually making a profit backing short priced favourites is a lot harder than you think.
Yet doing so is especially helpful when it comes to keeping your bookmaker accounts open.
Logically it makes sense as someone who regularly backs winners at 8/11 or 2/1 is never going to raise anywhere near as much concern for a bookie compared to someone who backs winners at 12/1 or 20/1.
The other benefits of this betting include shorter and more manageable losing runs and crucially of all – you can often use much smaller betting banks, thus increasing the bang for your buck!
One tipster showcasing this strategy was first reviewed by us back in September 2015 (SBC Issue 94) and focuses on very short favourites. In the past 12 months alone, they have made a 74.7% betting bank growth despite backing at such short odds.
So the next time someone tells you it's impossible to make money backing odds-on shots, send them our way!

3) Don't Follow Hugely Popular Tipsters

One of the quickest ways to suffer a restricted account is to regularly take a price on tips that rapidly shorten in the market.
I used the example of Hugh Taylor in Part 1 of these articles last week, but it's not just Hugh and his followers who cause odds to tumble – it can also be any number of tipsters who have large numbers of punters backing their advice. Especially if they are tipping into immature racing markets.
Following such tipsters becomes a battle to get the advised odds and it's not rare to see a tip put up at 10/1, go into 6/1 in the space of just 20 to 30 minutes.
If you are fast on the draw in these scenarios, you might get a good price, yet at the potential cost of your account being restricted.
It isn't too difficult for a bookie to run reports looking at those punters beating the odds in this manner and red flag their account for restriction.
Often this kind of restriction will happen EVEN if you don't make a profit. The bookie notices you constantly beat the odds and that is exactly the customer they don't want.
Try and focus instead on tipsters where there isn't a mad panic to get the advised odds as soon as they send out a tip.
Our profit adjustment tables and odds availability ratings will help you identify such tipsters.
Taking the example of the short-odds tipster featured in Point 2 above, below is the difference we found when we compared the odds they quoted with those we tracked in our analysis:

To explain this table – to the advised prices, this service makes an average annual profit of £1,055 after fees.
Yet we found that by simply shopping around and taking the best odds 15 minutes after each tip was advised, you could on average enjoy a 2.5% ROI boost.
Making a possible profit difference of £1,940 in your favour!
4) Avoid Tricks Like 'Each Way Thieving'

10 to 15 years ago, one favoured approach for many a shrewd punter was the 'Each Way Thieving' method.
This was where you picked a race with 8 to 9 runners and a strong favourite and backed the 2nd or 3rd favourite each way.
In this scenario, you would get perhaps anywhere between 4/1 and 10/1 on your each way bet (depending how short the favourite was), which would often place to make either a small profit or break-even. On the occasions the favourite didn't live up to expectations, you would often win and pick up a big priced winner.
The trick of course was to pick the right horses and races to be on, but this method was adopted by many a tipster, including a now defunct service called Winning Racing Tips who used it to great effect.
Why did the service close down?
Well ultimately, Paul, the chap who ran it realised that betting in this manner was now likely to cause more problems that it solved when it came to restrictions. So, whilst on paper it worked, in reality, punters betting in this method were now quickly being restricted and closed down. Paul took the sensible decision to close the service.
My advice is to not just avoid Each Way Thieving but also other similar 'loopholes' when betting on racing.
Every bookie is wise to the tricks of the trade and just like arbing, bonus hunting and the like – you often will find your account compromised.
"The Confidence To Make Decent Profits Using Tipsters"…
"I've discovered that tipsters who charge enormous amounts don't necessarily do any better than those who charge moderately….Perhaps most importantly, SBC gave me confidence that it is possible to make decent profits over time by following tipsters."

As written by'K'- An SBC member for several years

Click here to read more from K on his SBC membership experience
5) Diversify The Sports You Bet On

My final piece of advice is to consider betting on other sports than horse racing and to diversify.
Many bookies these days look upon horse racing as little more than a pain in the backside.
For them it's a loss leader – a gateway sport if you will, which they use to lure people in with the sole aim to get you playing in their casino, or worse still, throw money away playing their insidious FOBT machines. The last thing they actually want is a genuine horse racing customer!
Those of you who bet solely on racing (and who don't fall prey to the charms of their casino or other mug bets) are viewed with suspicion.
The best approach is to bet on other sports, which also offer great returns without the risk of restriction.
To illustrate this, below you can find the historical annual profits from the top 7 sports tipsters as taken from our March 2017 Tipster Profit Report.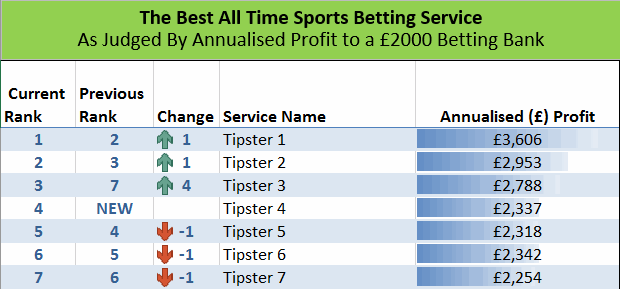 Each is more than doubling their money over the course of an average year with between £2,254 and £3,606 profit from a £2000 bank (You can of course with smaller sums if you prefer!)
MAKE MONEY BETTING WITH TIPSTERS
I do hope that over the course of these emails, I have helped guide you through the options available to you as a keen punter both on Betfair and with the Bookmakers.
In an ideal world, bookmakers would act honourably and simply take bets from all punters – not just the losers but as we all know these days, most bookies treat their 'non-losing' customers with disdain.
Therefore we need to be shrewd and bet according to the state of the betting world we operate in.
Finding the best tipsters is the easy part (simply use our tipster ratings) but making sure you are able to make a sustainable long-term profit requires a bit more attention.
Which is where we can help at the Smart Betting Club as our ratings, reviews and reports help identity the best, fairest tipsters for sustainable profits.
See you on the inside.
Peter Ling
SBC Editor
"90-DAY 100% SATISFACTION MONEY BACK GUARANTEE"……
"I believe so strongly in SBC's ability to help your betting, you can subscribe with a 100% cast-iron 90-day money back guarantee".
SBC Editor – Peter Ling     Subscribe Now