Here at the Smart Betting Club, if we are known for one thing, it's for getting to the bottom of just which tipster services actually make money betting (and also those that make a loss)
And this week I think it's fair to say I have seen the best (and worst) of tipster services all laid bare…
Starting with the worst and earlier this week, I witnessed one of the funniest Twitter 'Question and Answer' sessions courtesy of the Racing Post who invited their followers to put forward questions to racing's very own Derek 'Tommo' Thompson.
Whilst many will be familiar with Tommo as a racing presenter and commentator, he is also very well known in betting circles as one of the worst tipsters out there.  Perhaps most notorious for once being out-performed by a tortoise (Yes really!), this Observer article also recalls how Tommo managed to tip just 17 winners from 89 bets (all at very short prices) without a hint of shame. He also does a great line in unintentional Alan Partridge impressions as this now infamous video also proves.
Sadly that is where the joke ends as Tommo has run a much panned tipster line for years…the type of which has attracted plenty of ire over the years. You know the score – Expensive service with no listing of results, tipping up short priced loser after loser and generally being awful.
All of this led to a takeover of the Q and A session where the hashtag #RPQA seemed to be filled with more about his failed tipping than the book he was onto promote. Something I can't imagine they will be repeating anytime soon either!
Why Tommo Should Hang Up His Tipping Boots
Thankfully tipsters such as Tommo belong firmly in the dark ages as with the rise of the need for transparency and professionalism in all tipsters, his service is being marginalised.
Instead he is being replaced by the likes of the 2 frankly excellent services I have had the pleasure of reviewing this week for the forthcoming SBC Magazine (out this Tuesday)
Neither of these guys are 'household names but if Tommo had results one ounce as good – you can guarantee he would be shouting it from the rooftops!
Take our Magazine cover service this month – they have one of the highest ever seen Return on Investment figures yet seen at 34.8% to advised prices. Even at Betfair SP they have proven to be hugely profitable with a 22.9% ROI on show.
Check out the profit graph below, which shows the results to both Betfair SP and advised odds over time for proof of their success.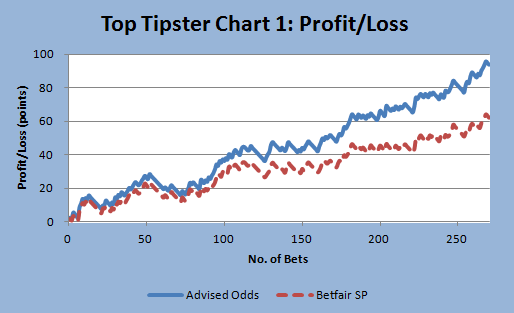 For those of you that don't know the importance of ROI it basically tells you how much you win on average based on your staking. So their 34.8% ROI means that for every £100 you bet, you win £34.80 and believe me…that is a stunning figure.
All of these bets have come over a 29 month period and they work to average odds of just over 5/2. They have a 40% strike-rate as well so any losing runs are short and sharp.
They aren't the only tipster we have a feature review of this month as our 2nd review tackles another fantastically profitable service. Although their ROI is lower at 21.2% (which is still amazingly good!) they have made over 1000 pts profit from 986 bets in 29 months.
Check out their profit graph below for proof of what that looks like…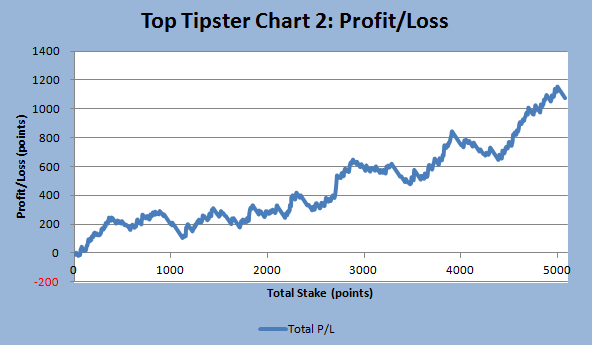 You can find in-depth reviews of both of these services in the forthcoming SBC Magazine, which will be released on Tuesday. Sign-up here to get your copy as soon as it is released.



Independence: Why It Matters With Tipsters
Here at the Smart Betting Club we take a unique stand-point with our tipster reviews as we are 100% independent and never use affiliate links or take cuts for any reviews/reports we perform on any external tipster service.
This is vital as many other review sites only earn money if they make a sale of the tipster they are featuring. This often leads to one-sided reviews where any potential 'negatives' are skirted over or ignored entirely.
Instead we simply ask for a low annual fee for anyone who wishes to join our service and in return we provide honest, accurate and reliable reviews and reports. It's one reason we have been in existence since May 2006 – a rarity in the here-today-gone-tomorrow world of the tipster review world.
We also offer a genuine, bonafide 100% money back guarantee if at any time you are not satisfied with your subscription, so confident are we that you will like what we can offer you.
To finally make your betting pay, click here to join and gain instant access